Reviews
Loving Vincent Review: Neoclassical Painting Mystery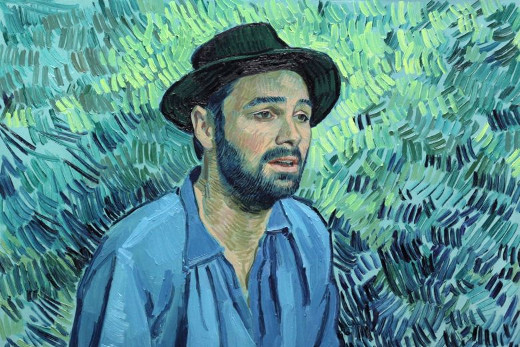 There's always a danger when you translate (transfer, adapt) lives of VIP on screen; are you too timid, too daring, too irrelevant?
The new Loving Vincent  UK-Polish animation feature by Dorota Kopiela and Hugh Welchman (prod: BreakThru FIlms, Trademark Films, SilverReel Entertainment, Cinema Management Group) has a faschinating history of its own.
The film stated off as a little more than an idea in director's Dorota Kopiela mind to combine both her artistic passions, painting and film.
Most importantly, though, the idea was to let Van Gogh's paintings (94 of them feature very close to original, and further 31 of them substantially/partially altered). speak for themselves.
That meant that the core of the story had to be a semi-fictional plot about Armand Roulin (Douglas Booth);  one year after Van Gogh's death (1891),  he goes on to deliver a letter to Van Gogh's brother Theo. Armand then learns that Theo also died, and needs to start his own journey to the quiet but still gossipy village of Auvers-sur-Oise, one hour away from Paris.
A menagerie of characters and conflicting statements from Van Gogh's doctor Paul Gachet (Jerom Flynn) to his daughter Marguerite (Saoirse Ronan) to the innkeeper's daughter Adeline Ravoux (Eleanore Tomlison).
This Citizen Kane-like script technique is promising, but ultimately incompatible with the film's main aim, to restore and let paintings speak for themselves. A kind of neoclassicism permeates Loving Vincent , neatly divided between colored painted scenes for the present story and black-and-white scenes for Van Gogh's own (non-painted), past.
Unlike Wells, Kopiela & Welchman do not let their main subject speak, but rely a lot on the aesthetically immaculate image they provide to the viewers.
This is a real tour-de-force: the 7-year, long-gestating production involved both live-action shooting, which was then painstakingly translated into oil paintings (65,000 frames), with studios set over Poland and Greece, and painters trained in the art of working frame-by-frame.
As a result, images in Loving Vincent are fluid, not stifling, and a wonder to look at. But characters' movements look too prosaic, neither purposedly still nor exuberantly jerky (watch out the wonderful scene with Dr. Mazery and his Van Gogh death reenactment, for proof of what animation can really do).
Similarly for the script: this is carefully crafted, and dialogues are there to serve nicely a fictional murder / suicide story; at the same time, we can't really decide if Van Gogh was a megalomaniac (V. Minnelli's version in Lust for Life) or a gifted artist who cared too much for his brother, and sometimes we don't even seem to care.
Close-ups (too rare in a film devoted to portrait paintings), along with subjects' personal revelations, really supplement  the pathos that the plot sometimes seems to miss.
Music by Clint Mansell is top-notch, and provides the mystery element all characters need to unveil. 
Armand Roulin does a fine acting job as the one who starts it all -but real kudos go to Helen Mc Crory, who plays the bitchy Louise Chevalier, house-keeper to Dr. Gachet.
Loving Vincent  is a carefully studied effort, and painted feature animation (let alone the famous name which is about) will certainly delight artistically-minded afficionados, who look for an alternative to exuberant CGI.
No Rosebud mystery here, and no thrills (cheap or otherwise), but a feast for the eyes nevertheless.
Vassilis Kroustallis