Reviews
Mary and Max (2009)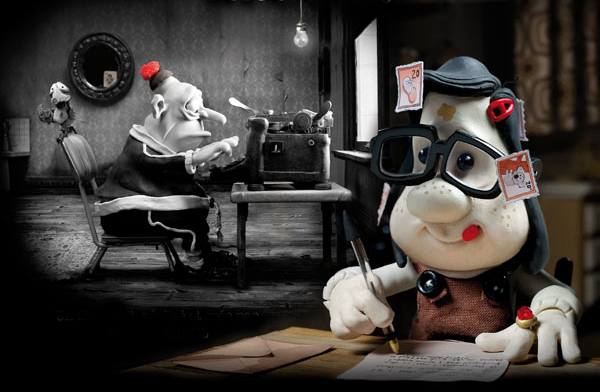 The Australian director Adam Elliot uses plasticine figures to create a frame-by-frame movement.  The touching Mary and Max, had widespread appeal (but it is not for kids).

When two people become friends through chocolate, you know that their friendship will last -even if the chocolate is bitter.

Adam Elliott's Mary and Max (he won an Oscar for his Harvie Krumpet short) invests in an unbelievable friendship of an obese NewYorker with an Australian girl. Both have no friends, and people tend to avoid them (including their family).

A whole drama unfolds through the film that brings forward and condemns racist attitudes on autism, presents alcoholism, speculates atheism and shuns away of communism. This diverse series of happenings come so naturally, that the characters' patience is to be rewarded.
The narrative proceeds from each character's point of view, who meet only in the final dramatic scene. The visual grey of New York transorms into the brownish Australian. Absent are the visual effects in a film that works through its script and his daring depiction of troubled persons in a no-clean-cut visual form.
In a universe full of self-sarcasm  that involves scatological jokes (and a funny mention of Sonny and Cher), there is a certain warmth for the characters who aim for "stupid aims like friendship".
Highlights the presentation of Greek Damien Papadopoulos, and most importantly the different versions of how babies are born.

Vassilis Kroustallis

CREDITS
Mary and Max, 2009
Direction-screenplay: Adam Eliott
Cast (voices): Toni Colette, Philip Seymor Hoffman, Eric Bana, Bethany Whitmore
Cinematography: Gerald Thompson
Editing: Bill Murphy
Music: Dale Cornelius
Visual effects: Michael Allen
Duration: 80'


Read More About: