Reviews
Mune:The Guardian of the Moon Review: 3D is a Many-Splendored Thing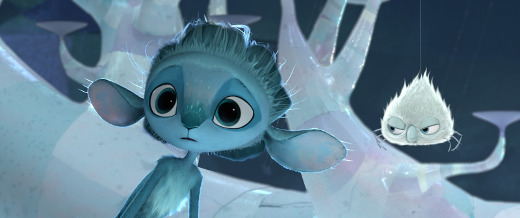 What can a 3D computer animation toon do with a 12m$ ? A lot, if care is taken that you do not mimic the Disney/Pixar photorealistic style.
In the French feature, Mune: Guardian of the Moon by Onyx Films (production headed by Aton Soumach), Gobelins-educated animator and director Alexandre Heboyan (Kung Fu Panda, Azur and Asmar) and co-director and writer Benoît Philippon embark on an adventure like no other.
In a fantastic world, Mune, a mischievous faun, is chosen as Guardian of the Moon. Taking advantage of his catastrophic beginnings, the underworld demon steals the Sun. Along with Sohone, the Guardian of the Sun, and Glim, a delicate (but knowledgeable, mind you) creature of the dawn and duks,  Mune embarks on an extraordinary quest.
Benoît Philippon wanted to clearly invest these films with a Miyazaki mythology, and  a new universe, similar in some ways to the internationally acclaimed films. What has emerged instead is not the sweeping, grand-scale environment of the Japanese master, but rather a case of extraordinary European wonders.
From Mune's character  (marvelously uncanny and sympathetic at the same time, designed by Kung Fu Panda's Nicolas Marlet) to every little creature in purple, violet and hot red (the magnificent sequence in the underworld), the visual settings of the film are the book of wonders, unexpectedly coming up at every bit of the film.
j

Even though Mune is the unlikely hero (a tradition that goes back even to Mickey Mouse), his opponent is not the meaty but unintelligent Sohone, the Guardian of the Son. In a script that keeps its surprises well guarded, sidecicks and enemies constantly appear and disappear.
Even though sometimes it threatens to overwhelm Mune's mission, secondary characters (like the marvelous comedy sideciks of Necros  have their own show to steal.
Mune himself and his associates follow the three-act narrative, but what matters here is not the hero who saves the moon, but the collaboration between two unlikely allies. No pop-culture jokes are to spoil the adventure, but there is enough humour (carefully divided into all animal creatures) to compensate for the passion of the journey.
At times, it feels the story should be trimmed off; Mune is too closely accompanied by every possible animal and friend/enemy, and does not have space to breathe as a character among his constant partners.
Glim, the always fragile but never weak wax creature is the most successful character, and the catalyst in the friendship and the success of the journey. Ancestors, nature and tradition are a main theme in Mune, and Glim is their spokesman.
Here legends are always to be obeyed, for they are in essence nature's dictates of night and day succession. But characters can learn from their mistakes, they can be inventive. Mune can bring a new moon out of nothing, when everything seems hopeless. Sacrifice has its place as well, and minor characters can die when there is sufficient reason.
The exotic but always inviting environment and its very carefully selected color palette for specific settings does not hit you in the face with spectacular surroundings, but is studied enough.
2D dream sequences, which sometimes result in a graphic novel look, are always welcome to allow for more freedom of movement in a bare-bones setting.
Bruno Coulais (The Secret of Kells) once more delivers an array of musical tones that leave a breathtaking impression.
After watching Mune, you feel that you have participated in a gentle but quite serious adventure of nature and human nature.
Neither overwhelming or overtly spectacular, it does not have the dizzying effects of Dreamworks' dragons. But is not timid either, and is a beauty to behold.
Vassilis Kroustallis
Read More About: