Reviews
My Dogs, JinJin & Akida Film Review: This Is Not A Dog's Life
Jae-young is a kid like no other. An adopted child, living in the changing background of 1983 Korea, and having to face severe problems with both his parents (an alcoholic father) and his mother (a Christian believer with tendencies for supernatural).
In the hands of a director like Truffaut, the kid would already have been an outcast. Yet, in the animated feature by Cho Jong-duck, My Dogs, Jin Jin & Akida, everything looks like normal and behave like normal - only it isn't.
In My Dogs, Jin Jin & Akida, the dogs (looking dangerously alike), are the object of envy and and danger. The father of Jae-young seems to like more his dogs than his (adopted) son.
 One day, Soon-young, Ki-sik and their mom (the complete opposite to Jae-young's  mother, but like Yin and Yang complete each other), move in next door to Jae-young. Things start growing very adventurous when Jae-Young kicks the dog out of the house, and the dog becomes a public menace.
Sketching briefly issues of prostitution, Christian fundamentalism and superstitution, but above all the role of the family, the film is a curious but engaging blend of household drama and the anime need for kids/teenager independence.
With few moments of laughter, but with a carefully drawn palette of warm colors, My Dogs, Jin Jin & Akida puts you in the place of strong characters who need to change but somehow they lack the stamina to do so.
The always brave Jae-young is the person to go beyond endless family quarrels and provide the antidote to what would have been an unbearable stituation in live-action.
More energetic and adventurous that his sweet looks would imply, he quickly manages to endure the bite he gets from Akida (coming from Japan, another nod to the troubled relations between the two countries) to move over to Busan to look for him - finding some truths in the process.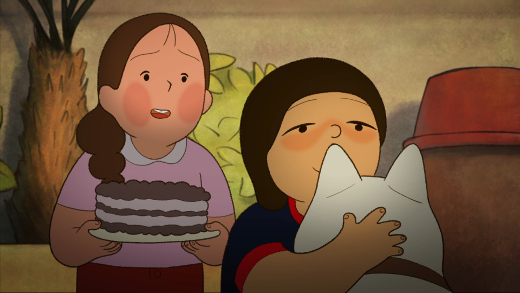 More an excavation of family ties in the recent Korean history (the traditional respect for the elders has now given its place to something more westernized) than a child's adventure, My Dogs, Jin Jin & Akida feels too much burdened by its own agenda at times.
Its 2D traditional anime aesthetic (and the open vista  of its backgrounds) can't always hide the fact that this is heavy drama ahead, and one that ends rather fast for that purpose.
But the film is to be commended for its boldness to move away from stereotypical narrative territory and depict how a boring neighborhood can sometime have its own interest. It remains a family film, but don't for a moment confuse it with a "sweet puppy meets kid" story
My Dogs, Jin Jin & Akida was screened as part of the official competition programme of the 18th Bucheon International Animation Festival, 21-25 October 2016.
Vassilis Kroustallis
Read More About: