Reviews
O Apóstolo (The Apostle) review: Secrets and Pilgrimage Lies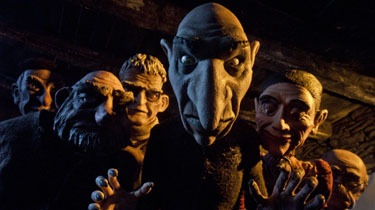 How do you handle an animated film about ghosts and demons that has absolutely no tendency to show graphic scenes and puppet decapitations?
O Apóstolo is the new, stop-motion feature film by Fernando Cortizo (production: Artefacto Producciones), and seems to be rooted more in the Tim Burton-territory than in the Jiri Barta surreal puppet world.
Still, the Sleepy Hollow forest atmosphere does not deliver monsters, but rather a Hitchcockian adventure -more suspense and false alarms than gothic underworlds.
The film starts in prison, where two convicts, Xavier and Roman attempt to escape. Xavier (Luis Tosar) is the one to warn Ramon (Carlos Blanco) about the consequences of greediness -but also the one to give him the appropriate information to enter a secluded Spanish village, in order to find an old booty.
Dressed in shorts and looking more like an accidental tourist than a pilgrim (as he professes himself to be), Ramon arrives in the ordinary-looking village, which is evidently left to its own devices.
Ominous signs abound, starting from the omnipresent fog to the curiously obliging hospitality practices the villages adopt. Roman has to face his own destiny when the old maid Dorinda (a welcome turn by Geraldine Chaplin) is about to host him in her premises.
However, the real manufacturer of bloody business is the local parish priest, a cinematic father for Harry Potter's Dobby, Don Cesáreo (Xosé Manuel Olveira Pico). His sense of smell surpasses his vision, however he seems also to be bound to something higher than his own amusement.
The first part of The Apostle is full of false alarms and wrong turns, and strongly brings to mind Hitchcock's Suspicion, but probably for too long and without offering a single clue.
 Then, a plot deadline develops: suddenly Ramon faces a supernatural challenge he has to solve in three days -otherwise he'll die.
A contemporary (and more tongue-in-cheek) subplot is then introduced: the vain archbishop of Santiago (Paul Naschy) decides to visit the old village along with his more sensible valet Pablo (Jorge Sanz).
With vices not unlike the one of the thief Ramon, the archbishop gets involved in the old village, and he is the catalyst for unveiling a dark secret from the Middle Ages (beautifully animated in 2D drawings). Ramon may still have a chance to go on.
O Apóstolo  reads more than a tale of greediness and redemption than a gothic terror story. Firmly rooted in realism, puppets move like detectives in a police story, and Ramon reads more like Agatha Christie's Poireau, who is trapped to the supernatural realm.
The film suffers from loose editing, and the more interesting contemporary background appears too late in the story. It has the advantage of featuring the always reliable score of Philip Glass, which provides suspense when there is much needed.
The Apostle is a solid, stop-motion effort, and promotes mystery instead of demon heads. It is not on the children's menu, but there is no reason that older children would not enjoy it.
It has its meandering times; however, when all plot elements are on the table, it never fails to grab attention.
Vassilis Kroustallis
Read More About: