Reviews
Phantom Boy Review: A Boy in New York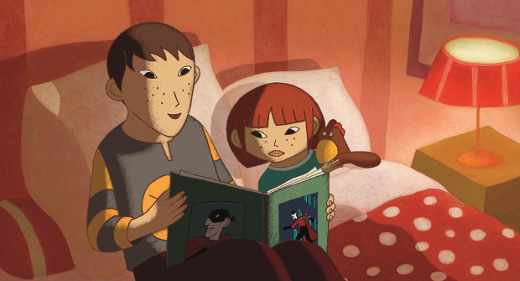 It's the second time around for Alain Gagnol and Jean-Loup Felicioli, after their Oscar-nominated A Cat in Paris (2010), which showed in 2D that a cat with no speaking part can be as interesting as a catalyst in a noir action.
The cinephile journey of the French Folimage duo (Gagnol is responsible for the script, while Felicioli for the visual feel of the film) continues this time in New York. Matching the stock conventions of detective stories (an incompetent police head) with the superhero genre (but with a twist), Phantom Boy is story of 11-year-old Léo who has a trench for police stories, but is currently hospitalized and undergoes chemotheraphy treatment.
His much-loved sister, Titi, is his partner in fictitious crime, while both (along with his worried parents) are waiting for the results of his blood tests.
Unknown to them, the hapless but kind and supportive police officer Alex (Édouard Baer) is also hospitalized with two broken ribs after his unsuccessful attempt to track down criminals. Without support from his rather empty-headed superiors, Alex has as his only ally the nosey (and brave) journalist Mary (Audrey Tautou). The romantic couple is sure to mingle at some point, but here the point of focus is the friendship between the two immobilized characters, and what makes the boy unique: his ability to leave out his body and become the gentle eye, soul (but not the one who punishes) all the New York criminals.
 New York here is not the center of action; it is only a place of cinephile references, mainly stemming from Batman's Gotham City, and a place to elevate above its high buildings (and, of course, meet Woody Allen in his famous Manhattan bench). Its criminal docks take prime action, a more colored version of Josef von Sternberg Docks of New York (1928).
 But the center of operations is the modernist-colored hospital, where Léo and Alex both have to stay. Its rooms, corridors, elevators and even its restaurant have a different function to fulfill in the story, and turn Léo's illness into an advantage. Family love, friendship and sacrifice magnificently take place where pain usually resides, a crowning achievement of the film.
There are two narrative threads running at the same time in Phantom Boy: the operation of inflitrating New York with a computer virus that will make the disfigured Le Mechant and his gang the most powerful Newyorker, and Léo's own personal story of superhero, who both has to fight his own illness and the bad guys. Admittedly, the first subplot is well-thought out but runs thin and much-rehearsed after a while.
What keeps our eyes and ears on the screen is not the petty jokes addressed to Méchant's sidekicks nor the secondary characters and Alex's allies. Unlike A Cat in Paris, these Tarantino jokes lessen the drama this time around.
What makes Phantom Boy exquisite is the silent agony of its main character. The film becomes really masterful in the third act, when Léo's fate is indeed in danger -even though we know from the beginning that New York will be saved (and we don't care). But hats off for Rufus the dog, who gets a more extended role than the one he had in A Cat in Paris; even though he sides with the bad guys, his stubborness and stupidity makes him redeem in the end.
Superb 2D animation fits like a glove in the noir atmosphere. Characters are easy to identify with, but their protruding ears and half-shadowed bodies tells you that they live in a somehow different world than our own.
There is no excess and expressionism here: even the disfigured Mechant looks like an unfinished Picasso painting, and his never-completed story about his own accident puts some warmth into the character. Léo as Phantom Boy flies like an eel in the sky, and Serge Besset's score goes as smoothly as ever.  Add the ingenious, Saul Bass-inspired opening and closing credits (Izù Troin), and you have a package of a touching thriller drama.
 It has its narrative flaws, but is easily one of the best films of the year.
Vassilis Kroustallis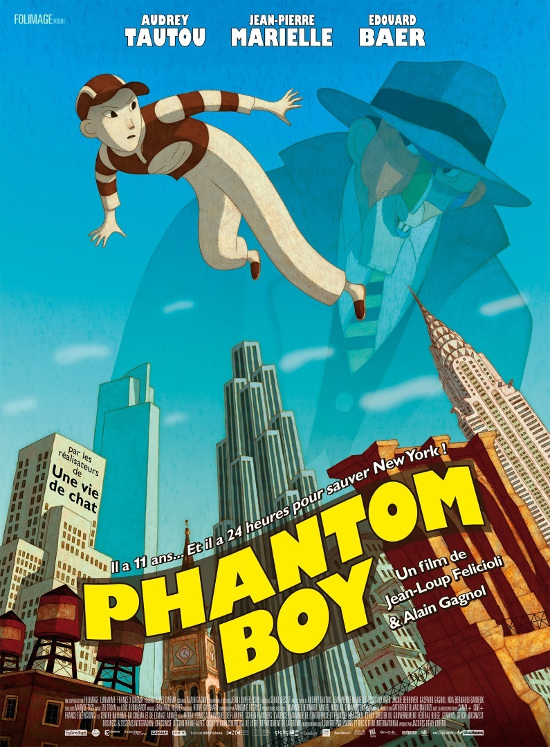 Read More About: