Reviews
Ruben Brandt, Collector Review: Artistic Obsession in Action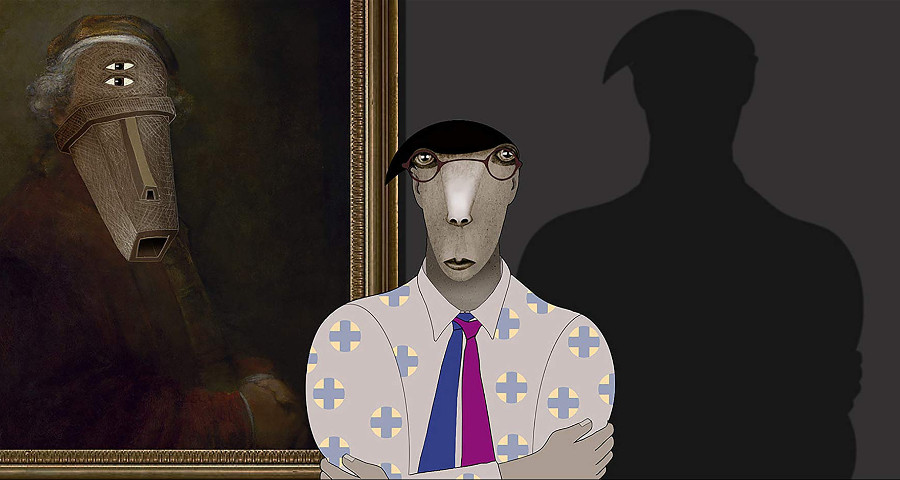 Premiered at the71st Locarno Film Festival, a fit place for a MittelEuropa caper story of art and psychotherapy, Ruben Brandt Collector is an effervescent pastiche of genre tropes and artistic styles, even though ultimately too timid to delve deep into the European psyche.

Coming from Slovenian-Hungarian animation director Milorad Krstic (recipient of the Berlinale Silver Bear for his 1995 short My Baby left me), the film starts with an excellent Freudian homage to Hitchock's trains in North by Northwest, followed by a car chase to set the tone for a accelerated caper story - somewhere between Dassin's Rififi and Bogdanovich's madcap comedy What's Up, Doc?) Freely borrowing from almost everything in the history of cinema and art, Ruben Brandt, Collector really lives up to its name, and it does it with zest and passion.

The eponymous hero, the bespectacled psychotherapist Ruben wearing two ties (Iván Kamarás) is tormented by terrible nightmares, all of them associated with famous paintings, from Botticelli's Venus to Andy Warhol's Double Elvis. Having just lost his art collector father -and also a CIA agent investing in subsconscious tampering with the brain by means of film screenings- Ruben returns to his home to find the cure, but to no avail.

Being desperate but still cool in both appearance and voice, he asks for the help of his most able patients; the kleptomaniac acrobat artist Mimi (Gabriella Hámori), and his other three patients and petty thieves. Together, they will plan to steal all the painting which haunt Ruben -completing the collection will be the end of the torment, and the beginning of happiness.

Duplicity is everywhere in this film (from character facial characteristic to more nuanced doppelgangers). For instance, the main antagonist is detective Mike Kowalski Csaba "Kor" Márton), who,  like his namesake from A Streecar Named Desire, manages to almost steal the film with his scenes. This is a hint that Krstic's sympathies as a screenwriter (he wrote the screenplay along with Radmila Roczkov) lie more with the down-to-earth but still fragile detective (also with a mother complex problem) than the cool but too stylish Ruben to empathize with.

Kowalski has his own female sidecick, the sassy Italian secretary Marina (Katalin Dombi), a pot full of Internet information, but otherwise with little to do in the film. They both need to prevent the well-executed robberies, while Mike has his own past to deal with.
For a film which plays with perfection and its unattainability, it is almost obligatory that both narrative and aesthetics will mirror almost everything imaginable. In the genre department, and despite the purposedly over-the-top movie reference parade (from the expressionistic
Cabinet of Dr. Caligari
to Polanski's
Knife in the Water
and Peckinpah's
Convoy)
, the film's heart lies mostly within films like Joe Dassin's frothy caper
Top Capi
(and not his  Rififi).
Ruben Brandt, Collector i
s not a suspenseful, hold-your-breath museum robbery, but a rather frothy bring-your-friends-and-enjoy cinematic effort.
This in turn makes the film design rather unstable at times, and non-identifiable. There are too many, well-made, design alterations of famous art beauties (from Velazquez's
Infanta
to Manet's
Olympia
and beyond that) that one really wonders that the style of the film itself is indeed elusive. Modernist enough to leave out unnecessary details from facial expressions and character designs, it fails to acquire a further modernist significance here.
For a film which deals with a European psychotherapist and his nightmares, a consistent, hypnotic feel to its surroundings is desperately needed; the scenes where Ruben or Mike are really alone and by themselves with the vast background -as an emptied space surrounding them- count among the film's best. The film's time framing in contemporary period (cellphones and all that) gets the mystery element out of the picture, already alerting us that is a post-modern heist film we're watching.

Leave it to Tibor Cári's music, one of the most consistently engaging element in the film, anchoring situations between heist situations and nightmares capably and almost effortlessly. Ruben Brandt, Collector really cares to collect experiences from the spectrum of detective thrillers to Cold War noirs and classic cinema; it won't dig deep enough into the psyche of its protagonist or the theme of obsession by itself. But it really cares for its many art and film references, trying to build an animated cinematic world apart from cute animals and the oft-repeated 'believe in yourself' motto. Here's what you cannot really fathom about yourself that matters -and have some fun along the way.
reviewed by: Vassilis Kroustallis
CREDITS:
RUBEN BRANDT, COLLECTOR
Written, Directed, and Designed byMILORAD KRSTIĆ
Producers: PÉTER MISKOLCZI, JÁNOS KURDY-FEHÉR, MILORAD KRSTIĆ, HERMINA ROCZKOV, RADMILA ROCZKOV
Screenplay: MILORAD KRSTIĆ, RADMILA ROCZKOV
Composer: TIBOR CÁRI
Sound Design: DANIJEL DAKA MILOŠEVIĆ
Production Designer: MILORAD KRSTIĆ
Production Design Supervisor: MARCELL LÁSZLÓ
Animation Director: MILORAD KRSTIĆ, MARCELL LÁSZLÓ
Technical DirectorLEVENTE SIPOS
Assistant Director: LÁSZLÓ WIMMER
2D Animation Lead: PÉTER TENKEIMIHÁLY KOSARASLAJOS CSÁKOVICS
Background & Layout Supervisor: ZSOLT MATICSKA
Character Supervisor: LAJOS CSÁKOVICS
Prop Supervisor: LÁSZLÓ BRAUN
KeyClean-Up Supervisor: RITA TÓTH-GALVÁCS
Color Supervisor: EDIT PUGNER
3D Animation & Modelling & Compositing: MARCELL LÁSZLÓ
Supervisor Pre-Compositing & Render Supervisor: LEVENTE SIPOS
Special Technical Partner: TVPAINT DÉVELOPPEMENT
Ruben Brandt, Collector was in competition at the 2019 Anima Brussels festival.
SIGN UP: Want to read more free articles like this? Sign up for Our Newsletter