Reviews
Song of the Sea Review: Don't Be Afraid to Be A Child in Trouble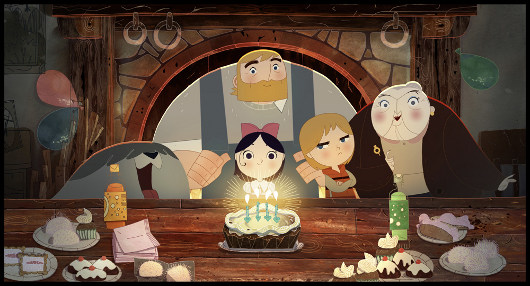 Tomm Moore's sophomore feature (after the also Oscar-nominated The Secret of Kells) once again tackles the myths and facts of the Celtic Irish culture, but this time moves from the Middle Ages to eternal and sometimes haunted fairytales.
Even though the Halloween setting of the film would suggest of a scary and grotesque situations (think of A Nightmare before Xmas, for a start), Song of the Sea almost naturally blends its human drama with extra-human creatures, which do not have to be terrifying to cause distress.
Back in 1987, Ben (David Rawle) is a 10-year-old boy who listens to hard rock, and is also harsh toward his own 6-year-old sister, Saoirse, who is still unable to utter a single word. They both live in an isolated lighthouse with their father Conor (Brendan Gleeson) after their mother mysteriously left when pregnant with Saoirse -in a magnificent dramatic set-up, even before the title credits roll.
The world of Ben is one of invention, comic heroes and their eye masks, affection to his loyal dog Cú, but also one of jealousy over his own sister, who thinks she has gotten the best part of his father's attention.
 To make matters worse, a stingy, but concerned Granny (Fionnula Flanagan) insists that children should not live in a lighthouse, and almost takes them by force to her big but too conservative and Roman Catholic home in the city. From then on, two narrative strands unfold within the film: Ben's story and plan to return back home, the world of maps, designs, drawings and all things rational. 
 At the other end, Saoirse and her shell (a gift that their mother first gave to Ben) has the power to bring to the surface comic, cartoonishly designed wizards but also disappointed and mean witches, who can put people's emotions into jars.
Macha, the goddess of war in Ancient Celtic Mythology is here transformed to look more like Ben and Saiorse's granny (or the other way around). It is a sign that wizards and witches here are not the object of fear, but the ones that mentor Ben (in their own, haphazard way) to face his own emotions. Whenever Ben leads with his own plan, Saoirse follows and opens gradually her web of secrets to reveal her own, selkie drama between humans and fairies, which remained sealed under the sea for too long.
The initial leisurely pace of the film gives way to some funny adventures, not all of them well-placed. Yet, it progressively  gives way to the more real and life-threatening situations.  Separation, danger, and family is a thing in distress here and those can cause a heartbreak.
Don't get fooled by the autumnal settings and the engrossing art design by Adrien Merigeau or the haunting music by Bruno Coulais and Kila. Song of the Sea is a perfectly executed drama of characters, with all their hopes,fears and exasperations moving upwards and downwards, like the camera work between the bottom of the ocean and the upper world.
Produced by Cartoon Saloon, The Big Farm, Melusine Productions, Superprod and Nørlum, Song of the Sea uses its infinite number of round meanders, Saoirse's big black round eyes (and even roundabouts), to advertise how to form a circle of emotionally complete persons.
This song is meant not to be forgotten -not only because of its dazzling 2D artistry (who said that 2D animation is dead?), but for its profound sense of humanity spread all over humans and selkies alike.
 Vassilis Kroustallis