Reviews
The Adventures of Tintin: The Secret of the Unicorn review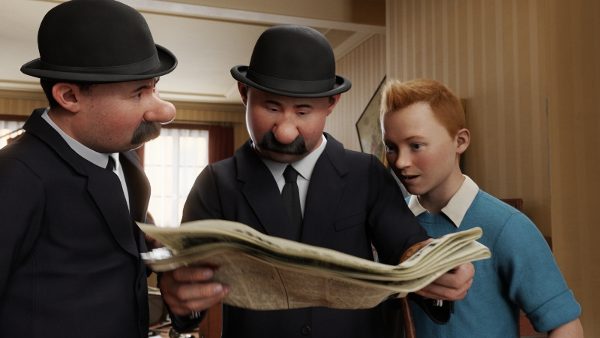 Welcome to the Indiana Jones, part 5! And this no mean achievement. Spielberg's The Adventures of Tintin: The Secret of the Unicorn retains the best action elements and the retro atmosphere of the beloved Indy, and shares its lack of suspense
With a silhouetted title sequence that makes homage to Saul Bass' sequence from Vertigo and its jazzy soundtrack (as well-made as the unoffocial James Curran version), The Adventures of Tintin seems a quite enjoyable pastime. Motion-capture and performance capture technique has certainly been improved since Polar Express; Tintin's face might still be creepy, but that also suits his ambiguous demeanour and personality in a film that enjoysa lot of sunshine, and is not a Zemeckis roller-coster.
Unlike the recent Guy Ritchie Sherlock Holmes, Spielberg respectfully makes the impressive action scenes fit a step-by-step investigation narrative. Tintin (Jamie Bell) stumbles by an impressive model ship, called the Unicorn, in an outdoor European market, and accidentally finds out that this ship hides a mystery. He learns that the ship's nominal captain, Haddock (an enjoyably goofy Andy Serkis) is the one responsible to decipher and solve a mystery first appeared through a parchment scroll out of the ship's mast. Before long, he realizes that he is not the only one to look for the mystery, and is being abducted by the fallen aristocrat Ivanovich Saccharine (Daniel Craig).
A series of magnificently set naval, aerial and finally desert adventures await both Tintin, his dog Milou and Captain Haddock, the most impressive of which (reminding of Peter Jackson's oeuvre) is the naval fight between the two ships that Haddock dreams of.
Still, the comedy action so reminiscent of Spielberg's adventure spirit is best captured in the Moroccian Bacchar, where an opera singer proves to be the final fly in the ointment of the parchment accumulation long sought by all the characters involved.
The Adventures of Tintin: the secret of the unicorn almost carefully proceeds from one adventure to the other, and at some point even Tintin himself translates from an investigator into a superhero. The mystery is retained up to the last minute, yet one cannot help but notice that this intellectual puzzle seems more like an excuse to enter the train of adventures that follow than an internal plot element in its own right.
There is excitement and sometimes awe in the visual Tintin (production design values are top-notch), but the story seems like a predestined success affair. Even when Tintin falls, there is always Milou to save him, and the heavy soundtrack by John Williams (apart from its Catch me if you can title sequence) does not add to excitement.
Fans of Tintin will love this film, yet in the narrative department one would need more than business as usual -even when business is entertaining enough.
Vassilis Kroustallis
{/tabs}
Read More About: