Reviews
The Oddsockeaters Review: We Need to Have A Gang Talk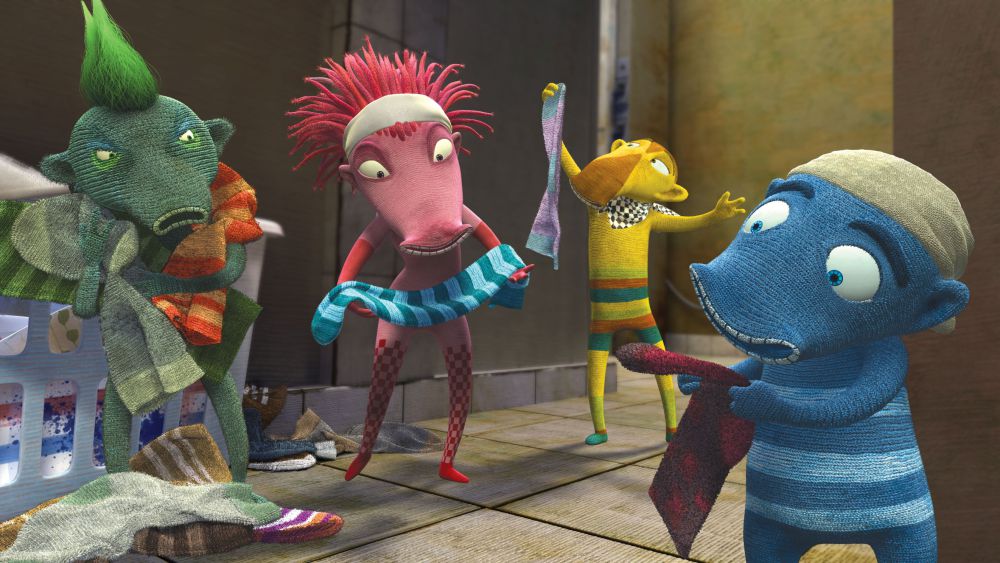 Based on the Czech writer Pavel Srut's bestselling book, Oddsockeaters (Lichožrouti), the book's illustrator and film director Galina Miklínová,  signs a feature animation that turns on the lives of small invisible sock thieves — those responsible for socks that go missing, leaving only one from a pair.
Produced by Total HelpArt (Ondřej Trojan), The Oddscockeaters is a co-production between Slovakia (Zuzana Mistrikova and Ľubica Orechovska, PubRes), Czech Television  and Croatia (Arsen Anton Ostojic, Filmosaurus Rex), and proved to be a Czech box office success in 2017, with more than 200,000 admissions.
Written by both Srut and Miklínová, the film is a mixture of a 3D computer animated Dickensian adventure and a longing for home, in which more than one character alternatively takes the lead to tell a story. The blue-eyed, blue-striped and curious Hugo (Krystof Hádek) lives with his ailing grandfather Lamor (Stanislav Zindulka) in contemporary Prague. Hugo is quick to be naughty (instead of nice), and even quicker to take the complete sock pair from a baby -against the unwritten rules that only one sock from each pair should be 'shared' with humans. But, Hugo is also caring for his grandfather, who will literally fade away -but not before warning Hugo not to stay too close to humans.
The main human opponent (which infrequently disappears throughout the film) is Professor René Kaderábek  (Josef Somr), a Gru-like character ,who may set up traps for his funny Oddsockeaters, but doesn't even have the intelligence to see that they are living in the attic of his own house. Hugo sets up for an adventure to meet his estranged uncle Big Boss (Ondrej Trojan), and his twin cousins, Ramses (David Novotný) and Tulamor (Jan Maxián). However, his biggest opponent won't be the Professor, but a different gangster Sid and his rival gang.
Taking animation into the dissidents and the outsiders route that Little from the Fish Shop has also explored (here, in a lighter version), The Oddsockeaters is more than a plea for character diversity, and won't exactly fall into the same ground of  strange-looking-things-to-be-taken-care-of that LAIKA's The Boxtrolls have made popular. It employs instead a mildly funny and concerned (not outrageously hilarious) look into a social situation that could have been made a real danger indeed.   The almost woolen feeling of character design (the film was animated at Alkay Animation Prague), and the gentle camera movements predispose for an adventure that will gladly get rid of the hyper-kinetic character movements of contemporary mainstream animation, but at the same time retain the energetic feel of a family-friendly adventure.
The Oddsockeaters don't disappoint in that respect, making it clear that their symbolisms (warm feelings of clothes and socks vs. the cold sensation of water) are indeed an essential parameter. Indeed, it is subliminally fitting that in a country without sea borders water becomes the no.1 arch enemy of Oddsockeaters; they can melt and fade away at no time at the Blue Vitava's waters. Production design never fails to show a Prague both contemporary, neurotic (car traffic is a contemporary disaster), with a loneliness disease, and at the same time a city with a high degree of urban violence.

The Oddsockeaters chooses to focus on the gang rivalry instead of the oddsockeaters-humans relations; humans in the film here do not really matter, and are either clumsy, indifferent or too gullible. That's a bold decision to make; it does not really take off at all times, mostly because of the too many subplots and characters. Most of them seem to have come from too many different drafts, and they rarely pause from action to tell their own story instead.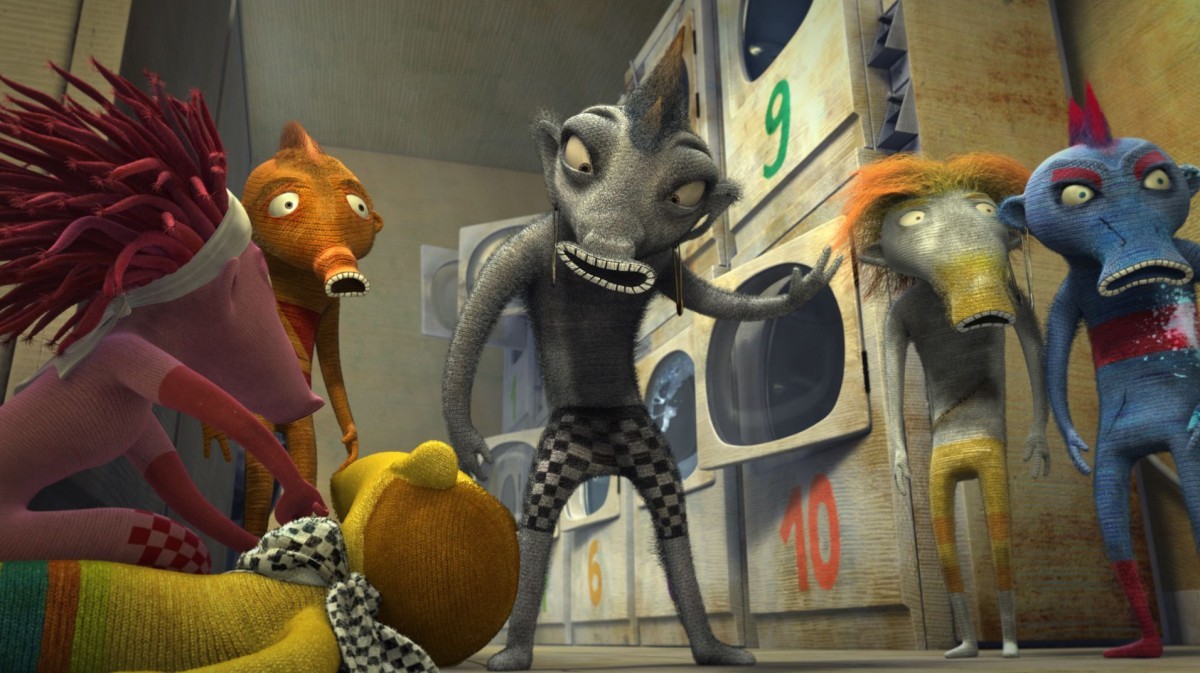 The Oddsockeaters
Hugo is clearly the Oliver Twist in Prague hero here, but he is less naive than the literary character. The Big Boss story of socks accumulation is an interesting one in its own right, and the ruthless Sid has his own past, as well as the 'belle' Bladette. Not all of them function equally well in the otherwise enjoyable film, which still avoids many of the superhero conventions of the coming-of-age films (even Hugo's water superpower is explained by a very mundane baby act in his childhood).
It seems that audience considerations have disposed of a major (instead of several minor) drama sequence here -either between humans and oddsockeaters, or between the different members of the animated sockseaters gang.
With an invitingly diverse, eye-popping color palette, a memorable character design, and the need for a family which appears in the most unlikely gang places, The Oddsockeaters is a welcome, if narratively uneven, entry in the European feature animation niche.
Vassilis Kroustallis
SIGN UP: Want to read more free articles like this? Sign up for Our Newsletter
Read More About: