Reviews
The Prophet Review: Sympathy, Not Ecstasy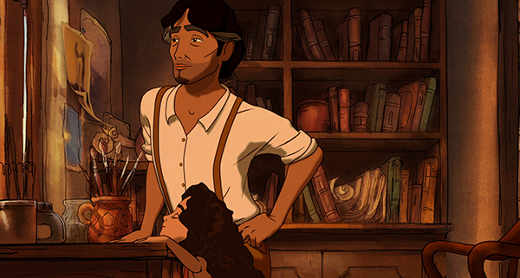 The new,  independently produced animation feature Kahlil Gibran's The Prophet is a labour of love for Salma Hayek (credited as Salma Hayek-Pinault in the film) who revisited her Lebanese roots, and enlisted non other than Lion King director Roger Allers (also wrote the script) to bring Gibran's much-loved verses, vision and philosophy into animated life.
They both recruited an impressive list of contemporary animator to work on the specific sequences in the film. Set in a Mediterranean sea-side village, Kamila (Salma Hayek) cleans house for exiled artist and poet Mustafa (Liam Neeson), but the more difficult job is keeping her free-spirited young daughter, Almitra (Quvenzhané Wallis) out of trouble.
The three embark on a journey meant to end with Mustafa's return home – but first they must evade the authorities who fear that the truth in his words will incite rebellion.
There were two issues that needed to be addressed, and they both show in the completed film: narrative coherence and integration of all different visual styles.
It  seems that the first demand was rather hastily conceived. The small Almira whose father died some years ago and decided not to speak afterwards is the silent equivalent of Aladdin in Disney's 1992 musical. Almira can defy order, climb on rooftops, but she will let Mustafa (her adult version) speak on her behalf and guide her to his own multi-colored (but sometimes really impressive visually) journey..
Freedom and poetry are used in the film to cover up for the rather weak and suspenseless plot. Mustafa is a Christ-like figure, dangerous but loving to his own enemies; he can gather a lot of followers (including grumpy neighbours and police officials), but he never has the time to deal with earthly matters, even though he seems to have caused (unwillingly?) quite a political stir.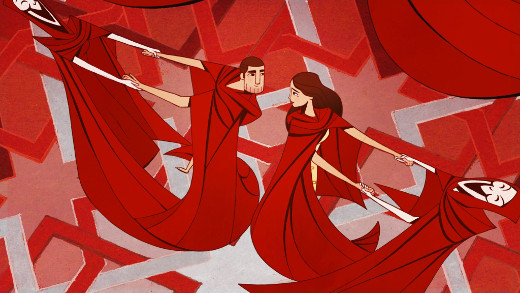 A secondary love plot between the inexperienced in love matters Hamil and Almira's mother comes in to fill the space of a film that looks for sympathy in all its levels.
The framing story visually gives itself to a nostalgic, 90s look, immsered in a mesmerizing autumnal color palette, but with less interesting character design.
Things change when individual animators take their toll. Bill Plympton is in fine form with his metaphysical variations (On Eating and Drinking), Tomm Moore does wonders with On Love, and Paul  & Gaetan Brizzi capture solemnly the Prophet's last moments (Death).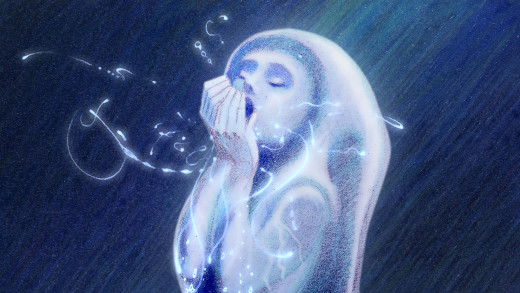 Stand outs also include Joan Gratz's impressionistic clay work (On Work), and Mohammed Saeed Harib's immersive animation style in Good and Evil. Nina Paley (On Children), Michal Socha (On Freedom) and Joann Sfar (On Marriage) here seem rather underused.
The Prophet works fine as a stimulus for US audiences know and get familiar with some of the biggest names in 2D animation, and it is an admirable aim as such. The short vignetttes, coupled with Gibran's rather ethereal verses, can do wonders in that department.
Still, it needs a different storytelling format and a more robust handling of the subject-matter in itself to work as a fully satisfying film. Audiences unfamiliar with the full work of animators will be delighted with what they see on screen, but they are sure to crave for more visual prophecy.
Vassilis Kroustallis
Read More About: