Reviews
Zarafa review: a boy through Mediterrenean history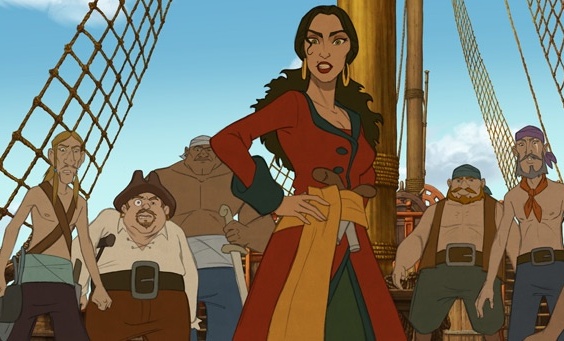 Zarafa means giraffe, and the new animated feature film by Rémi Bezançon (dir. The first day of the rest of your life) and Jean-Christophe Lie (animator in The Triplettes of Belleville, layout artist in the Micel Ocelot sequel Kirikou and the Wild Beasts) present an all-European adventure of the boy who wanted to fulfil his promise.
Maki, a close cinematic relative of Kirikou, equally persistent but less inventive, lives under slavery in the 19th century Sudan. His escape (and his separation from his female friend) coincides with the start of his mission: to bring back the giraffe to its native land, even though Zarafa has been enlisted as a present from the Pasha of Egypt to an outrageously indulgent King of France Charles X.
The film is a big adventure through all the Mediterrenean with a parachute in order to get to France in time. This Jules Vernes adventure provides an episodic film form, with some characters (the Greek woman pirate Bouboulina) only having limited time to register, and others (such as Mahmoud) giving a comic antidote to an otherwise strictly sentimental story backbone.
The setting of the story in flashback (an old sage narrates the Maki adventure) seems to abstract the adventure suspense which is much needed, and the happy ending bears a reversal of a life condition that is too good to be miraculous.
Yet even though the quest itself seems forced, and Maki itself is a  one-note character, the historical background is impressive, both visually and narratively. Bad treatment of children both in Africa and in the post-Enlightenment France is almost identical, and animal treatment as depicted in the film would make animal activists outrageously angry.
Zarafa respects the historical setting, and does not ameliorate the human condition depicted.
The clear visual outlines is a treat to watch, and the epic, Lawrence-of-Arabia inspired music of Laurent Perez adds to the sentiment. Zarafa may be not as enchanting as Kirikou, but is surely interesting to watch for specific, historical reasons.
Vassilis Kroustallis
Read More About: