10+10 Animation Features, 7 VR Works for Annecy Festival 2020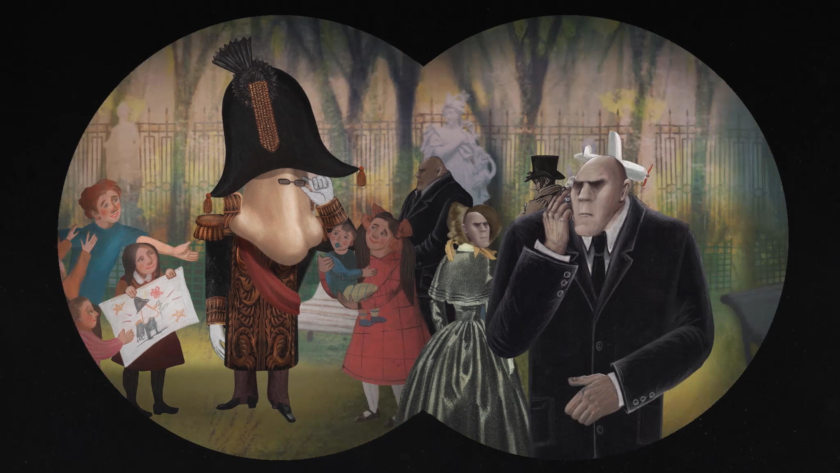 The Nose or the Conspiracy of Mavericks
76 films were submitted to the Annecy selection committees and to the Artistic Director, Marcel Jean. 20 films are competing in two competitive sections. Among them, and apart from the usual producer countries (France Japan, South Korea, Russia, etc.), you will notice there is a film from Chile, Mauritius and Egypt.
The two French films are by Joann Sfar (Cristal for a Feature Film in 2011 for The Rabbi's Cat) and Rémi Chayé (Audience Award in 2015 for Long Way North). Another notable attendance is the Russian master Andrey Khrzhanovsky (winner in 1995 for The Grey Bearded Lion). His new film,  The Nose or the Conspiracy of Mavericks, Andrey Khrzhanovsky premiered at the International Film Festival of Rotterdam.
Only one woman is at the helm in this selection: Ilze Burkovska Jacobsen with My Favorite War, based on the director's personal story, who grew up in the USSR during the Cold War.
My Favorite War,
Check also the Polish feature Kill It and Leave this Town, Mariusz Willczynski  which premiered at Berlin Film Festival 2020.
10 Feature Films in the "Official" competition
The Nose or the Conspiracy of Mavericks, Andrey Khrzhanovsky (Russia)
Kill It and Leave this Town, Mariusz Willczynski (Poland)
Little Vampire, Joann Sfar (France)
Jungle Beat: The Movie, Brent Dawes (Mauritius)
Lupin III The First, Takashi Yamazaki (Japan)
7 Days War, Yuta Murano (Japan)
Ginger's Tale, Konstantin Scherkin (Russia)
Bigfoot Family, Ben Stassen, Jérémie Degruson (Belgium, France)
Calamity, a Childhood of Martha Jane Cannary, Rémi Chayé (France, Denmark)
Nahuel and the Magic Book, German Acuña (Chile)
10 Feature Films in the "Contrechamp" competition
On Gaku: Our Sound!, Kenji Iwaisawa (Japan)
The Old Man – The Movie, Mikk Mägi, Oskar Lehemaa (Estonia)
Lava, Ayar Blasco (Argentina)
Accidental Luxuriance of the Translucent Watery Rebus, Dalibor Baric (Croatia)
Beauty Water, Kyung-hun Cho (South Korea)
My Favorite War, Ilze Burkovska Jacobsen (Latvia, Norway)
The Shaman Sorceress, Jae-huun Ahn (South Korea)
The Legend of Hei, Ping Zhang (China)
True North, Eiji Han Shimizu (Japan, Indonesia)
The Knight and the Princess, Bashir El Deek, Ibrahim Mousa (Saudi Arabia, Egypt)
VR Works – Competition
Ajax All Powerful, Directed by: Ethan SHAFTEL / Country: USA
Battlescar - Punk Was Invented by Girls, Directed by: Martin ALLAIS, Nicolas CASAVECCHIA / Country: USA, France
Great Hoax: The Moon Landing, Directed by: John HSU, Roberto LOCOCO / Country: Taiwan, Argentina
Minimum Mass, Directed by: Raqi SYED, Areito ECHEVARRIA / Country: France, New Zealand
Odyssey 1.4.9, Directed by: François VAUTIER / Country: France
Saturnism, Directed by: Mihai GRECU / Country: France, Romania
The Orchid and the Bee, Directed by: Frances Adair MCKENZIE / Country: Canada
Feature Films and VR Works Juries: They will be choosing the Cristal and Awards for the Feature Film categories – Official and Contrechamp – and VR Works categories.
Feature Films
Corinne DESTOMBES, Head of Development, Folimage, France
Benoit PAVAN, Journalist, Agence France-Presse, France
Dominique SEUTIN, Director, festival Anima, Belgium
Contrechamp
Nicolas BLIES & Stéphane HUEBER-BLIES, Writer-Directors, a_BAHN, Luxembourg
Abi FEIJO, Producer, Director, Portugal
Joanna PRIESTLEY, Director, Priestley Motion Pictures, USA
VR
Myriam ACHARD, Canada
Mathias CHELEBOURG, France
Brandon OLDENBURG, Chief Creative Officer, Flight School Studio, USA
NB: Not all feature films selected will be put online during the Annecy 2020. The Annecy Festival management reports: "The financing conditions and session rights according to specific territories or markets prohibit certain films having unrestricted access. Therefore, in the event that certain films cannot be offered to all festivalgoers we have requested the producers provide a minimum 10-minute extract or to produce a short documentary presentation. The jury members will of course have access to the films in their entirety."
Online Annecy Festival 2020 takes place 15-30 June 2020.
SIGN UP: Want to read more free articles like this? Sign up for Our Newsletter
Read More About: