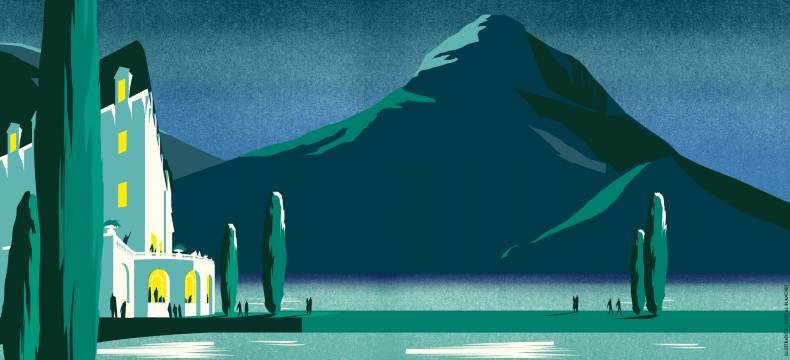 Paul Bush, David Doutel and Vasco Sa, Vladimir Leschiov among the contenders, and the most peculiar surprise.
Annecy Festival announced its partial selection results for the shorts and off-limits competitions,  student films, and the categories "Perspectives" and "Young Audiences Short Films in Competition". Annecy Festival no longer screens short films out of competition. Here's the statistics:
•     46 Shorts, 8 in Off-Limits, 18 in Perspectives, 10 in Young Audience and 48 in Graduation Films
•     46% have been directed or co-directed by women.
New films by Paul Bush (Ride), Riho Unt (Mary and the Seven Dwarfs), Vladimir Leschiov (Elektrika diena), Alison Snowden and David Fine (Animal Behaviour), Veljko Popovic (Cyclists), David Doutel and Vasco Sa (Agouro) are in the official competition. Marta Pajek is present with III, and Sarah van den Boom competes with Raymonde ou l'évasion verticale, while Inès Sedan is another woman director who participates with Love He Said.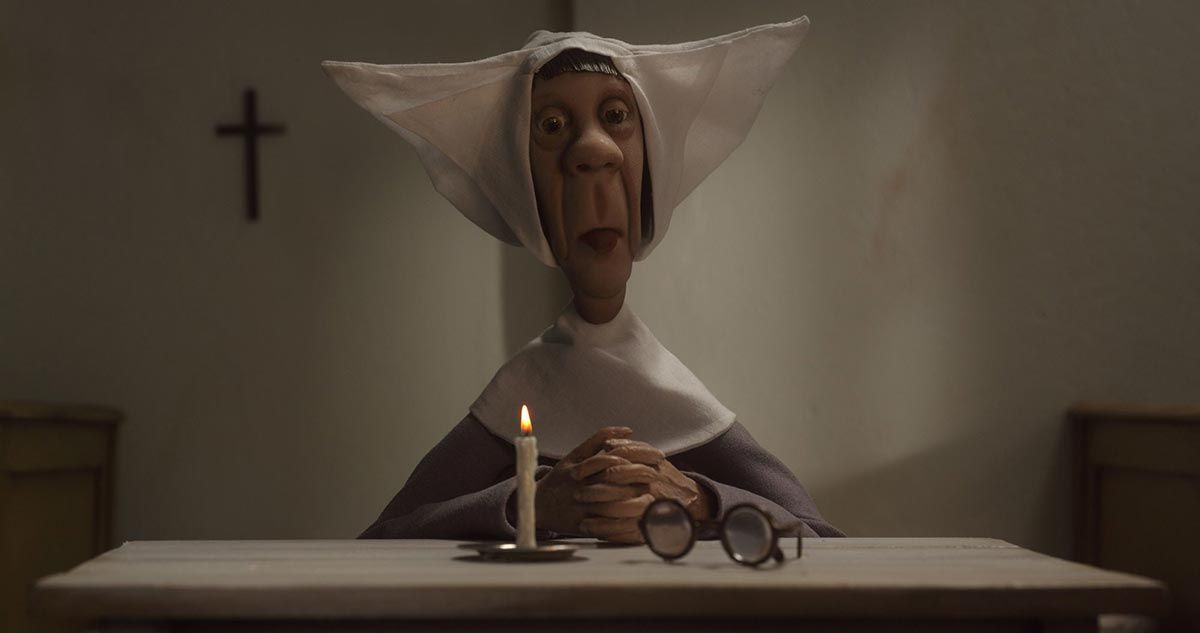 Maria and the Seven Dwarfs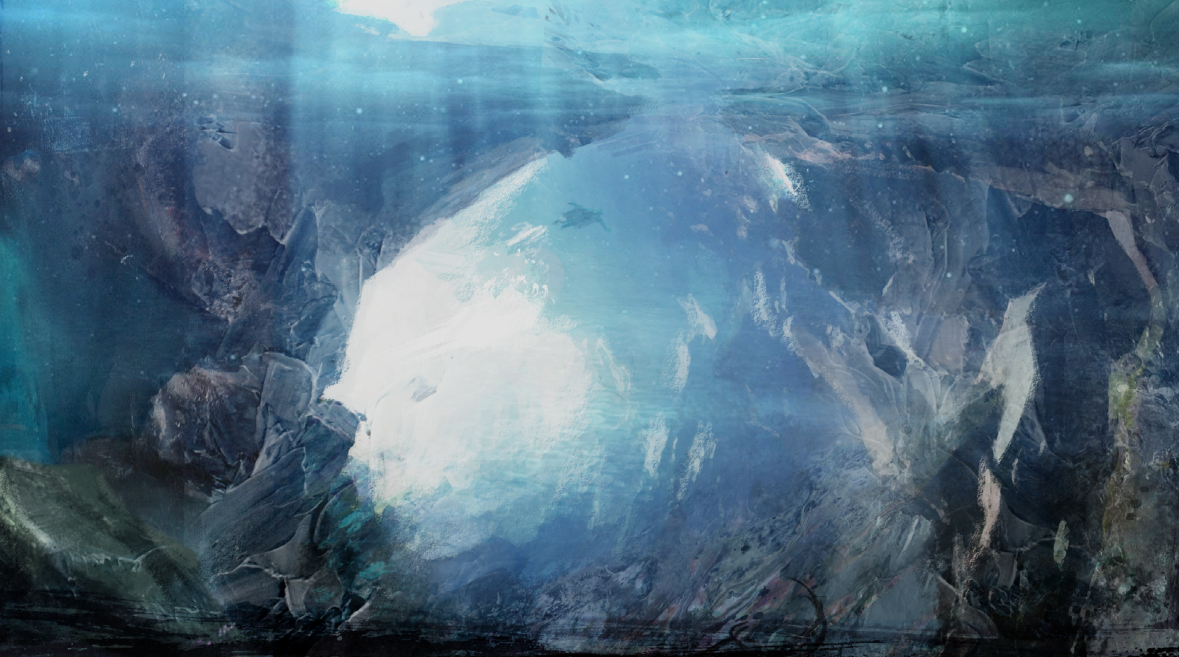 Agouro
An interesting note: directors who have made a name directing feature films have now been selected for their short efforts. The list includes the Crulic director Anca Damian (Telefonul), A Cat in Paris directors Alain Gagnol and Jean-Loup Felicioli (Le chat qui pleure,  The Girls Without Hands director Sébastien Laudenbach (Vibrato).
And the most peculiar surprise, and possibly sets a record for all festival participations: Experimental US artist John Morena (US) competes with 5 (!) films in the official short film competition:  Best Laid Plans, Dicks, Freedom from Fear, Slurred, String of Sound.  Morena has another film ( Home: A Portrait of New York City) in the off-limits competition, making his total Annecy participation to 6 films overall. Most of them are films from the collection of 52 films he made during 2017.

David OReilly also competes in the off-limits section with Everything.
The full list of short films:
(Fool Time) Job, Directed by: Gilles CUVELIER, France
20 ritnika, Directed by: Dimitar DIMITROV, Bulgaria
A Fly in the Restaurant, Directed by: Xi CHEN, Xu AN, China
Afterwork, Directed by: Luis USÓN, Andrés AGUILAR, Ecuador, Spain, Peru
Agouro, Directed by: David DOUTEL, Vasco SÁ, Portugal, France
Animal Behaviour, Directed by: Alison SNOWDEN, David FINE, Canada
Best Laid Plans, Directed by: John MORENA, USA
Biciklists, Directed by: Veljko POPOVIC, Croatia, France
Biryuk, Directed by: Polina FYODOROVA, Russia
Bloeistraat 11, Directed by: Nienke DEUTZ, Belgium, Netherlands
Death Van, Directed by: Michael ENZBRUNNER, Canada
Dicks, Directed by: John MORENA, USA
Egg, Directed by: Martina SCARPELLI, Denmark, France, Italy
Elektrika diena, Directed by: Vladimir LESCHIOV, Latvia
Étreintes, Directed by: Justine VUYLSTEKER, France, Canada
Fest, Directed by: Nikita DIAKUR, Germany
Freedom from Fear, Directed by: John MORENA, USA
Guaxuma, Directed by: Nara NORMANDE, Brazil, France
Happiness, Directed by: Steve CUTTS, United Kingdom
Hunter, Directed by: Ryoji YAMADA, Japan
I'm OK, Directed by: Elizabeth HOBBS, Canada, United Kingdom
III, Directed by: Marta PAJEK, Poland
La Chute, Directed by: Boris LABBÉ, France
La Mort, père & fils, Directed by: Denis WALGENWITZ, Vincent PARONNAUD (DIT WINSHLUSS), France
Le chat qui pleure, Directed by: Alain GAGNOL, Jean-Loup FELICIOLI, Belgium, France
Le Sujet, Directed by: Patrick BOUCHARD, Canada
Love He Said, Directed by: Inès SEDAN, France
Mang-ja-ui-sum, Directed by: Ji Hyeon KIM, South Korea
Maria ja 7 pöialpoissi, Directed by: Riho UNT, Estonia
Mr. Deer, Directed by: Mojtaba MOUSAVI, Iran
Not My Type, Directed by: Gerd GOCKELL, Germany, Switzerland
Panta Rhei Directed by: Wouter BONGAERTS, Belgium
Raymonde ou l'évasion verticale, Directed by: Sarah VAN DEN BOOM, France
Ride, Directed by: Paul BUSH, Portugal, United Kingdom
Sellők és Rinocéroszok, Directed by: Viktoria TRAUB, Hungary
Simbiosis Carnal, Directed by: Rocio ALVAREZ, Belgium
Slurred, Directed by: John MORENA, USA
Strange Beasts, Directed by: Magali BARBÉ, United Kingdom
String of Sound, Directed by: John MORENA, USA
Tears of Chiwen, Directed by: Sun XUN, China
Telefonul, Directed by: Anca DAMIAN, Romania
That Yorkshire Sound, Directed by: Marcus ARMITAGE, United Kingdom
Tightly Wound, Directed by: Shelby HADDEN, USA, Chile
Vibrato, Directed by: Sébastien LAUDENBACH, France
Weekends, Directed by: Trevor JIMENEZ, USA
Žltá, Directed by: Ivana SEBESTOVÁ, Slovakia
Lei Lei is back with Shadow in the Student competition, where the Polish Karolina Specht also competes with Squaring the Circle.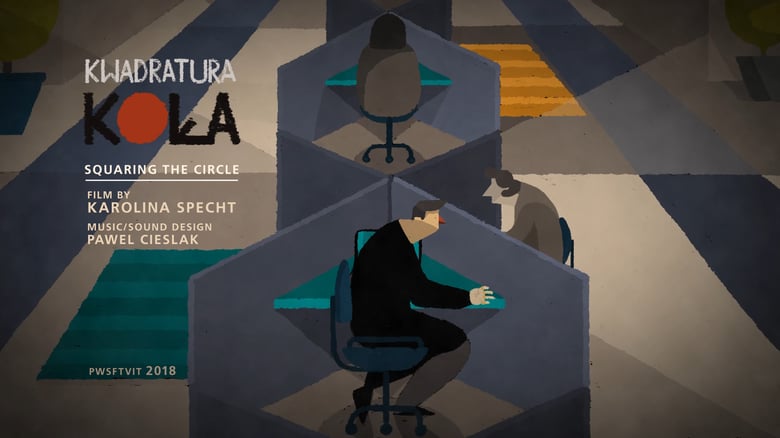 Graduation short Films in Competition
"Stranac" u mojoj glavi,  Directed by: Petra BALEKIC, Croatia
[O], Directed by: Mario RADEV, Chiara SGATTI, United Kingdom
A Daily Chat, Directed by: Cheng-hsu CHUNG, United Kingdom
A Love Letter to the One I Made Up, Directed by: Rachel GUTGARTS, Israel
A Table Game, Directed by: Nicolás PETELSKI MESON, Spain, Estonia
Am I Oright, Directed by: Yen Liang CHEN, Taiwan
Augenblicke, Directed by: Kiana NAGHSHINEH, Germany
Bacchus, Directed by: Rikke Alma KROGSHAVE PLANETA, Denmark
Barbeque, Directed by: Jenny JOKELA, United Kingdom
Blind Mice, Directed by: Nicholas D'AGOSTINO, USA
Bloem?, Directed by: Jorn LEEUWERINK, Netherlands
Body World, Directed by: Kitty FAINGOLD, United Kingdom
Contact, Directed by: Léa BANCELIN, France
Creature from the Lake, Directed by: Renata ANTUNEZ, Alexis BÉDUÉ, Léa BRESCIANI, Amandine CANVILLE, Maria CASTRO RODRIGUEZ, Logan CLUBER, Nicolas GRANGEAUD, Capucine RAHMOUN-SWIERCZYNSKI, Victor ROUXEL, ORIANNE SICCARDI, France
Facing It, Directed by: Sam GAINSBOROUGH, United Kingdom
Follower, Directed by: Jonathan BEHR, Germany
Fuse, Directed by: Shadi ADIB, Germany
Hors Saison, Directed by: Nicolas CAPITAINE, Céline DESOUTTER, Lucas DURKHEIM, Leni MAROTTE, France
Hybrids, Directed by: Florian BRAUCH, Matthieu PUJOL, Marie Kim TAILHADES, Yohan THIREAU, Romain THIRION, France
Inanimate, Directed by: Lucia BULGHERONI, United Kingdom
Inny, Directed by: Marta MAGNUSKA, Poland
Juste avant la fonte, Directed by: Eve TAYAC, France
Kaiju Shinwa, Directed by: Yosuke TANI, Japan
Kwadratura Kola, Directed by: Karolina SPECHT, Poland
L'Homme aux oiseaux, Directed by: Quentin MARCAULT, France
Le Grand Bain, Directed by: Elise AUGARTEN, France
Les Enfants du béton, Directed by: Jonathan PHANHSAY-CHAMSON, France
Losing Sight of a Longed Place, Directed by: Tsz Ying WONG, Ka Chun SHEK, Chun Long WONG, Hong Kong
Love Me, Fear Me, Directed by: Veronica SOLOMON, Germany
Még nem, Directed by: Timea VARGA, Hungary
Microdistrict, Directed by: Ivelina IVANOVA, United Kingdom, Bulgaria
Ming, Directed by: Danski TANG, USA
Muteum, Directed by: Äggie Pak Yee LEE, Estonia
Na Zdrowie! Directed by: Paulina ZIOLKOWSKA, Poland
Nosis, Directed by: Vincenz NEUHAUS, Germany
O Jezu!, Directed by: Betina BOZEK, Poland
O tom co potom, Directed by: Matous VALCHAR, Czech Republic
Ooze, Directed by: Kilian VILIM, Switzerland
Parfum Fraise, Directed by: Alix ARRAULT, Martin HURMANE, Jules RIGOLLE, Samuel KLUGHERTZ, France
Schnurksel, Directed by: Léo BECKER, Belgium
Shadow, Directed by: Lei LEI, China
Sigh of Sighs, Directed by: Bo-seong GIM, South Korea
Sister, Directed by: Siqi SONG, USA, China
Stockholm, Directed by: Victor CHAVANNE, Thomas NEMERY, Morgane PERRIN, Camille ROUBINOWITZ, Jean-Baptiste AZIERE, France
Take Me Please, Directed by: Olivér HEGYI, Hungary
Tango tesknot, Directed by: Marta SZYMANSKA, Poland
Travelogue Tel Aviv, Directed by: Samuel PATTHEY, Switzerland
Vermine, Directed by: Jérémie BECQUER, Denmark
Here's all films competing in the official selection

The festival received more than 3,050 submissions of films in all categories, coming from 93 countries (France, the USA and United Kingdom led the way in the number of submissions).. The official selection of TV and Commissioned Films will be revealed at the end of March and Feature Films in competition and out of competition will be revealed during the press conference in Paris, at the end of April.

The [email protected] selection will be announced on 16th April.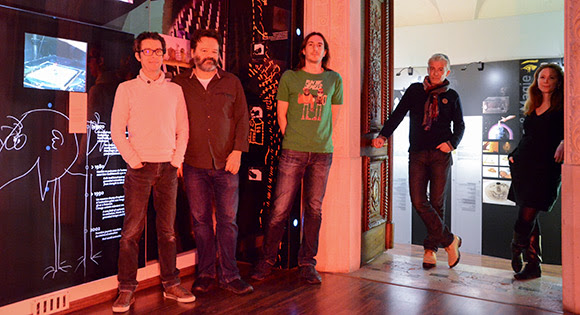 The official selection of the Festival has been made by the Artistic Director, Marcel Jean, and the Films and Programme Planning Team, composed of Laurent Million, Yves Nougarède and Sébastien Sperer, who were supported by Peggy Zejgman-Lecarme, the director of La Cinémathèque de Grenoble, in their task of making the selection for the Short Films in Competition.
Annecy festival takes place from 11th to 16th June 2018.