6+1 things not to miss at the 2015 Animafest, Zagreb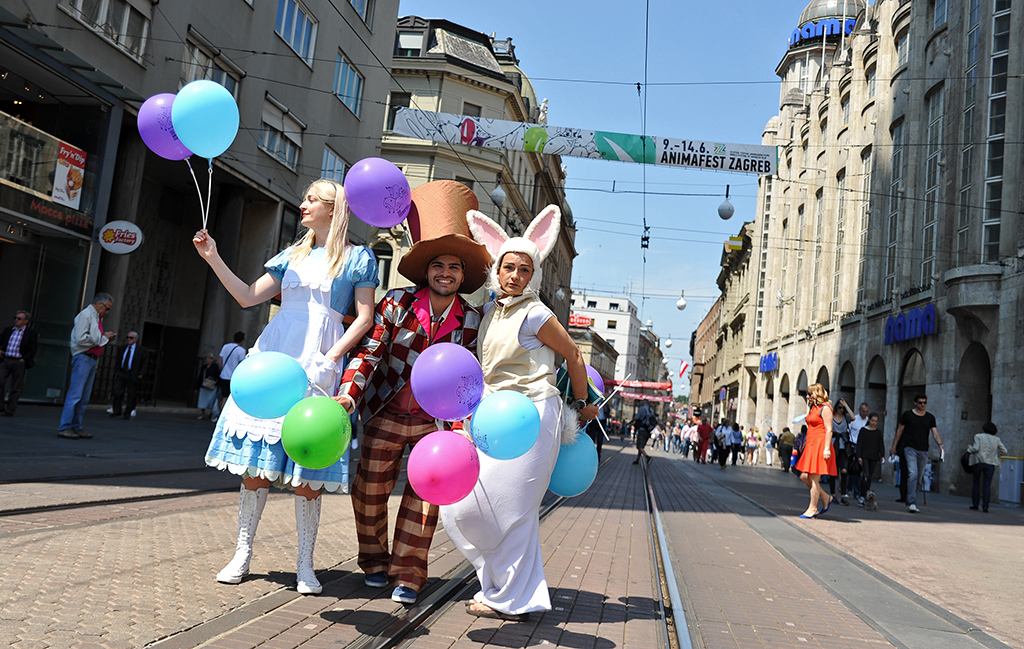 The World Festival of Animated Film – Animafest Zagreb opens the doors of three Zagreb's cinemas – Europa, Cineplexx Centar Kaptol and Tuškanac – on Tuesday, 9 June. Here are some highlights of the programme, which includes more 300 films and associated activities.
1. Michel Ocelot getting a Lifetime Achievement Award:
The renowned winner of the British Film Academy Award and the prestigious French Cesar, and Animafest's two times best animated film winner, for The Three Inventors (Les Trois Inventeurs) in 1980 and Azur & Asmar (Azur et Asmar) in 2007, is the winner of this year's Lifetime Achievement Award. The award will be handed to him at Animafest's opening ceremony (9 June, 19:30).
2. The competition programme: Animafest has decided to merge its short and feature film editions. It presents for the first time a competitive programme in features which includes Bill Plympton's Cheatin', Signe Baumane's Rocks in My Pockets and Tomm Moore's Oscar-nominated Song of the Sea. Be sure to spot out the Croatian feature by animator Dalibor Barić and composer Tomislav Babić Unknown Energies, Unidentified Feelings
The short competition includes Konstantin Bronzit (We Can't Leave Without Cosmos), Paul Driessen (Cat Meets Dog), Theo Ushev (Somnabulo), Andreas Hykade (Nuggets), Don Hertzfeldt (Word of Tomorrow), Pritt Pärn (Pilots on the way home) all of the above compete for an award among the 38 short ilms in competition. Jury members: Chris Landreth (Ryan, 2004),Jayne Pilling, Veljko Popović, Joung Yumi, Leslie Felperin.
Do not underestimate the student competition, which includes the Anima-awarded Deep Space by Bruno Tondeur and the Supinfocom (MOPA) film Chaud Lapin by Alexis Magaud, Soline Béjuy, Maël Berreur, Géraldine Gaston, Flora Andrivon. Jury (also commissioned films): Max Hattler, Vassilis Kroustallis and Branka Benčić.
3. The Alice Theme : Exactly 150 years since Lewis Carroll's Alice in Wonderland, the beloved story becomes  the inspiration for the 2015 Croatian fest, which includes both classics (Disney's and Jan Svankmajer's Alice - two works that couldn't be any different), shorts and curiosities. Two Disney's short films, from 1923 and 1936, followed by Jabberwacky from Švankmajer's earlier phase, a curious interpretation of Alice commissioned by the American Mental Health Institute, and a surreal sexual film by Vince Collins Malice in Wonderland are in programme. More info: http://animafest.hr/en/2015/program/being_changed/1
4. Cartoon D'Or programme: The best European animation shorts in a single programme during Animafest 2015, as curated by CARTOON , after their respective festival wins in acclaimed animation festivals (including Animafest). The complete line-up.
5. Animafest Scanner: Organized for a second year in a row, Animafest Scanner is a symposisum which aims to present the latest in animation studies,  and create a synergy between scholars and animation practice.
This year's keynote speaker is Giannalberto Bendazzi, a well-known film historian, author and professor, as well as the winner of the first Award for Outstanding Contribution to Animation Studies in 2002. In his talk Alice in Studyland he will highlight the accomplishments, but also the obstacles to the rapidly growing field of international animation studies. View the complete programme
6. Animafest Pro: Chris Landreth, Tomm Moore will give respective lectures on their animation work, and workshops on video games and interactive animation give a more contemporary feeling to the Zagreb fest.
7. Animafest Goes MSU: Explore the 16 site-specific animated works from all over the world (Australia, France, USA, Croatia, Italy, Poland, Hong Kong,Great Britain, South Korea, Germany, Slovenia) to be exhibited at the media façade of the Museum of Contemporary Art (26 May – 14 June) .
Animafest Zagreb runs from 9 to 14 June 2015.
Read More About: