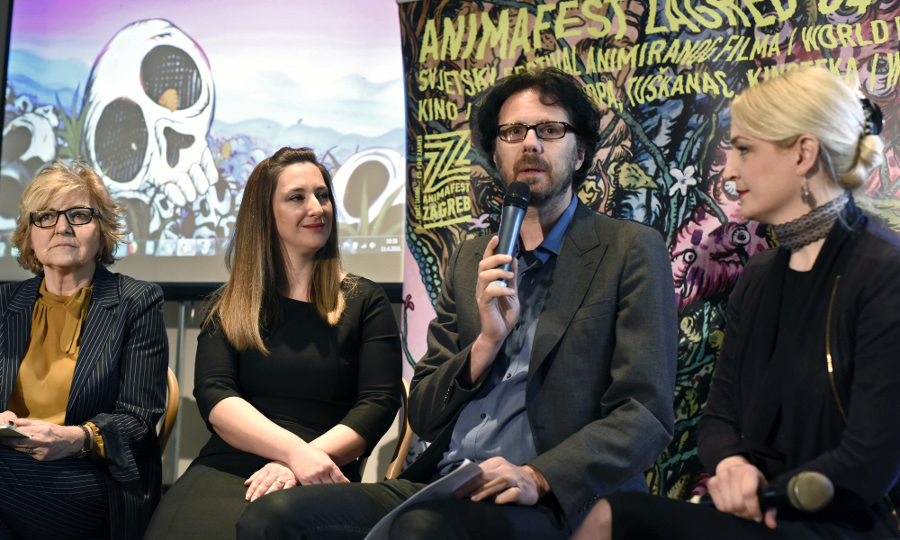 Wes Anderson, Emma De Swaef, Captain Morten and the Spider Queen in the 2018 Zagreb Festival lineup.
Scheduled to take place from 4 to 9 June 2018, Animafest Zagreb has prepared a rich and diverse programme with over 350 films.
Animated feature film will be represented by eight titles from Italy, Belgium, France, South Korea, Taiwan, China, Estonia, and the US at the up-coming World Festival of Animated Film - Animafest Zagreb 2018.
Τhe Berlin-awarded (Silver Bear for Best director) Isle of Dogs by maverick director Wes Anderson is Animafest Zagreb's US entry, this stop-motion film (after his Fantastic Mr. Fox) follows a boy who sets off in search of his dog after the entire species is exiled from the Japanese islands. Dog-related is also the anthology A Dog's Life by Chang Yi, one of the leading figures of the Taiwanese new wave cinema.
The Italian directorial quartet Alessandro Rak, Ivan Cappiello, Marino Guarnieri, and Dario Sansone present an urban dystopian version of Cinderella the Cat. The film is set on a futuristic ship trapped in a Naples harbour and haunted by holograms of the forgotten past, while the story follows the daughter of a late scientist, who is left at the mercy of her stepmother, sisters, and a Mafia boss.
Puppets feature both in the Estonian/Belgian/Irish/UK Captain Morten and the Spider Queen (Kaspar Jancis, Henry Nicholson and Riho Unt), which has its world premiere at Animafest, and Emma De Swaef and Mark James Roels' My Magnificent Cake!
Here is the making-of of Captain Morten and the Spider Queen:
The NUKUFilm tradition is much present in the former much-awaited film, where a coming-of-age allegory following an eight-year-old boy who is magically shrunken down to the size of an insect and forced to steer his favourite toy-ship.
This Magnificent Cake! (premieres at Cannes) comes after the international success of Oh, Willy... (2011). Felted puppets are also used in the 44-minute film, which is an anthology film set in colonial Africa in the late 19th-century telling the stories of five different characters: a troubled king; a middle-aged Pygmy working in a luxury hotel; a failed businessman on an expedition; a lost porter; and a young army deserter.
The European Award-nominated feature by Ernest and Celestine director Benjamin Renner and Patrick Imbert The Big Bad Fox and Other Tales is an anthology aquarelle film based on the author's illustrated books.
A highly interesting adult topic is the black-and-white, rotoscope The Man-Woman Case by Joëlle Oosterlinck and Anaïs Caura. It is a French biographical crime mini-series about Eugene Falleni – a transgender man convicted of cruelly murdering his wife – and his earlier life marked by violence and the search for identity.
The nostalgic Korean film The Shower by Ahn Jae-huun is an adaptation of influential Korean 1959 novella, and focuses on the friendship and innocent love between a girl and a boy in the countryside.
The full list:
A DOG'S LIFE, Yi Chang (Taiwan, China/2017/01:20:09)
CAPTAIN MORTEN AND THE SPIDER QUEEN, Kaspar Jancis, Henry Nicholson, Riho Unt (Estonia, Ireland, Belgium, UK/2018/01:20:00)
CINDERELLA THE CAT, Alessandro Rak, Ivan Cappiello, Marino Guarnieri, Dario Sansone (Italy/2017/01:26:00)
ISLE OF DOGS, Wes Anderson (United States, Germany/2018/01:41:00)
THE BIG BAD FOX AND OTHER TALES, Benjamin Renner, Patrick Imbert (France/2017/01:20:00)
THE MAN-WOMAN CASE, Anaïs Caura (France/2017/44:35)
THE SHOWER, Jae-huun Ahn (South Korea/2017/48:00)
THIS MAGNIFICENT CAKE!, Emma de Swaef, Marc James Roels (Belgium, France, Netherlands/2018/44:00)
The 28th edition of Animafest Zagreb will take place from 4 to 9 June 2018.