9 Animation Films for Berlinale Generation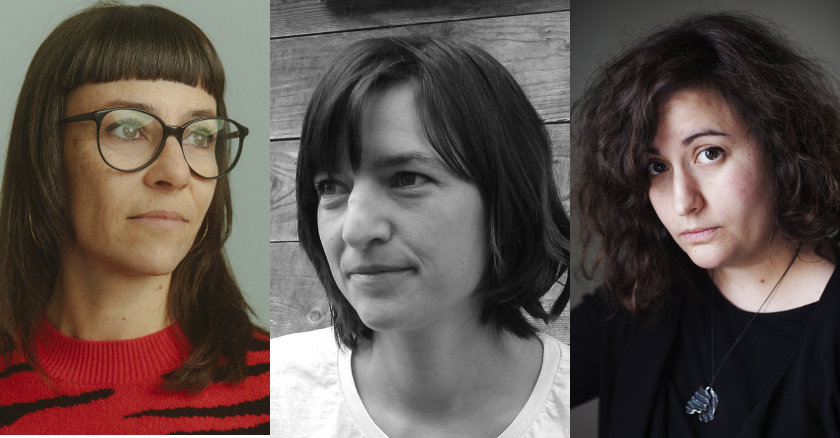 (from left to right): Catherine Lepage, Lena von Döhren, Niki Lindroth von Bahr
The 43rd Generation programme of the 70th Berlin Film Festival revealed overall 29 world premieres and eleven debut films from 34 countries.  
Generation Kplus and Generation 14plus are  two competition programmes screening state-of-the-art international cinema, headed by Maryanne Redpath. The selection focuses on films that, in their narratives and cinematic languages, "take young people seriously". They celebrate the diversity and the differences of human experience and give viewers of all ages space to reflect on their own living environment with new eyes.
8 animation shorts and one feature film (Monty and the Street Party by Anders Morgenthaler and Mikael Wulf) compete, along with both short fiction and documentaries for the festival prizes. After the Cannes premiere of her previous film, The Burden, Niki Lindroth von Bahr now moves to Berlin to premiere her new stop-motion film, Something to Remember. 
The first film of Catherine Lepage, The Great Malaise, had its world premiere at the 2019 Sommets du cinéma d'animation,  where it won the People's Choice Award in the international category and a Jury Special Mention in the Canadian competition. It now competes at the Generation 14plus section. 
Czech-born Milen Vitanov (watch Happy End) premieres in Berlinale his latest Mishou. Another Czech artist, Aliona Baranova, presents her Leaf.
Two French films (Un diable dans la poche by Antoine Bonnet & Mathilde Loubes and Black Sheep Boy by James Molle) are here. The Swiss film The Little Bird and the Bees by Lena von Döhren) is part of a film series, and it's one more participation at Berlinale for its director. A film by Chinese watercolor artist Sun Lijun (Qiu shi / Harvest) rounds up the selection.
Generation Kplus
Der kleine Vogel und die Bienen by Lena von Döhren (The Little Bird and the Bees, Switzerland), WP
After the little bird has fluttered across the Generation canvas in fall and winter episodes, a new adventure follows. It is springtime, and the little bird makes the acquaintance of the bees, but the voracious fox is already in pursuit.
Lístek (Leaf) by Aliona Baranova (Czech Republic) WP
A beautiful red leaf of a tree is the ticket of the girl who wants to board the big steamer. The scent of this leaf reminds the sailor of his homeland and finally leads him back there.
Mishou by Milen Vitanov (Germany / Bulgaria) WP
Far and wide only snow, ice and a pleasant silence. Until a helicopter drops a load of noisy tourists. A humorous animation about animalistic interaction and the human ignorance of nature. Milen Vitanov, co-founder of the Berlin Talking Animals collective, has a film in Generation for the second time.
Mugge & vejfesten by Anders Morgenthaler and Mikael Wulf (Monty and the Street Party, Denmark) International premiere
Monty, a cheerful optimist, wants to organise a big neighbourhood party to reconcile his parents shortly before their divorce. Nuns with beards on stilts and enthusiastic parkour nudists, those are part of everyday life in his little town. A breath-taking firework of bizarre and pointed punch lines on the occasion of a hopeless situation.
Qiu shi (Harvest) by Sun Lijun, People's Republic of China WP
An animation illustrated by the renowned Chinese water-colour artist Sun Lijun, in which a small grasshopper hunts for the season's most sought-after fruits. His dramatic escape from a large predator leads him unexpectedly to the object of desire: the pomegranate.
Generation 14plus
Le mal du siècle by Catherine Lepage (The Great Malaise, Canada) IP
The hedgehog between balloons, the feline predator on the hamster wheel, the fish in the lifebuoy: A young woman portrays herself in the best possible light in her self-description. Ingenious and humorous, the film illustrates honest images for the praised ideals of life in the 21st century. The burnout is pre-programmed.
Black Sheep Boy by James Molle (France) WP
In a world which resembles a computer game from bygone times, an unloved boy embarks upon a search for answers to the essential questions: How does one become happy in life? Is there a "real me", or do we just play some character?
Något att minnas by Niki Lindroth von Bahr (Something to Remember, Sweden)
An animated puppet film as a melancholy ballad: In deserted conference rooms, bed stores, experimental laboratories, medical offices, petrol stations and scientific centres, animals strike up the swan song to a world that may never be what it once was.
Un diable dans la poche by Antoine Bonnet, Mathilde Loubes (France) WP
As children play hide and seek, they witness a crime. Only Auguste, the youngest amongst them, no longer wants to carry the burden of keeping the grave secret. A poetically crafted miniature about guilt, betrayal and loyalty.
SIGN UP: Want to read more free articles like this? Sign up for Our Newsletter