Animafest Zagreb 2021 Celebrates Love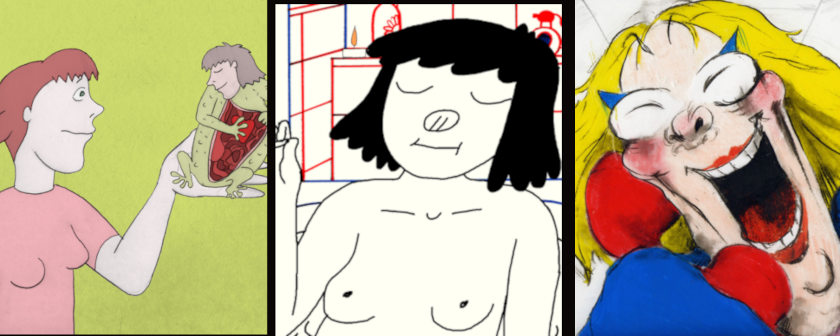 Almost 350 films for the 31st World Animated Film Festival -Animafest Zagreb programme, which this year (apart from its main competition), presents an extensive theme programme dedicated to love in animation – a topic that preoccupies every man and woman, including the makers of animated films.
From classic, serious and witty depictions of the 'chronology of love' (first encounter, climax and break-up), to filmmakers who have raised professional collaboration to a private level, to eroticism which today, when its portrayal is freer and more accepted, a female perspective reigns – there are three slots containing eight programmes. There are also the favourite masters of 'cartoon infatuation': Alexandre Alexeieff and Claire Parker, Joy Batchelor and John Halas, Olga and Priit Pärn, Abi Feijó and Regina Pessoa, Ivana Bošnjak and Thomas Johnson, Renata Gąsiorowska and Lori Malépart-Traversy - Daniel Šuljić, artistic director


The programme chronicles the in and out of love relationships
LOVE 1: WHEN WE MET
Highlights: Lavatory – Lovestory, Konstantin Bronzit | Impossible Figures and Other Stories II, Marta Pajek

LOVE 2: FIRE OF LOVE
Highlights: Love Games,  Yumi Joung | Repete, Michaela Pavlátova (1995

LOVE 3: HEARTBREAK
Highlights: Amélia & Duarte, Alice Guimarães, Mónica Santos | Two for Two, Jelena Oroz

LOVE 4: MÉNAGE À DEUX 1 (co-directors and partners)

Highlights: Night on Bald Mountain, Alexandre Alexéieff, Claire Parker | Negative Space, Ru Kuwahata, Max Porter

LOVE 5: MÉNAGE À DEUX 2 (co-directors and partners)

Highlights: Rabbitland, Nikola Majdak Jr., Ana Nedeljković | Imbued Life, Ivana Bošnjak, Thomas Johnson

LOVE 6: MÉNAGE À DEUX 3 (director-producer and partners)
Highlights: Girls' Night Out, Joanna Quinn (p: Les Mills) | Tragic Story with Happy Ending, Régina Pessoa (p: Abi Feijó)


LOVE 7: LUST
Highlights: Achilles, Barry Purves |Futon, Yoriko Mizushiri

LOVE 8: PASSION
Highlights: Pussy, Renata Gąsiorowska | Teat Beat of Sex Ep: 1-3 / Teat Beat of Sex Ep: 1-3, Signe Baumane
Nancy Denney-Phelps, Margit Antauer Buba, Olivier Catherin, Olga and Michał Bobrowski, Matea Milić, Vivien Halas, Thomas Renoldner and Sabine Groschup helped artistic director Daniel Šuljić curate this theme love programme.
The Animafest Zagreb 2021 trailer by Jelena Oroz
The 31st World Animated Film Festival – Animafest Zagreb 2021 takes place from June 7 to 12 at the SC Cinema, Tuškanac Cinema, &TD Theatre, Tuškanac Open Air Cinema and other city locations.
SIGN UP: Want to read more free articles like this? Sign up for Our Newsletter