'Oneluv', 'My Love Affair with Marriage', 'Eeva' in the Animafest Zagreb Winners 2023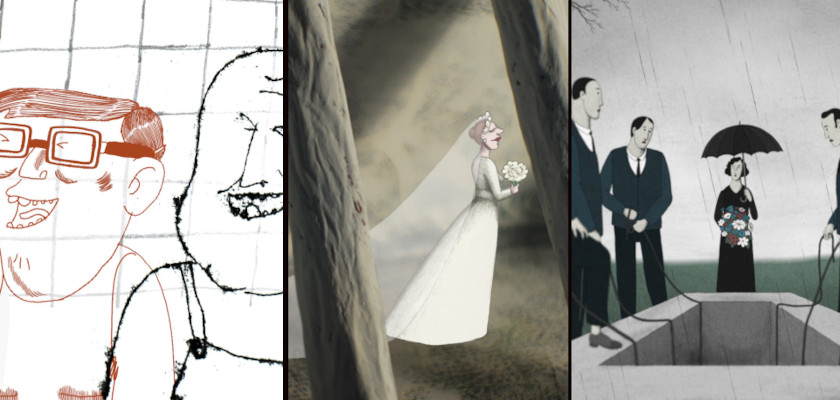 Stories of social interactions and its complexity won at the recent Animafest Zagreb  (5-10 June 2023) edition. Signe Baumane and her 'My Love Affair with Marriage' tumultuous story of a woman obsessed with the wrong institution won the Grand Prix for a Feature Film.
In the short film world, Varya Yakovleva and her 'Oneluv' won the Grand Prix for a short animation film; a powerful and visually strong portrait of a woman needing to face unwanted strangers and abuse. This is one of the few Russian films that gets awarded at a major animation festival since the Ukraine war and the Russian invasion started (Animafest Zagreb accepts state-funded Russian films in its programme, without mentioning their country of origin in its programme/catalogue).
Moving from marriage to abuse to a funeral, the Croatian competition winner was 'Eeva', the Lucija Mrzljak and Morten Tšinakov Croatian/Estonian dark comedy that subverted expected social stereotypes.
Here is the full winners' list, along with the jury statements
Grand Competition Short Film:
Jury: Hugo Covarrubias, Hisko Hulsing, Tal Kantor, Aneta Ozorek and Vuk Jevremović
Grand Prix:  Oneluv directed by Varya Yakovleva, produced by Studio SHAR (Russia)

Jury Statement: The Grand prix of the festival goes to the film about the shift in the game of power between victim and perpetrator told with imperfections, dirt and shivering style magnifying the story of abuse.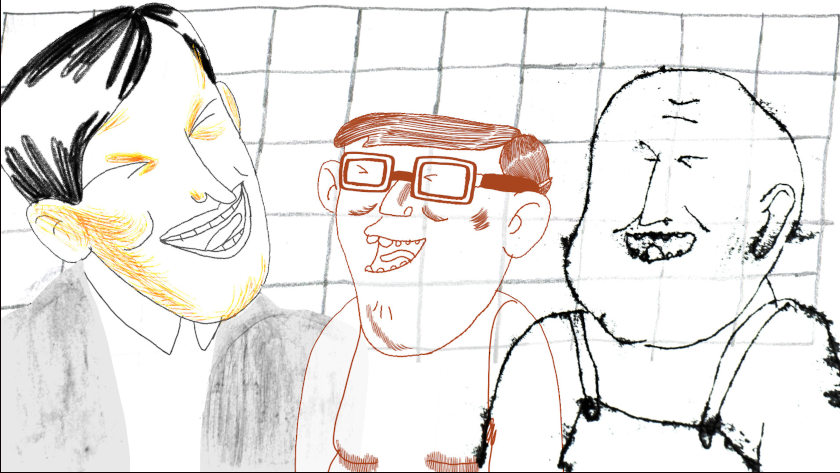 Golden Zagreb Award for Creativity and Innovative Artistic Achievement: 'Scale' by Joseph Pierce (produced by Melocoton Films).
Jury Statement: We loved the very emotional depiction of alienation caused by addiction.

The Zlatko Grgić Award for the best first film made outside an educational institution: 'A Kind of Testament' by Stephen Vuillemin (produced by Remembers)
Jury Statement: for the way of changing the subject inside a story with a delicate and at the same time disturbing use of the line and colors.
Special Jury Mentions:
Hugo Covarrubias: 'Compound Eyes of Tropical' (熱帶複眼) by Zhang Xu Zhan (produced by Zhan Zhan Xi Qi, Taiwan) for showing us a new approach to folktales with a renewed use of materiality.

Hisko Hulsing: 'Mariupol. A Hundred Nights' by Sofiia Melnyk (produced by Gogol Fest, Ukraine/Germany).


I would have loved to give a special mention to a couple of films that I really loved a lot, but I could only give one and there was this one film that touched me deeply, not only because of its horrific subject, but also because it shows no signs of compromises in depicting the dark horrors of war, seen through the eyes of a 9-year- old child 

Tal Kantor: 'The World's After' by Florentina Gonzalez (produced by Autour de Minuit, France).
A sensitive voice of a generation anxious about its future appears in the film with sentiments for an extinct world, yet reflecting the desire for empathy and connection, through love for nature and music 
Aneta Ozorek: 'The Garden of Heart' by Olivér Hegyi (A szív kertje) produced by CUB Animation and Artichoke (Hungary/Slovakia), a bittersweet film about the power of self-doubt and imagination.
Vuk Jevremović: 'Our Pain' (Japan) by Shunsaku Hayashi'
Somewhere between psychedelic experience and a journey through pain... from wounds of lost love and death of the loved one.

Grand Competition Feature Film
Jury: Mohamed Ghazala, Ivana Guljašević Kuman and Ferenc Mikulás
Grand Prix: 'My Love Affair with Marriage' by Signe Baumane (produced by Studio Locomotive, The Marriage Project LLC and Antevita Films).
Jury Statement: Both the animation and the design are beautifully done, and they are also delivered in a simple way. By doing so the complexity of the emotion of the movie's topic becomes more tangible. Also, the storyline in question has already been told many times, but this time in a completely new and refreshing way

Special Mention: 'White Plastic Sky' by Tibor Bánóczki and Sarolta Szabó (produced by Salto Films and Artichoke).
Jury Statement: The feature in question is a visually spectacular philosophical film dealing with the key environmental issues of our time, as well as with timeless ethical questions

Student Film Competition and the Croatian Film Competition
Jury: Laura Gonçalves, Pavel Horáček and Irena Jukić Pranjić
Dušan Vukotić Award for Best Student Film: 'Above the Clouds (Felhők felett) by Vivien Hárshegyi, produced at Moholy-Nagy University of Art and Design Budapest.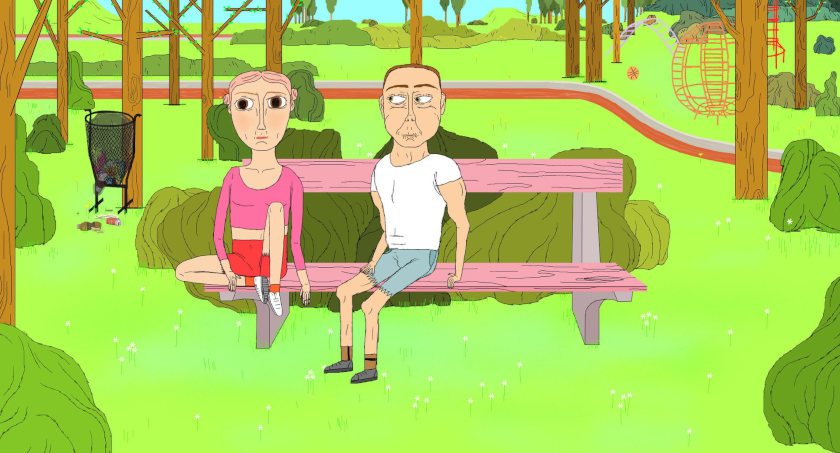 Jury Statement: a colorful ride through a fresh, frenetic and mind-blowing emotional travel with the power of humor that gives us strength to face our weaknesses.
Special Mention:  'Sewing Love' by Xu Yuan, made at Tama Art University (Japan)

Jury Statement: Without using any words, it clearly speaks about the fine line between love and manipulation – rollercoaster from fairytale to horror. For the perfect use of the animation potential, taking us on an intense journey full of fluidity, color and camera movements
Special mention: 'Fur' by Zhen Li, made at California Institute of the Arts

Jury statement: for the fearless use of possibilities of drawn animation full of metamorphosis and experimental moments, a deep psychological experience as a coming-of-age film.

Croatian Film Competition Best Film: Eeva by Lucija Mrzljak and Morten Tšinakov, produced by Eesti Joonisfilm and Adriatic Animation (financial award in the amount of 1,000 euros awarded by the Croatian Film Directors' Guild)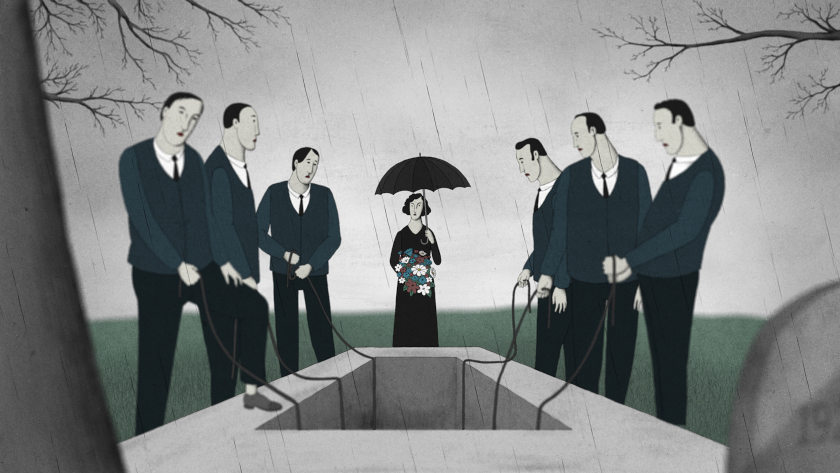 Jury Statement: for the brilliant use of dreams as narrative element, for its darkness and humor, for its perfect combination between a complex style and sense of aesthetics translating a harmony of all the elements throughout the film, from the beautiful composition to a perfect sense of rhythm and music. 
Special mention: 'Her Dress for the Final', Martina Meštrović produced by Kreativni sindikat
Jury statement: for the poetry composing the fragmentariness of routine into a coherent image reconciling life and death; for the encounter of royal attires – the one celebrating the peak of one's life and the one celebrating reconciliation with transience.
VR Animation Competition
Jury: Reinhold Bidner, Michelle Kranot and Andrijana Ružić.
Winner: 'All Unsaved Progress Will Be Lost' by Mélanie Courtinat, made in her independent production.
Jury Statement: Leading us; holding space for us; a meditation on personal experience and universal values. Textual, contextual. Poetry in VR.
Special Mention: 'From the Main Square' by Pedro Harres, made at Film Universitaet Babelsberg Konrad Wolf
Jury Statement: this project is both engaging and playful, using animation and VR immersion in a clever and thought-provoking way.
Films for Children Competition
Jury: Pino Fabro Barić, Relja Borović, Magda Jagarinec, Olga Korečić and Jana Šagadin.
Winner: 'Socks for the Star' by Olga Titova (produced by SMF animation studio).
Jury Statement: It took a long time to make this film, which has successfully combined different media and seems coherent and easy to follow. The details are wonderfully animated and movement was well studied and analyzed before animation. The music blends with the scenes and draws us in the action as if it is portraying it. The puppets are well made, the set design is beautiful and the colors fit together
Special Mention: 'Let's Roll' (Ça Décale, directed by: Chloé Musa, Annabelle Tamic, Alexandre Terrier, Louis Lukasik, Yann Laurent, Camille Flinois and Philip Gonçalves), produced by Pôle 3D.
Jury Statement: This film stood out with amazing animation that doesn't stick to the standards. We liked the exchange between intense and reduced animation, a combination of 2D and 3D animation, the use of light and colors and the Dreamcore/Weirdcore aesthetic of the film. We had the impression the film came right out of our imagination. We like it when animators go wild with animations.
The Audience Award Mr. M for the film from the programme of the Grand Competition Short Film goes to the Portuguese-French-British film 'Ice Merchants' by João Gonzalez (produced by COLA Animation, Wildstream and Royal College of Art).

The Audience Award Mr. M for the film from the programme of the Grand Competition Feature Film will be announced at a later date.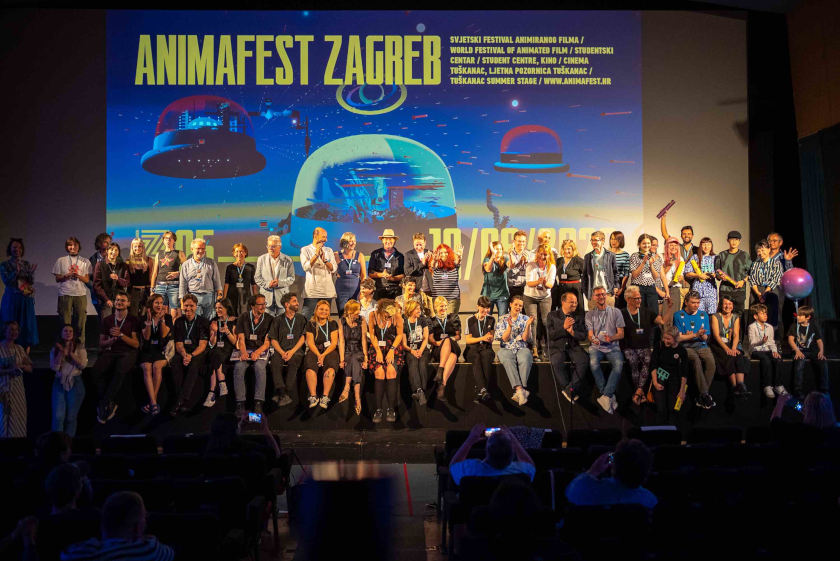 Animafest Zagreb 2023 Award Ceremony

The 34th World Festival of Animated Film – Animafest Zagreb will be held from 3 to 8 June 2024.
SIGN UP: Want to read more free articles like this? Sign up for Our Newsletter