Animateka 2014 Festival Winners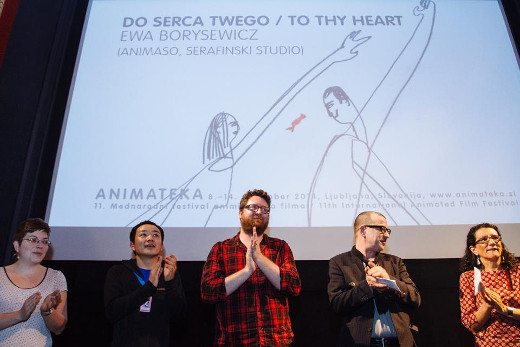 The 11th International Animated Film Festival in Ljubljana (8-14 Dec) gave its awards.
The Animateka Festival Grand Prix  (with the amount of 2,000 Euros, presented by RTV Slovenija) was given to Do serca Twego / To Thy Heart by Ewa Borysewicz (animaso/Serafinski studio, Poland, 2013, 10'08''.
Jury members Tess Martin, Akinori Oishi, John Canciani and Cecilia Traslaviña at the Animateka closing ceremony (Kinodvor. Mestni Kino) (c) Animateka Animaweb
The jury stated that  it weaves a personal story with religious ritual and how the voice-over connects the two worlds. Because the animation matches the reduced and original drawing style, and for the way this style complements the voice-over, allowing us to enter the characters' world.
The :D'SAF! Audience Award  (and 1,000 Euros) was given to Timber by Nils Hedinger (Pret-a-tourner Filmproduktion, Switzerland, 2014, 5'35''), which also received a Jury special mention.
University of Ljubljana and University of Nova Gorica Award for best European student animated film was a UK win. Daniela Sherer won for The Shirley Temple (RCA London, 2013, 9'40'').
The Creative Europe Desk Slovenia Audience Award for the Elephant Children's Programme went to Slovenia and to Boris Dolenc & Jernej Žmitek for their  Cipercoper / Zippity Zappity (Slovenia, 2014, 15'52'').
JURY SPECIAL MENTIONS:
Akinori Oishi: The Tiniest (Tomislav Šoban): "The film is unique in combining a story with documentary radio narration in an interesting way. The little mystery about "his friend" sparks the viewers' imaginations and draws the audience into its own universe".
John Canciani: Beauty (Rino Stefano Tagliafierro): This stunning travel through Art History, transforming from innocent desire into the dark side of humanity makes this film a unique and original art piece.
 Andreas Hykade: Timber (Nils Hedinger): For the skill of being a funny cartoon movie and still getting selected for Animateka,
 Cecilia Translavina: Fugue for cello, trumpet and landscape (Jerzy Kucia): The film achieves new levels of poetic expression in animation through its unique and sophisticated relationship between moving image and sound.
 Tess Martin: A Blue Room (Tomasz Siwinski):  This film depicts a strange, unnerving and surreal environment that convinces us we are in a dream, or a nightmare.
Animateka festival renews its festival animation date from 7 to 13 December 2015.
Read More About: