Animest Festival 2023: Join the Dance! (GoCritic! Review)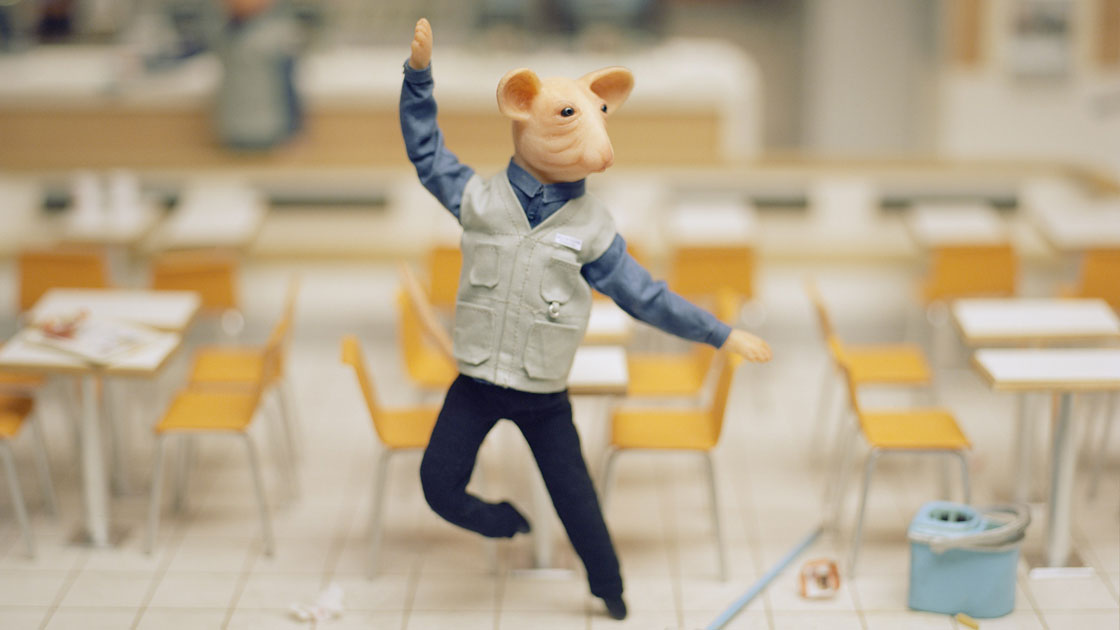 Under the festival theme of 'Join the Dance', this year's Animest Off Competition selection encouraged festival-goers to question the epistemology and very concept of dance. With works hailing from as far back as 1968, the selection challenges the idea of dance as a singular form of creative expression, instead prompting viewers to allow the animated form to blur the lines between choreography and corporeal impulsivity. While some films captured the theme of dance most directly, others featured stylised movement, marching, transformation, physical play, and alterations in speed. 'Join the Dance' allowed the films to act together as a playful body of work in addition to an introspective intellectual exercise, traversing different styles and methods to reconstruct the meaning(s) of dance in animated film.
Programme curator Alexis Hunot worked with festival director Mihai Mitrică to co-create the festival's sprawling theme of dance. In an interview, Hunot expressed excitement in being able to 'play with the theme' of the 18th Animest even more extensively than he could with last year's theme, which was 'Animate the Love'.
One film that epitomises the essence of this exercise was Nicolas Devereaux's '1 Mètre/Heure' (France, 2018), which follows a group of semi-anthropomorphised snails animated in photorealistic 3D. As the snails twirl on the wing of an AirFrance plane, Devreaux turns the viewer's perception of animal movement into dance in a set of mesmerising timelapses. Snatched up occasionally by a passing bird, the group of creatures move in a tight choreography co-created by Philippe Decouflé, a French dancer, choreographer, and theatrical director who notably choreographed the opening and closing ceremonies of the winter 1992 Olympic Games. Playing with time and movement, the film reveals small moments of beauty and gracefulness that humans miss due to the speed of their day-to-day grind.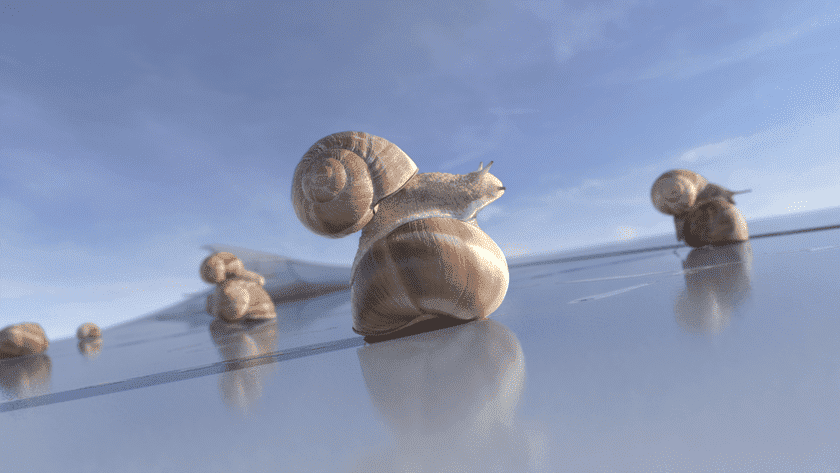 '1 Mètre/Heure' by Nicolas Devereaux
The musical selection, which begins as a conventional recording of the prelude from J.S. Bach's Cello Suite No. 5 in C minor, provides an emotional and driving rhythmic backing to the snails, who react expressively to each swell in the mix. As the sun fades and the day turns to night, the exterior of the plane seemingly becomes a nightclub, the airport runway lights illuminating the wing. Bach's baroque classic is then remixed for the film by composer Pierre Le Bourgeois, replete with bouncing synths, drums, and electric bass as the wing turns into a free-for-all dance floor.
With a broad spectrum of films to choose from on the topic of dance, the curators were not restricted only to contemporary pieces. Hunot picked more of the older films while Mitrică tended toward newer works, creating a unique blend of works spanning decades.
A strong older selection was 'Ballerina on the Boat' by Lev Atamanov. The 1969 Soviet animated film is heavily driven by Alfred Schnittke's orchestral score filled with musical motifs that accompany each distinct character design, including a magical, otherworldly, fairy-like flying ballerina that captures the attention of several stocky sailors that move linearly.
'Ballerina on Boat' by Lev Atamanov
Highlighting standout works in the programme proved difficult for Hunot, who joked during our conversation: "It's like saying, which child do you prefer?" Rather, he took up the challenge of facilitating a mix of what he described as fun and 'crazy' films like Christian Larrave's 'Lesley the Pony Has an A+ Day!' (USA, 2014) in conjunction with more conventional works.
Several films, including 'L'Évasion' by Arnaud Demuynck, Gilles Cuvelier and Gabriel Jacquel (France, 2017) and 'Guard of Honour' by Edmunds Jansons (Latvia, 2021), complemented their heavily choreographic movement with a sharp visual style. 'L'Évasion' uses minimalist, chiaroscuro-inspired black-and-white animation with frenzied geometric forms and a sparse and chaotic orchestral ambience. 'Guard of Honour', which Jansons states in the credits was inspired by Sergei Eisenstein's drawings, employs dramatic perspective changes, a contrasting blue-and-yellow palette, and angular graphics.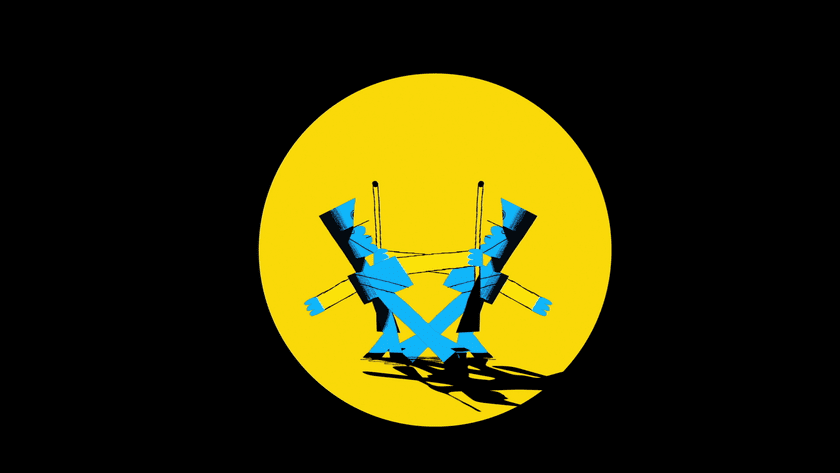 'Guard of Honour' by Edmunds Jansons
In the interview, Hunot also highlighted notable shorts that utilise dance to tackle topics that are difficult to verbalise, including sexual abuse — 'The Hat' by Michèle Cournoyer (France, 1999), and existentialism — 'The Burden' by Niki Lindroth von Bahr (Sweden, 2017). However, Hunot and Mitrică also embraced more abstract selections such as 'Wonder' by Mirai Mizue (Japan, 2014), which features 8,760 hand-drawn pictures made over one year, using temporality to drive the creative process.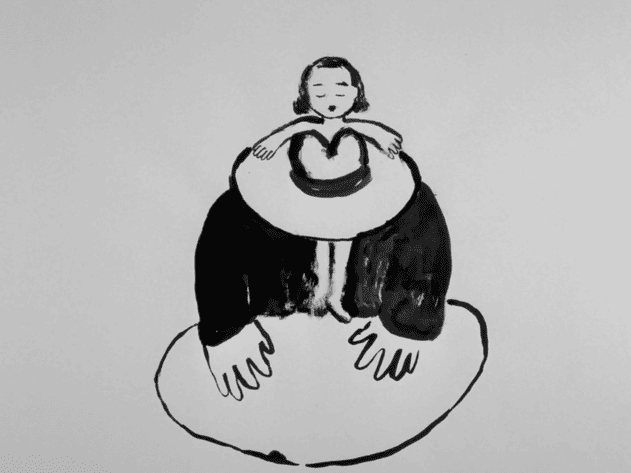 'The Hat' by Michèle Cournoyer
Another captivating film that deals with these topics is Chadi Aoun's 'Silence' (Lebanon, 2016), which portrays dance as resistance in an authoritarian society with a dystopic flair. Guards with bow and arrow in hand patrol the streets of a monochromatic city as citizens, who all wear blank white masks, are under the watchful gaze of posters in the vein of "Big Brother is Watching You". Young people, despite knowing their fate as members of a rebellion, galvanise a growing resistance through dance, unlocking a new world of vivid colour.
Each block of films ended with a music video, a choice that Hunot made, as he says, to push the audience to mentally and emotionally embody this year's theme of 'Join the Dance', all while sitting in a darkened theatre. He emphasised that the programme was put together to demonstrate that the highly 'physical' nature of dance will "make you travel, make you have a lot of emotion, even if you stay in one room".
Contributed by: Olivia Popp
About Olivia Popp:
Based in Berlin, Olivia Popp is a Taiwanese American film writer and graduate student exploring transnationalism, critical theory, and queer imagination. She is a master's student of Global Studies at Humboldt-Universität zu Berlin and received her bachelor's degree from Stanford University (California, USA). Olivia has written for Asian Movie Pulse, Vague Visages, Mise-en-Scène: The Journal of Film and Visual Narration, Catapult Magazine, Unwinnable, and others.
(Central image: The Burden by Niki Lindroth von Bahr)
SIGN UP: Want to read more free articles like this? Sign up for Our Newsletter