Annecy 2010: Day 4/Simpsons Day
 So far, Annecy festival excels in the films that WILL be released. An event that presents every day clips of animation  films that are coming soon.
Thursday, was Chopin's day! An English-Polish cooperation that celebrates Chopin's 200th birthday becomes a stop-motion animation film, and on the top, a stereoscopic 3D! The Flying Machine, the story of a girl who looks for her father, and travels with a bizarre (but cleverly constructed) flying machine across Europe.
The first images are beautifully crafted, whereas a whole team and ideas about the machine (that reminds of a flying piano) settled in a spacious Polish set.
In a festival that looks with awe the 3D dimesnion, the film's produrer went to see that stereoscopic image restraints from watching film details. No comment.
Simpsons arrived like from another planet, and
Matt Groening και David Silverman
presented what they know best. In an audience that was waiting for 45' in excessive heat (Bonlieu corridors don't have air conditioning system), applause was very generous. Scenes and drawings from Homer's prehistory were shown. It is amazing that the whole idea stated out as a pilot series that the creators saw only after it was broadcasted (without any feedback). The result was beyond compare.
Competitive film from France and Luxemburg. Το
Allez raconte
weaves different and clever stories in a reality-show for the best dad-storyteller. Without big messages, it has some crazy and pop-oriented visuals.
And since Νο sleep won't kill you (as the title of a Croatian aniamation states), the series of competitve shorts gives us in a time where there was no stereoscopic 3D.  Interesting experiment of  the Italian
Recordare
, that keeps iinterest for both its visual adn its material (human corpses!). Having a black-and-white visual form (that somehow resembles Persepolis) the Swedish Miss Remarkable and her career has a strong topic: a woman is squashed by paternal expectations of success. ι
Dj Martin Solveig was in charge of the young (and dynamic) audience of the festival at Annecy Paquier.
Tomorrow Pixar comes to town, and it's interesting to watch the "dirty linen" of  Disney in the documentary Waking Sleeping Beauty

More photos και videos here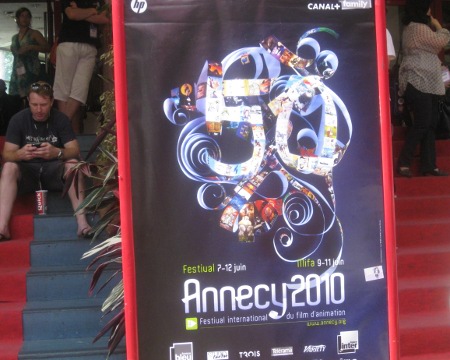 Read More About: