Annecy 2016 Celebrates French Animation, Advertising
The artistic director of Annecy Festival, Marcel Jean, is surely right to claim that animators all over the world are envious of the French funding system, which has contributed both to the success of short film production and, of course, feature animation (Kirikou and the Sorceress, A Cat in Paris, Persepolis are only some of the examples).

Two French animation schools, GOBELINS and ESMA feature in the Top-10 of Best Animation Schools to study.
Even though French animation is never absent from Annecy festival (just look at the shorts and feature competition programmes each year), it is true that the French powerhouse has not had a unique tribute in the recent festival editions.
French Animation: The Mirror Effect, is a series of twelve programmes that wants to present French animation in terms of its international perspective,  through its diversity and ambition.
Émile Reynaud and his pantomimes lumineuses, the fantasmagories of Émile Cohl, Paul Grimault, the years of television of Jean Image, Jacques Rouxel and Serge Danot, the innovator Georges Lacroix are some of the names.
More recent studios and talents include (take a breath):
Studios (La Fabrique, Les Armateurs, Folimage, Xilam),  little and large production companies (Les Films de l'Arlequin, JPL, Vivement lundi !, Les Films du Nord, Autour de minuit, Sacrebleu, Je suis bien content and many others...), talents: Florence Miailhe, Sylvain Chomet, Jacques-Rémy Girerd, Serge Elissalde, Pascal Le Nôtre, Michaël Dudok de Wit, Benjamin Renner, Jérémy Clapin, Franck Dion, Sébastien Laudenbach, Pierre-Luc Granjon, Bruno Collet, Sarah Van Den Boom, Jean-Claude Rozec, Marie Paccou, Édouard Salier, Stéphanie Lansaque and François Leroy, Bastien Dubois, Osman Cerfon, Céline Devaux, Boris Labbé.
After many festival premieres of hugely popular but artistically ambivalent US animation (we all love Minions, but why this had to be the showcase of the 2015 festival?), Annecy festival sems to want to insist that animation  is art at its hardcore.
So, it is a clever move to go back to France, whose animation can combine popularity with aesthetically artistic animation and serious topics.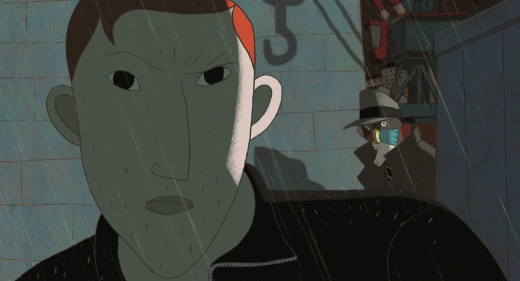 Phantom Boy, Alain Gagnol & Jean-Loup Felicioli
 Still, it's a all a matter of programming: the 12 programmes of French Animation: The Mirror Effect need to show not only the comprehensive production of studios and talents previously and currently working in France, but to relate them in a way that makes sense of this (very vast) output.
The French have rightly insisted that 2D animation it is not dead, but it constantly evolves; it is a festival challenge to show that this statement has not one, but many different faces that can be related in more than one ways .
Annecy 2016 is also presenting an overview of some particularly creative advertising filmmakers and production studios. 
The festival takes place from 13th to 18th June 2016.
Vassilis Kroustallis
Read More About: