Annecy MIFA Expands Dates, Adds New Sessions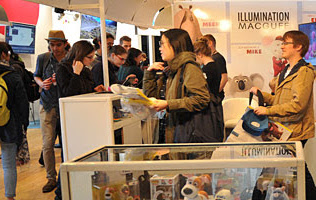 Following ten years of growth,Mifa industry event  is getting bigger, longer and with expanded sessions.
The ever-increasing number of participants, the richness of the programme and the decision makers' attendance throughout estival week have motivated the decision to extend the Market to 4 full days, starting from Tuesday 13th June.
MIFA also extends its spaces: a new floor of over 1,000 m², comprising the welcome area, and areas for public organisations and schools, as well as space for technical service providers and recruiting studios.
This reorganisation will free up the ground floor space for the Conferences, previously based at the Chambre de métiers, to join the Impérial Palace.


Mifa Campus and Meet the Publishers are the new activities during the Annecy event.
Dedicated mainly to students and young talent from emerging countries in animation, the Mifa Campus will offer workshops and presentations with an editorial line aiming to encourage a greater understanding of the industry and the possibility to meet up with well-known industry names whose careers are inspiring and energizing. The Mifa Campus will complement the Recruitment sessions, which experienced considerable growth at last year's Market.
A new session, Meet the Publishers, aimed at producers and book publishers, will complement the existing programme pillars : the Territory Focus, Share With, Meet the Festival Programmers and Meet the Funds sessions, the Video Library, Pitch sessions and Animation du Monde.
Mifa Dates: Tuesday 13th to Friday 16th June 2017.
Mifa Special Event 2016 DreamWorks TV & Oriental DreamWorks Recruiting, Kim MACKEY, Deanne KOEHN, Shelley PAGE Photo : G. Piel/CITIA
Read More About: