Annecy Zippy Diary 15/6: Angry Birds, Louise and Shamanism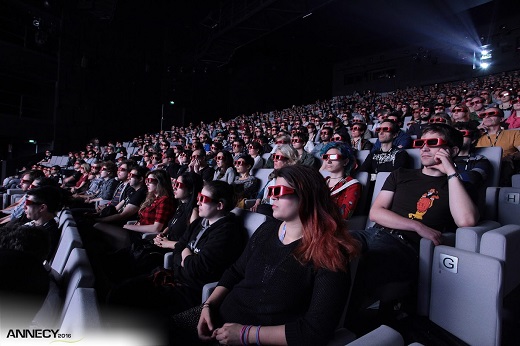 (Screening at Bonlieu, Annecy 2016 (c) CITIA)
 It's been really adventurous days in a festival that never seems to sleep, and offers gravitational waves from high auteurish art to big-budget films. This was really the case in the Rencontres forum on the state of European animation Wednesday at the Annecy festival.
Mikko Setala (Rovio Entertainment, Finland) responsible for the Angry Birds franchise, Annemie Degruse (Lumiere Group), Marc Du Pontavice (Xilam Animation) and Valérie Bourgoin (CNC, France) all agreed that times are changing -also in European animation.
However, their opinions differed. How to make a big-budget film that surpasses the 14m. budget mark, and most importantly, how to market it?
Mikko Setala, more optimistic than the others, counts on hard work and good timing, whereas Marc Du Pontavice revealed the rather die-hard division of European animation features into "films for children" and "auteur films".
It is a state-of-the-art fact that more and more European features count on EU mediated funding (TV pre-financing is on the decline here), but more money should be sought from the market itself -but how feasible that is?
If these were not problems enough, illegal downloading (highlighted by Annemie Degryse), the uncertain future of VOD distribution, and no distinction between funding for live-action and funding for animation (something that CNC wants to correct for France, V. Bourgoin insisted upon) certainly won't make things for distribution better, even though production is clearly on the rise here.
Too confused? Welcome to European animation industry, who wants to embrace both big-budget films (Angry Birds) and auteur efforts (Louise en hiver, J.F. Laguionie) at the same time, celebrating cultural diversity.
It looks like the late instance of dissociative disorder here, but it's certainly better than the old-time, traditional formulas, endlessly repeated by the US studios.
Louise en hiver
, by the way, the latest film by
J.F. Laguionie,
was an unmediated success last night at Annecy, garnering universal applause (and a standing ovation) for its delicate exploration of fragmented memory and age.
Read our complete review here
.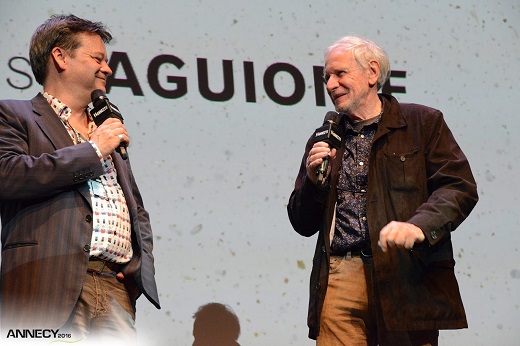 Marcel Jean, artistic director of Annecy festival (left) with J. F. Laguionie at the Annecy world premiere of Louise en hiver (c) CITIA
It is the kind of feature films Europeans always did, but technology here works to their advantage, making 3D animation looking even better when subjected to 2D treatment.
Making it even more 2D,  the Korean Studio Meditation without a Pencil presented its Work in Progress, The Shaman Sorceress at Annecy. 
Korea has been practising shamanism for very long, director Jae-Hoon Ahn assures us, but its practice, both respected and feared, is now long gone.
2D hand-drawn animation enjoys a similar conception in the post-3D world, but The Shaman Sorceress animation feature, made only by a team of 15-20 people, wants to reverse this
The film tells the story of Mohwa (drawn like Louise Brooks in Pandora's Box, a very Westerner conscious choice), who lives with her deaf daughter Nang-Yi, has been practicing Shamanism her entire life. One day, her son Wook-Yi returns home but as a converted Christian. This sparks conflict between mother and son.
Director Jae-Hoon Ahn (right) makes a colorful performance of shamanistic rituals at Annecy (c) CITIA
Without showing much, Jae-Hoon Ahn certainly makes an impression of the amount of research he has invested on shamanism, and exorsism, visiting the last remaining practitioners in a rapidly changing Korea. Paralleling animation with choreography and cultural rituals, his long takes promise a more meditative film, which still leaves room for dramatic development.
The Shaman Sorceress will open in South Korea in 2016; hope to see it at next year's Annecy festival.
There's more to life than screenings and meetings: France celebrating its first victory at the Euro2016 was a very welcoming fact for car traffic.
For animation lovers, the Swiss cocktail was a welcoming opportunity to meet and catch up with old friends; and there are certainly more to come.
Vassilis Kroustallis
Read More About: