Before Love, The Girl WIthout Hands Win at BIAF 2016
 Independent auteurs had their own share of victory in the 18th Bucheon International Animation Festival. The jury for short films with Lee Sung-gang (Korea), Paola Orlić (Croatia) and Chris Robinson (Canada) gave its Grand Prize to Before Love by Igor Kovalyov.
 The  story starts with a construction worker on a scaffold observing a young woman who is spying on a man.The uncanny feeling by watching the film is aptuflly described by Kovalyov himself aas a classic love triangle — love meets blood in the thick of the forest.
 The deeply allegoric Blind Vaysha by Theo Ushev won the Jury prize for a Short Film, while the sculpted-looking Noevus by Samuel Yal (France) won a Special Distinction in the same category.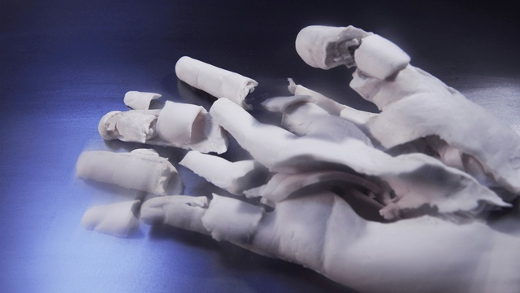 Noevus
The Annecy-awarded The Girl Without Hands by, a rather neglected fairytale of Brothers Grimm, and drawn with almost invisible design by Sebastian Laudenbach won the Prize for Best Feature Film. Ann-Marie Fleming won the Jury Prize for her story of religious tolerance Window Horses (NFB, Canada), while the audience award for a feature (and a special distinction) was given to Shankai Makoto for his anime Your Name.
The jury was comprised by  Raúl Garcia (US), Jacques-Rémy Girerd (France), and Rhee Soue-won (Korea).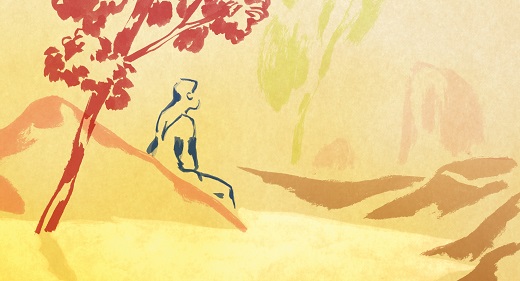 The Girl Without Hands
In the graduation category, The Noise of Licking by Nadja Andrasev (Hungary) won the Grand Prize by the jury of Arai Fuyu (Japan), Yoon Young-doo, and Sarah Saidan (France). A woman is watched every day by the neighbor's cat, as she takes care of her exotic plants. This perverted ritual comes to an end when the cat disappears. Next spring a peculiar stranger pays her a visit (film from Moholy-Nagy University of Art and Design).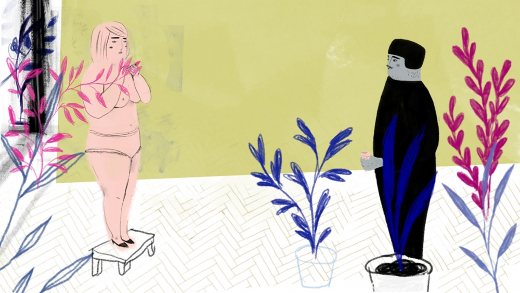 The Noise of Licking
Near the end of Sylvain Chomet's The Illusionist, the little girl is faced (and the audience as well) with the message by the illusionist himself that "magicians do not exist"
BIAF 2016 brought the best of European artistry to prove the opposite. With an extended tribute to French animation, including Sylvain Chomet himself (a notorious enemy of flight aviation), Sacrebleu Productions (Ron Dyens), Je Suis Bien Content (Marc Jousset) and Folimage (Jacques Remy-Girerd), BIAF 2016 seemed to have brought a whole new world to Korean audience.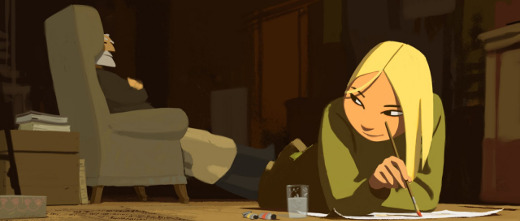 Longway North, Sacrebleu Productions
 The outcome of this movement: the long-awaited Korean release of Triplets of Belleville, 16 years after its original French release. Chomet himself in his two-part masterclass chose to focus on his live-action and animated past rather than his present The Thousand Miles, Fellini-inspired production.
 Regarding the latter, we know that it will be a general homage to Italian Neorealism of the 40s-50s, a hint of Jacques Tati (again), and a short of Fellini himself drawing Dolce Vita in an otherwise 2D race film.
I'm not doing films for a TV screen" Chomet persists regarding his rich and evocative backgrounds, even though he also states he can use 3D computer animation when useful.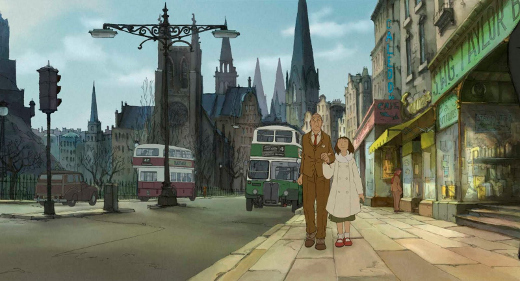 The Illusionist, Sylvain Chomet
The traditional feature film slate of Asian screenings has been preserved at the festival, with an audience packed at anime and Korean productions. Interesting (and not childish at all) was the Korean world premiere of My Dogs, JinJin and Akida [read our review].
In competition, Phil Mulloy has returned in top-notch form, and his Endgame was really one of the standout of this year's festival.
Merlot (Marta Gennari, Guilia Martinelli), Seymour (Ronlee Nemeth), Drought (Agnė Kupšytė, Balys Kumža) are some of the graduation standouts
.The adjacent Asian Animation Forum, "Animation+Collective of Imagination" mastered big animation names with an array of both Korean and Australian scholars. Maureen Furniss (CalArts, US) has a new book on animation history; as the head of experimental animation at CalArts she brought forward the difference between imagination-based (richness of perception
Hannes Rall (The Cold Heart, Si Lunchai) is preoccupied with the Reiniger-reinventing project, and his move from the acclaimed German filmmaker to Michel Ocelot to digital computers.
Whereas acclaimed animation scholar Paul Wells (Loughborogough University, UK) proposed a new project, inter-animation, to cover the amassing role that animation has in all our lives, from technology to entertainment and education.
Bucheon International Animation Festival has a difficult task from its inception: to combine the rich animation scene in Korea (which audiences definitely prefer) with a different artistic tradition (mostly European) that festival audience and professionals like.
The fact that the festival programme looked balanced, relaxed (not stuffed) and ready to introduce different audiences to different things is evidence of the great efforts its festival programmers undertake (among them Eugene Kim) which solidify BIAF as one of the leading festivals in the region.
The full list of the 2016 BIAF awards below:
Feature Films
BIAF Grand Prize: The Girl without Hands , Sébastien LAUDENBACH
Jury Prize: Window Horses, Ann Marie FLEMING
Special Distinction Prize: your name, SHINKAI Makoto
Audiences Prize:your name, SHINKAI Makoto

Short Films
BIAF Grand Prize: Before Love,Igor KOVALYOV
Jury Prize- Bucheon University President's Prize": Blind Vaysha, Theodore USHEV
Special Distinction Prize- The Catholic University of Korea President's Prize: Nœvus, Samuel YAL
Special Distinction Prize- The Catholic University of Korea President's Prize: Cold Coffee, Stephanie LANSAQUE, Francois LEROY
Audiences Prize- Bucheon University President's Prize, Grand Slam Ovalie, Laurent KIRCHER
Graduation Films
BIAF Grand Prize: The Noise of Licking, Nadja ANDRASEV
Jury Prize - Yuhan University President's Prize: Rubik, Xenia SMIRNOV
Audience Prize– The Korean Society of Cartoon&Animation Studies President's Prize: Eraser Father, JUNG Seo-hee, JANG Hyo-won, KIM Eun-hye
TV&Commissioned Film
Jury Prize (International)– Korea Animation Producers Association President's Prize: A Town Called Panic : Back to School, Vincent PATAR, Stéphane AUBIER
Jury Prize (Domestic) – Korea Animation Industry Association President's Prize: The Forks with Spiky Hands, KIM Tak-hoon(Executive Director), KOH Il-jun(Director)
 
Best Online Prize: Their Eyes, SON Hye-min
Other awards:
Short Film / TV&Commissioned Film: Beans Road Prize: Accidents, Blunders and Calamities,    James CUNNINGHAM
Graduation Film    DHL Diversity Prize:    Radio Wave    MIYAJIMA Ryotaro
Graduation Film / Online YOO Kwang-sun Prize (International): Merlot, Marta GENNARI, Giulia MARTINELLI
"Graduation Film /  Online YOO Kwang-sun Prize (Domestic): The Cycle of Mija, the Heartbroken, LEE Gyu-ri
Online Netizen Choice (International) - Korea Animation Artist Association President's Prize: Dado, Donna M PARTHA
OnlineN etizen Choice (Domestic) - Korea Animation Artist Association President's Prize: Their Eyes, SON Hye-min
Vassilis Kroustallis