Boris Labbé at Animateka Festival: Breaking character-driven narratives (GoCritic! Review)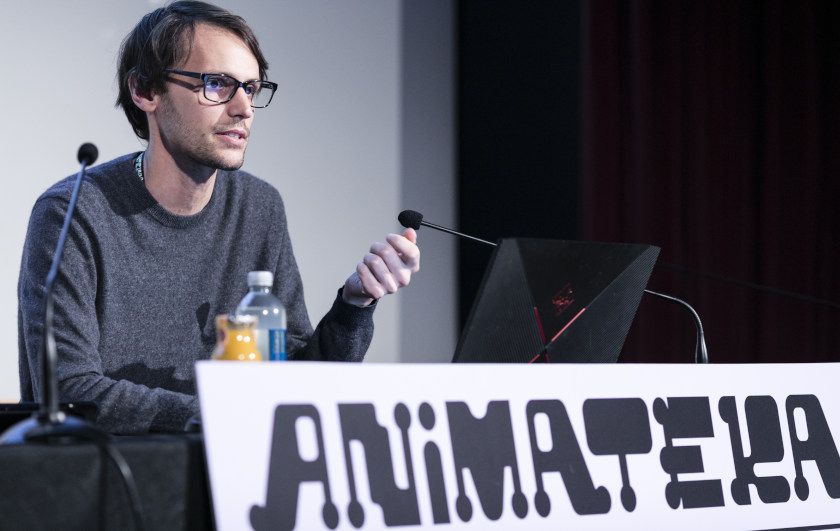 Nikola Jović reports on the French animation filmmaker and artist Boris Labbé and his masterclass during the 2022 Animateka festival.
Experimental filmmaker and video installation artist Boris Labbé is responsible for the trailer and visual identity of this year's Animateka Festival, where he also delivered a masterclass on his practice as an animator and his stylistic trajectory towards non-narrative filmmaking. Labbé, an alumnus of EMCA, the School of Animation Cinema in Angoulême, cited this stylistic trajectory at the beginning of his masterclass, referencing Norman McLaren, Bill Viola, William Kentridge and Jan Švankmajer as early influences.
Pieter Bruegel is another of his inspirations. Early experiments in animating the latter's paintings, Labbé revealed, led to an interest in the cacophony of small events not having defining centres of action. This interest in the 'rhizomic' is clear in Labbé's graduation project Kyeielle (2011), as well as in 'Rhizome' (2015). In the earlier experimental short, the frame is treated like a loopable plane of immanence, from which a wide variety of interactions between watercolour characters emerge. Some are pushing each other, the legs of others are extending in order to run away, while others still are shaking hands shyly, as if all public interactions were taking place at the same time.
In 'Rhizome', Labbé explains, his biggest goal was to challenge "the scale of the screen and character details," since the complexity and detail of everything in the frame meant it was a struggle for the animator and his collaborators to keep it under control when drawing each new iteration frame by frame on a huge canvas. Even the music is a coded way of expressing those ideas, because the film's sound always looks to represent the word 'rhizome'.
This synesthetic practice has become increasingly common in his work. During a residency in Madrid, Labbé noted that being surrounded by many different painters, musicians and photographers encouraged his interest in synaesthesia – the practice of uniting different senses. Slowly, his films began to be less narrative-based, losing any notion of characters. As Labbé explains, a cinema of compression and of multiplicity strives to break free from the hegemony of central, character-driven narratives.
Although Labbé has stripped his work of characters, his next commission will posit an interesting way to reintroduce them through compression art. Commissioned to make art to represent the indigenous population of Hokkaido for the film 'Sirki' in 2019, Labbé researched different types of kimonos and patterns created by the Ainu people, using his pattern art, but also allowing himself to be immersed in the culture, absorbing stories about people and diving into the mythologies of their culture.
Labbé's move away from character-driven narratives also coincided more recently with an interest in the art of compressed video landscapes, for which he would use pictures of mountains as a guide in order to allow digital particles to change and shift. For the director and artist, this speaks to the fact that, despite constantly moving and changing, life always remains a constant where change can occur: it never ends.
(central photo: Boris Labbé at Animateka 2022  by Andrej Firm)
contributed by: Nikola Jović
SIGN UP: Want to read more free articles like this? Sign up for Our Newsletter
Read More About: