'Easter Eggs', 'Archipel' in the 2021 Cinanima Festival Winners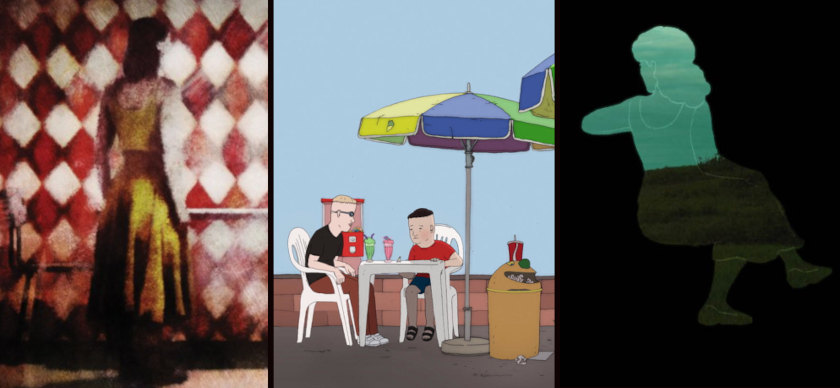 'Easter Eggs' by Nicolas Keppens won the CINANIMA 2021 Grand Prix – Short Films / Espinho City Prize of the 2021 edition of CINANIMA – Espinho International Animation Film Festival.
In a small town, word goes around that Mister Ping's exotic birds are on the loose. Two bored teenagers go on a quest to find them. During their adventure, they find that escaping daily life isn't quite the same as escaping each other. Easter Eggs is a short animated film about finding extraordinary things in ordinary places.
Jury Statement: In this work with a unique trait and a disturbing narrative, we will accompany two friends in search of lost exotic birds, with an open cage serving as a catalyst for a series of events that will illustrate the interpersonal difficulties of adolescence, the cruelty that we can always succumb and a whole world of frustrated possibilities.
The Special Jury Prize was awarded to 'Obervogelgesang' by Ferdinand Ehrhardt and Elias Weinberger, a sensitive insight into racism in modern-day Germany through the emotional conflict of a young woman confronted with the heavy cultural heritage of Nazism .
Archipel by Felix Dufour-Laperriere took home the prize for Best Feature.
Half-invented documentary on Quebec and the islands of the St. Lawrence River, real or imaginary. Archipel is an animated feature film for two narrators, a film with a free drawing and a precise language that tells and dreams of a territory and its inhabitants, to say and dream a little about the world and the times - Film Synopsis
The following prizes were also awarded in the international competition:
SPECIAL JURY AWARD
Obervogelgesang,  Ferdinand Ehrhardt, Elias Weinberger, Germany

BEST SHORT FILM AWARD – UP TO 5 MINUTES
Selection Process, Carla Pereira, Spain

BEST SHORT FILM AWARD – OVER 5 UP TO 24 MINUTES
Swipe, Arafat Mazhar, Pakistan

Honorable mention
Orgiastic Hyper-Plastic, Paul Bush,  Denmark
Forever, Mitch McGlocklin,  USA

BEST SHORT FILM AWARD – ANIMATION DOCUMENTARY
Maalbeek, Ismael Joffroy Chandoutis, France

Souvenir, Souvenir, Bastien Dubois, France

CINANIMA GRAND PRIZE 2021 – FEATURES
Archipel,  Felix Dufour-Laperriere, Canada

Honorable mention
Bob Cuspe – nós não gostamos de gente,  Cesar Cabral, Brazil

CINANIMA GRAND PRIZE 2021 – STUDENT FILMS | GASTON ROCH AWARD
Fall of the Ibis King, Mikai Geronimo, Josh O'Caoimh, Ireland

Honorable mention
White, Black and True Love, Angel Paternoster, Slovenia
The Edge, Zaide Kutay, Géraldine Cammisar, Switzerland
Coffin, Yuanqing Cai, Nathan Crabot, Houzhi Huang, Mikolaj Janiw, Mandimby Lebon, Theo Tran Ngoc, France

Audience Award:
Bob Cuspe – nós não gostamos de gente, César Cabral, Brazil

The following works were awarded in the national competition:
António Gaio Award – Best Film in the National Competition:
Seja como for, Catarina Romano

Honorable mention
Suspensão, Luís Soares
The Monkey, Lorenzo Degl'Innocenti, Xosé Zapata

Young Portuguese Filmmaker Award:
– In the category up to 18 years old
Desconstrução do Natal, Coletivo de Jovens da Escola do Cerco

Honorable mention:
Vírus da Felicidade,  Escola Básica e Secundária de Lousada Norte – Lustosa
Não há boa terra sem bom lavrador,  Alunos das EB1's do Concelho de Montemor-o-Novo

– In the 18+ category
Sanctuary, Hugo Santos, Pedro Bilé, Diogo Costa, Tyffany Reis

Honorable mention:
Ouroboros,  Alexandre Marques, João Costa, João Figueiredo
Perspetiva, Gonçalo de Oliveira
The 45th Cinanima Festival took place 8-14 November in Espinho, Portugal.
SIGN UP: Want to read more free articles like this? Sign up for Our Newsletter