Cinanima Loves Brittany: Animation Tribute to the French Region
 The Espinho Festival Cinanima offers an exceptional exhibition to animated film produced in the western region of France by programming its first retrospective in a festival of international fame.

The relation between the Portuguese festival and the Breton animated film has a history dating back to 1992, when the festival awarded the Prize of the city of Espinho to Dream of lights by Jean-Pierre Lemouland.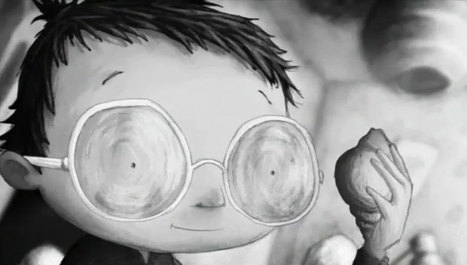 Oher distinctions followed for The Man with dangling arms by Laurent Gorgiard (Cinanima 1997 award), Fabien Drouet's Ponpon (1999), Une partie de pétanqu (Rodolphe Dubreuil, 2004) and Specky four eyes (photo) by Jean-Claude Rozec in 2010.
Two programs "Cinema de Animação da Bretanha" (animation from Brittany) are scheduled  on November 12th and 13th.
Three movies of the «Vineyard Brittany 2013/2014» will be also presented in the official selection.
The  House of dust by Jean-Claude Rozec (Best international short at 3D Wire Segovia), Dimitri to Ubuyu by Agnès Lecreux, Fabien Drouet, Ben Tesseur and Steven de Beul (Best series for kids at OIAF Ottawa); Storm hits jacket by Paul Cabon (Best of the Fest at London International Animation Festival).
A retrospective of Bruno Collet,  director of  The Day of glory...» and The Little dragon, and member of the Cinanima international jury, is also added to the Cinanima programme.
Britanny Animation Programme:
• La P'tite Ourse - Fabienne Collet - JPL Films
• L'Homme aux Bras Ballants - Laurent Gorgiard - Vivement Lundi!
• Vincent - Jean-Pierre Lemouland - JPL Films
• Méandres - Florence Miailhe, Elódie Bouedec, Mathilde Philipon Aginski - Les Films de l'Arlequin / Vivement Lundi ! / La Fabrique
• Kerfank, La Colline Oubliée - Pierre-François Lebrun - Averia Films
• La Migration Bigoudenn - Éric Castaing, Alexandre Heboyan, Fafah Togora - Gobelins
• Rêve de Lumière - Jean-Pierre Lemouland - JPL Films
• Le Baiser de La Lune - Sébastien Watel - L'Espace du Mouton à Plumes
• Le Cyclope de la Mer - Philippe Julien - JPL Films
• Dans la Peau - Zoltán Horváth - Nadasdy Film / Vivement Lundi!
• Malban - Élodie Bouedec - Les Films Velvet
• Cul de Bouteille - Jean-Claude Rozec - Vivement Lundi!
• Bennozh dit ! - Fabienne Collet, Sébastien Watel - JPL Films
• Potr' et la fille des eaux - Jean-François Laguionie
Also, Welcome to Bric and Brac by Amandine Gallerand and Matthieu Chevallier (a pre-school series produced by Vivement Lundi !) and The Science of botheration by Isabelle Lenoble and Julien Leconte (a family series by Vivement Lundi!).
Learn more in Animation in Brittany website.
The 38th edition of Cinanima festival takes place in Espinho, Portugal from 10 to 16 November 2014.
Read More About: