Koji Yamamura's Dozens of Norths Gets International Premiere at Black Nights Film Festival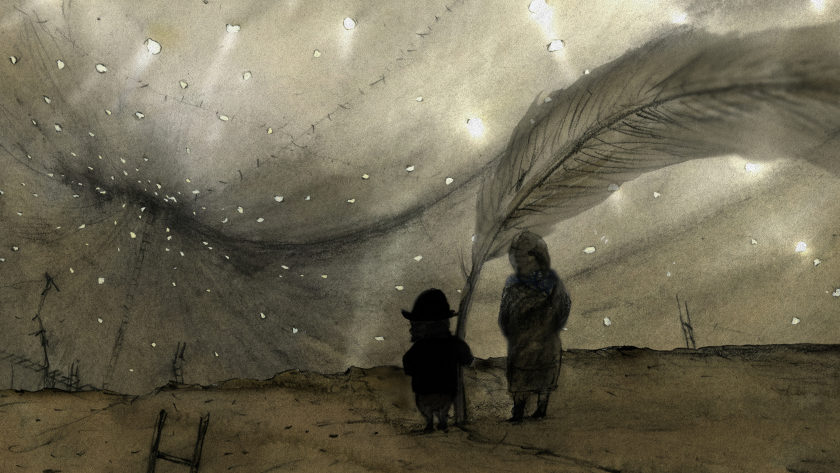 The Japanese animation director Koji Yamamura is a well-respected (and justifiably so) name in the world of independent animation, With films like the Oscar-nominated Mt. Head (2002),  The Old Crocodile (2005), Myubridge's Strings (2011), Satie's Parade (2016) has formed his own distinctive style of 2D animation; taking inspiration from both Western sources and his own unique sensibility in the way he mixes form with content.
His first foray into the animation feature realm, 'Dozens of Norths', has just been selected by PÖFF (Black NIghts Film Festival) in Tallinn to compete in the First Feature Film Category, marking the film's International Premiere. 
North is everywhere solitary.
Here is all North.
This is a record of the people I met in these Norths.
However, my memory is fragmented and does not get the point at all.
Now I'm starting to wonder my efforts came to nothing.
I'm just getting the occasional recognition of the existence of the world through the dull pain changes shape little by little. - Film Synopsis 
As the director himself states, the impetus for the film came from a series of cover illustrations and short texts he made for the literary magazine "Bungaku-Kai" (Published by Bungeishunju) from April 2012 to November 2014. Before that period, a big earthquake hit Japan (11/3/2021), killing 22,000 people.
This film does not depict the specific reasons, but rather people whose lives have become stuck for some reason. The concept of "north" is an important motif because of the disaster of the Tohoku (Northeast) region and the image of emotional coldness. North as a direction is one thing, but in this film, I made north plural. North is ubiquitous, it is both that place and the north beyond it. 

With this film, I hope to explore the invisible source of anxiety and suffering while depicting the absurdity and sadness of human existence, to finally make people feel even a little bit of hope for the real world - Koji Yamamura
Watch Dozens of Norths Trailer:


The 64-minute film is a co-production between Yamamura Animation and French MIYU productions.
The film will have its world premiere at New Chitose International Animation Festival in Japan, followed by the International PÖFF premiere. PÖFF (Black NIghts Film Festival) takes place 12-28 November 2021 in Tallinn, Estonia.
Read More About: