Etiuda & Anima 2021: Top Picks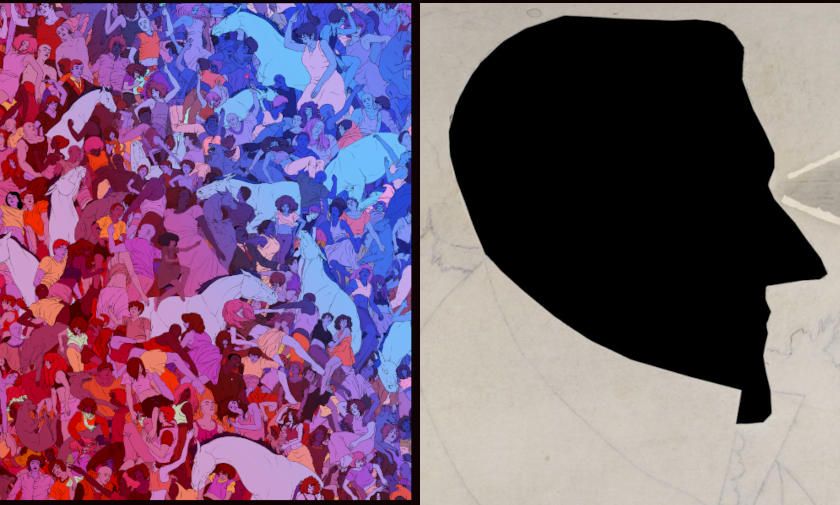 This year, Zippy Frames has attended the 28th IFF Etiuda and Anima Festival. The festival features a big range of films, and we have selected what we felt stood out as particularly innovative and also which let a diverse range of voices speak.
From the competition films:
'98 KG', Directed by Izabela Plucińska, 2021
A harsh film about domestic abuse: a woman experiences a cycle of violence in her home. We feel her pain as crockery is repeatedly smashed, and her body is fragmented then made whole; the cycle involves the woman repeatedly lifting her 98kg barbell, which weighs the same as her husband. The film deploys a poetic sense of scarring of the surface through the charcoal drawing process leaving a scarred presence, evoking a bodily history of her pain.
'A Bite of Bone', Directed by Honami Yano, 2021
This evocative film tells the story of a young girl who remembers her last Summer with her Father before he died. Pointillist style and shifting spatiality gives it a dreamy, hazy sense of recollection, of playing out within the little girl's mind as she remembers. The overarching aesthetic is of floating with her memories of her deceased Father: a deeply personal and empathic film.
'Affairs of the Art', Directed by Joanna Quinn, 2021
This sweet and very humorous film focuses on Beryl, spilling the goods on her family's eccentricities. Beryl has re-connected with her childhood obsession with drawing, leading to hilarious life drawing sessions with some most intimate poses. With beautifully staged scenes, drawn highly expressively with deeply atmospheric lighting the story playfully depicting family members in overcoming their bodily self- obsessions.
'Agape', Directed by Gabrielle Siraudin, Maxime Delsart, Adèle Fugier, Julie Griot, Thibault Magrit, Raina Patel, 2020
A skillfully produced short student film, exploring a teenage boy's relationship with his Mum; she has a wildness in her behaviour, resulting in an almost role reversal; she also gets teleported with little warning, and her son struggles to keep up with her.
'Self-Portrait as Felt', Directed by Julia Benedyktowicz, 2021
This haunting film combines stop-motion with live action: musing on the nature of memory, and what happens when memories fade. A young woman enters into a dialogue with an older woman, could this be herself at a later stage of life? Objects that register identity are collected and categories: old photos, packs of cards, diaries: the older voice asks 'Where are my limits?' as the multiple object s are stored away safely in a filing cabinet. Later the cabinets come alive, with drawers opening and closing to reveal glimpses of memories. The drawers are overgrown by works and moss, breathing in and out the passage of time; as time ticks by, and flowers bloom and die, the older voice repeats that 'When I lose it…it will mean I am not'. This is a deeply affecting film, striking in how it captures the human experience of presence and loss.
'Benztown', Directed by Gottfried Mentor, 2021
A surreal film about a town where the architecture comes to life: a tunnel feeds on the traffic that flows through it; A house uses its drainpipes to snatch up cars from the street and smoke them like a cigarette. Humans are punished by the malevolent buildings through violent acts of destruction.
'Thorns and Fishbones', Directed by Natália Azevedo Andrade, 2020.
Three young children live in an isolated house, located out on a desolate beach. The house exudes a weird character and serves as both a safe place and a containing space. The film features strange imagery of flooding and underwater dreamlike wanderings, punctuated by a realistic sense of children amusing themselves in an isolated household. Made using a combination of 2d digital and stop-motion, this is an interesting adult-oriented film.
'Home', Directed by Marcjanna Urbańska,2019
A little girl sits drawing in a meadow by a forest; she draws a giant walking past her. Her drawings let her imagination seep out. At home that night, she gazes up at the stars, and is cosmically pulled into a forest, which transforms into a fantastical world. Imagination becomes the blurred edge between her reality and dreams, and there is a strong sense of cosmic interconnection, partly through psychedelic imagery dreaming across our vision. This is an interesting short film from National Film, Television and Theater School in Poland; the character designs feel slightly generic, and lacking in a weirdness that would feel appropriate to the nature of the story, and there could be more wildness in the creatures unleashed from her wild night of imaginings.
'Edge', Directed by Zaide Kutay, Géraldine Cammisar, 2020
A stylish short film, with striking foley and '60s aesthetic. A truck driver, delivering his load across a barren, massive landscape, drives his truck up against the edge of his reality, breaking a hole through to a parallel world.
'Ashes', Directed by Joanna Dudek, 2020
A sweet and touching stop-motion short, where the narrator, Danuta, remembers the love of her life. The tactile and delicate qualities to the animation and foley give the film a strong sense of intimacy and memory. Pieces of string break and fabric becomes landscape to tell Danuta's story.
'Silver Plating', Directed by Eilidh Nicoll, 2021
Directed by Eilidh Nicoll, a graduate of Edinburgh College of Art, this film explores a woman's response to finding a first grey hair on her head s and her developing anxiety about getting older. Using a claustrophobic bathroom space, there is a strong sense of fear and darkness as she envisions her future.
'Father's Goddam Camera!', Directed by Milos Tomic, 2021
A highly inventive and lyrical film about a young boy who desperately tries to get the attention of his father, who works as a photographer. Combining stop-motion photo collage along with a drawn style that echoes early Disney, there is a playful sense of joy to transformation and movement, as the boy does battle with an army of photos with whom he must compete for attention.
'Temple of the Anemone', Directed by Justyna Pazdan, 2020
A mesmerizing film which seeks to imaginatively recreate a direct experience of the underwater world, deep within the ocean. Organic forms pulsate and morph, and we are drawn into the hypnotic seascape.
'Forgotten', Directed by Mawrgan Shaw, 2021
This Canadian short film depicts the experience of isolation and loneliness that many older people experience. Opening with a simplistic hand drawn landscape, we are introduced to one person's lonely daily life. Aesthetically, through continuously switching between textural drawing styles for the old man, the film impact is reduced as this feels too much like a stylistic device.
'Life is Nasty' or 'Life's a Bitch', Directed by Varya Yakovleva, 2021
This Russian short film tells the story of a homeless man who slept on a bench for 7 months. Through a loose, hand-drawn approach, there is a strong sense of dirt and grunge to the film's surface. The dirt builds a specific atmosphere, and tighter approach to composition, texture and character animation could have focused the overarching sense of despair; an interesting film with some under-developed strands.
Three distinctive films stood out and deserve special mention:
'Line 35A', Directed by Elena Felici, 2021
This film was made at The Animation Workshop in Denmark and tells a timely #metoo-era story of a girl getting harassed by an older man on a bus at night. As the man becomes more aggressive, we see each of the other passengers and how they respond to the intimidating situation. Made in 3d CG, but confidently using loose scribble textures (for skin and eyes), the character animation and facial expressions and razor-sharp, and the story, by Luis Cook, deploys a confident darkness underpinned by a strong, Expressionist flavor.
'Tender Parts', Directed by Steven Subotnick, 2021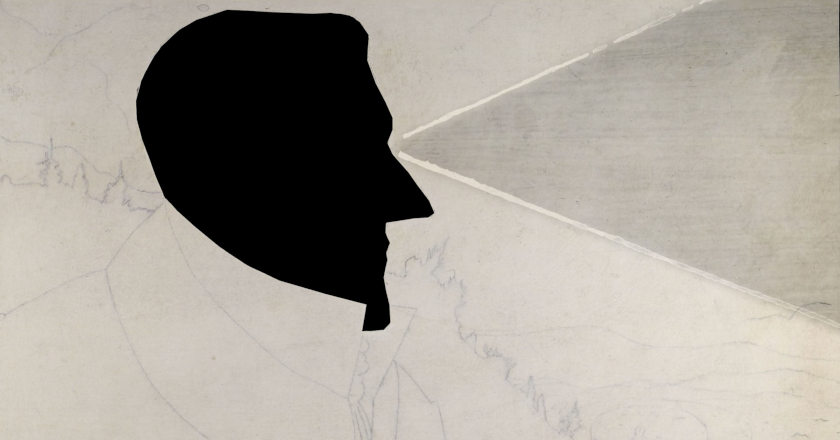 Combining collage, cut-out and stop-motion, this very interesting film explores the legacy of American Frontier explorer Davy Crockett. In essence, a history of the 'taming' of the wilderness is told, against a cut-up backdrop of 'the wild'. It's an interesting approach, through staging a kind of dialogue between wild nature (grass, bears, twigs) and the exploits of the 'heroic' explorers who 'conquered' this great unknown zone. Aesthetically, the simplicity of style, in using maps and cut-outs, brings an authenticity to the narrative: it's exciting to watch animated filmmaking that delves critically and imaginatively into such key contemporary issues – the human destruction of Nature, and the perception that Nature is a wild thing requiring containment.
'Mom', Directed by Kajika Aki Ferrazzini, 2020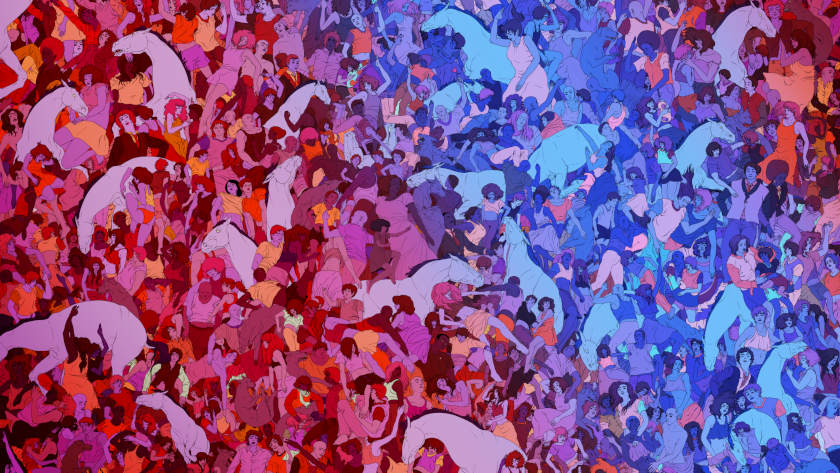 Wow! In the past few years, France has carved out a reputation as a hotbed of very exciting and stylish independent animation aimed at an adult audience, and this short film continues to push the standards. A young girl is released into a dark, wild forest, to be hunted for sport by men with dogs. The spectacle is broadcast live as family viewing and on billboards. In the forest, we observe a moment where the girl seems to bond with Nature, fantasizing an escape route. The film is deeply affecting, reflecting on the wider social and historical questions raised by the need for a place of home and safety; and it leaves a sense of sadness that there is no safe place called home or possible future for the young girl, or the countless others who experienced the same fate. We can read parallels with issues of immigration and of societies ruled by media billionaires. The realistic and sombre aesthetic, with compelling expression, deeply atmospheric hues and a '70s landscape flourish gives the film a rich visual texture and a direct authenticity in the storytelling.
This has been a stimulating and creative festival, with some fresh voices alongside more established animators continuing to extend the possibilities of contemporary independent animation.
The Festival Team kindly provided accreditation for the Competition Films for Zippy Frames for the 28th IFF Etiuda and Anima Festival. The 28th International Film Festival Etiuda&Anima took place from 16 to 21 November 2021 in Krakow, Poland.
SIGN UP: Want to read more free articles like this? Sign up for Our Newsletter