J' aime les filles, Blind Vaysha, Louise en Hiver Win at Ottawa
 The Ottawa International Animation Festival (OIAF) announced the winners of its 2016 Official Competition at an awards ceremony held at Saint Brigid's Centre for the Arts. This year, the OIAF received a total of 2311 entries from 86 different countries. Of those, 80 short films and 7 feature films were chosen for competition.
The Nelvana Grand Prize for Independent Short went to Diane Obomsawin for J' aime les filles (I LIKE GIRLS), a colourful series of narratives where women recount the discovery of homosexual desire in short, sweet vignettes.
According to the jury, comprised of animator Ann Marie Fleming (Canada), Brooke Keesling (USA) - Director of Animation Talent Development at Disney Television Animation, and Sarina Nihei (Japan), the film was fresh, funny, sweet.
 We were delighted by the charming coming of age tales, told from different perspectives. The vignettes were strong. The design and colours were excellent. Simple, lovely animation.
 The Grand Prize for Feature Film went to Louise en hiver,  directed by Jean-François Laguionie, who won a Grand Prize at the OIAF in 1982 with La traversée de l'Atlantique à la rame. The Belgian feature Cafard (Jan Bultheel) won an honourable mention from the feature film jury, which included animation historian Giannalberto Bendazzi (Italy), former Grand Prize winner and animator Peter Millard (UK), and animation director and optical effects specialist Elise Simard (Canad
 Bulgarian/Canadian animation director Theodore Ushev left Ottawa with two awards for his engrossing Blind Vaysha story, the gilrl who had two eyes, one for the past and the other one for the future. The first one was for Best Narrative Short Animation,  for his beautiful retelling of an old world tale with contemporary relevance, and the second one from the Canadian Film Institute (Best Canadian Film).
Japanese animator Ryo Orikasa won the Best Experimental / Abstract animation award for his Datum Point, the jury commenting on the visceral quality of the granularity of the sound and medium.
Evgenia Gostrer with her film Frankfurter Str. 99a  won the Best Graduation Award. A garbage man on his daily routine. A cat on her stray throught the streets. A meeting during the lunch break. The master of object animation PES won for his Honda "Paper" commissioned film:


The Estonian Sander Joon won the best technique award (and the jury commented his use of perspective) in the bike race drama Velodrool.
The full list of OIAF 2016 AWARDS:

Nelvana Grand Prize for Independent Short Animation: J'AIME LES FILLES (I LIKE GIRLS), Diane Obomsawin, Canada, 2016
Grand Prize for Best Animated Feature
LOUISE EN HIVER, Jean-François Laguionie, France & Canada, 2016
Honourable mention: CAFARD, Jan Bultheel (Belgium/France/The Netherlands)
CATEGORY AWARDS
Cartoon Network Award for Best Narrative Short Animation: L'AVEUGLE, VAYSHA (BLIND VAYSHA), Theodore Ushev, Canada, 2016
Award for Best Experimental or Abstract Animation: SUIJUN-GENTEN (DATUM POINT), Ryo Orikasa, Japan, 2015
JURY: "Loved the texture. The granularity of the sound and medium had a visceral quality. Poetic beauty and integration of text, texture and sound. It was mysterious. I don't know what it was... but I was moved."
Award for Best Undergraduate Animation: CIALO OBCE (FOREIGN BODY), Marta Magnuska, Poland,
jURY: "A unique story. A mesmerizing metaphor for self-acceptance. Raw sound design was delightfully disturbing."
Walt Disney Animation Award for Best Graduation Animation:  FRANKFURTER STR. 99, Evgenia Gostrer, Germany, 2016
 JURY: "Subtle but very beautiful. Surprising narrative and emotional impact was achieved by minimalist technique ... a touching story about everyday life of a member of society that is often invisible."
Award for Best Commissioned Animation:  HONDA 'PAPER', PES, USA, 2015
 JURY: "A tour de force. The handmade qualities stood out. Appreciated the complex planning and execution of this brilliant piece."
Award for Best Short Film Made for Young Audiences: THREE LITTLE NINJAS DELIVERY SERVICE, Karim Rhellam & Kim Claeys, Belgium, 2016
Honourable Mentions:
ACCIDENTS, BLUNDERS, CALAMITIES, James Cunningham (New Zealand)
NOVEMBRE, Marjolaine Perreten (France)
Award for Best Animated Series Made for Young Audiences; SHAUN THE SHEEP 'THE FARMER'S LLAMAS', Jay Grace, UK, 2015
Honourable Mentions
SUMMER CAMP ISLAND, Julia Pott (USA)
HEY DUGGEE 'THE OMLETTE BADGE', Grant Orchard (2015)
CRAFT AWARDS


Award for Best Script: FIRED ON MARS, Nick Vokey and Nate Sherman, USA, 2016
Award for Best Design: THE ABSENCE OF EDDY TABLE, Rune Spaans, Norway, 2016
Jury: "Grotesque and beautiful. Amazing to see painting style translated into CG. Appreciated the sophisticated colour palettes and the unique character design."
Award for Best Animation Technique: VELODROOL, Sander Joon, Estonia, 2015
Jury: Inventive use of perspective. Great sight gags - unique and not your typical go-to. Does what animation does best - transforms. Loved the sparse colours and design."
Award for Best Sound: SQUAME, Nicolas Brault, Canada, 2015
Jury:  "Powerful, dramatic, enveloping, moving. Surprising developments for this piece: We found ourselves enveloped in the perfect marriage of sound and picture. Dramatic as the sounds and story moved. Pleasantly surprised that it was the body was made of sugar."
OTHER AWARDS
DHX Public Prize: FIRED ON MARS, Nick Vokey and Nate Sherman, USA, 2016
Canadian Film Institute Award for Best Canadian Animation: BLIND VAYSHA, Theodore Ushev, Canada
Narrative Short Animation Honourable mentions:
4MIN15 SEC AU REVELATEUR, Moia Jobin-Paré
BEGONE DULL CARE, Paul Johnson
VIA Rail Award for Best Canadian Student Animation: NIHIL, Khoebe Magsaysay, Sheridan College, 2016
Honourable Mentions:
DER TOD IST EIN DANDY, Daniela Vargas (Vancouver Film School)
THE CLITORIS, Lori Malepart-Traversy (Concordia)
DE RACINES ET DE CHAINES, Francis Lacelle & Robert M Lepage (INIS)
BOUNCING BLUNDERS, William Martin (Sheridan College)
This year's OIAF run September 21 – 25, 2016.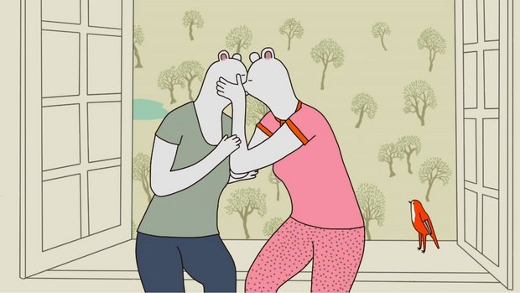 J' aime les filles
Read More About: