London International Animation Festival 2022: Our Top Picks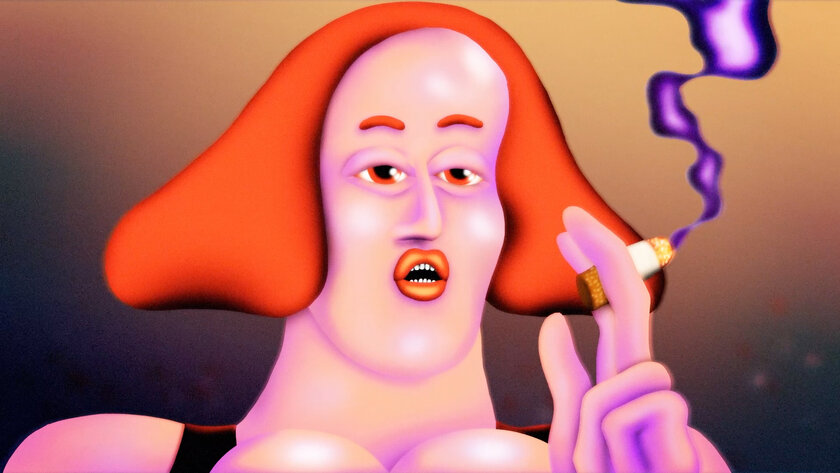 The 2022 London International Animation Festival has just closed. Screening an extensive range of animated content for alternative audiences, the festival was a great overview of new and contemporary, and some old, animation practices. With a significant representation of adult-oriented short films, the festival was a feast of imaginary worlds and storytelling. The following films stood out in terms of groundbreaking aesthetics, challenging content, and ambitious storytelling:
Curiosa, directed by Tessa Moult-Milewska, 2022
These excellent adult-oriented short features live actors with animated heads motion-tracked on top. A young woman, Mary, misses her train and chooses to stay the night at (her new boyfriend) James's flat. On questioning him, she finds that he is secretive about his past. Mary then discovers a door into the back of James' head (with strong echoes of the Spike Jonze classic Being John Malkovich!), and she explores his subconscious, discovering his complex relationship history. This is a sharp satire of contemporary attitudes and relationships, with outstanding production design and direction.
Motherclucker, directed by Greg McLeod, 2021
This film features a bizarre sequence of scenarios involving a disco-dancing, raving hen, who is transported between multiple scenes. The ever-shifting dance transformations are weirdly mesmerizing, topped with a dollop of advertising kitsch.
Inner Polar bear, directed by Gerald Conn, 2022
'The most beautiful place was everywhere'. This quote sums up the somber mood of this striking sand animation which explores the human destruction of nature. Adapted from a short story by Jeanette Winterson and directed by Gerard Conn (who Zippy Frames previously interviewed about his production of Heart of Darkness), this a very moving film, mobilizing universal and mythical imagery to communicate emotive, essential themes.
Brunch, directed by Marnik Loysen, 2021
A sharply written satire of modern life told through conflicting stereotypical characters. A young man goes into a deli to buy a coffee, where he flicks through local matches on a dating app. Whilst waiting, he is verbally abused by an old man, for being part of the millennial generation. looking up from reading the daily Herald; shouts at him for not being a real man who would be tough enough to fight the Krauts, should they try to invade again. The young man eventually is reduced to a snowflake. This is a humorous exploration of contemporary society, with a dark undercurrent fed by harsh stereotypes.
Something More, directed by Mary Martins, 2022
This documentary explores the reasons for gang-related knife crime; consisting of voiceover interviews and first-hand accounts, it critically examines issues against the wider backdrop of social disenfranchisement. Using location footage from deprived inner London areas including Brixton, Hackney, and Woolwich, the film represents the spectrum of those impacted by knife crime, rooting its cause in social deprivation. The film deploys a rhythmic, scribbly approach on top of the footage, along with hand-sketched rotoscoping which combine to build a raw and authentic sense of urgency.
Dawta, directed by Jessica Ashman, 2021
A powerful indictment of historic adoption policies in the UK. Fusing collage with painting and live footage, the film explores the impact of the adoption of black children by white families, and the resulting problems of cultural disconnection. Ashman repeatedly uses the motif of a torn paper enclosure which contains a young woman floating as though in the womb. This imagery at the same time suggests a sense of birth and dislocation - being torn away from one home (Cameroon) to be re-homed in the West Midlands. Through spoken and text-based quotes from social workers and news reports from the 1980s, concerns over black adoption by white families are raised. Against a backdrop of jungle footage, the young woman is re-connected with her spiritual home, with plants extending their roots to hold her, accompanied by the lyrics 'We are all Dawtas too…Know that you're not alone', as though reborn through re-establishing a connection.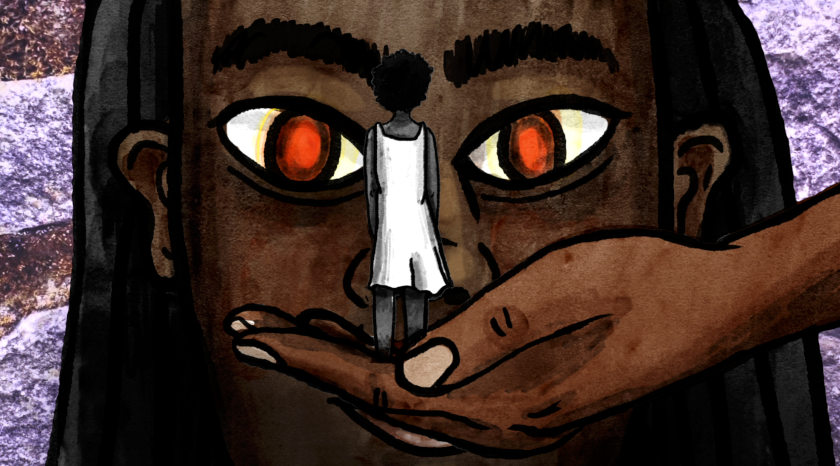 Dawta


Belly Talkers, directed by Kate Renshaw-Lewis, 2021
A wondrous short film fizzing with a childlike sense of play. A strange man inhabits a small town where he communicates in childlike sounds. The director, Kate Renshaw-Lewis, explains that the film is 'a personification of my vocal tic disorder' and that the film gives the main character the chance to interact with their personified tic. It's difficult to pin down the film's qualities, but it is weird and wonderful. The town functions as a sign for the inside of the head of the main character, so we experience their tics and observations as he wanders around, in a kind of childlike stream of consciousness.
Walk for Walk, directed by Amy Lockhart, 2005
This sweet and highly inventive 10-minute surreal trip through a landscape of song and goofy characters shows a strong 1920s flavor with rubber hose movement and exaggerated expressions. It was made using more than 1000 painted cut-outs and puppets.
Flesh Flows, directed by Adam Beckett, 1974
A continuously flowing, ever-morphing semi-abstract film. Multiple characters/forms are locked in the act of mutual penetration, sucking, and licking. The imagery is often very sexualized, with phallic creatures, tongues, and orifices.
Slow Light, directed by Kijek/Adamski, 2022
Nicely produced short telling the story of a young boy who was born blind. The film uses an inventive magical approach to his blindness, which brings memories flooding back from years before. Made with an intriguing process that feels like a digital cut-out version of stop motion, made with TV Paint software, this is a gentle and sweet story, that explores human connection and intimacy.
Your Mountain is Waiting, directed by Hannah Jacobs, 2021
This interesting film explores themes of contemporary alienation and the need to reconnect with Nature. A young woman living in a city goes to a lonely bar. She drinks Tequila and eats the hallucinogenic worm from the bottom of her glass, seemingly opening the doorway for animal connection. She encounters a fox, who appears as her spirit animal. He leads her on a transformative journey of re-birth to a place of serenity. Nature is represented as an unspoiled, pristine place, available for humans to visit for cleansing. However, the film's message feels undermined by not addressing the contemporary threats to Nature that exist beyond the human narrative.
Pachyderm, directed by Stéphanie Clément, 2021
This French language film (with English subtitles) tells a young girl's story of when she was staying with her grandparents. We experience the world from the child's perspective: at night, she sees patterns in the ceiling that become eyes that keep her awake. In the daytime, she swims in a lake and imagines a woman who drowned there. A sense of dread builds, as it is gradually implied that the girl's grandfather is abusing her. The interiors and landscapes feel almost frozen, as a memory that haunts the girl as she looks back. This is a bold short film, which sensitively addresses painful themes.
Blessing in Disguise, directed by Emma Holzapfel, Onur Cankargin, and Kevin Koch, 2021
A shocking film that tells the story of Kevin Hines, who attempted suicide by jumping off the Golden Gate Bridge in 2000. He survived the fall and sustained internal injuries. The film visualizes the injuries as they are sustained and along with Kevin's voiceover, the result is an empathic account of despair and then finding the will to survive.
The Queen of the Foxes, directed by Marina Rosset, 2022
A beautifully drawn film about needing to be loved. A pack of foxes is led by their sad queen fox. To try to fix her sadness, the pack rummage through dustbins in the town and retrieve unsent love letters for the queen to read. The film features excellent art direction, with a sweet and emotive sequence where love letters pinned to a tree become the town's windows at night, containing lonely people too scared to connect in real life. The environment is rendered in grungy brushmarks, and the pack of foxes is a delight of scribbling and sniffing. A sweet and tactile experience.
Shackle, directed by Ainslie Henderson, 2022
Woodland magic oversees this great stop-motion film. Strange furry creatures dwell amongst the trees, but their peaceful existence is threatened by an intruder from the dark side. Shot on location, with ever-changing dappled light, enchanted pine cones, and twigs; there is a sense of the buzz of the forest beating at the film's heart.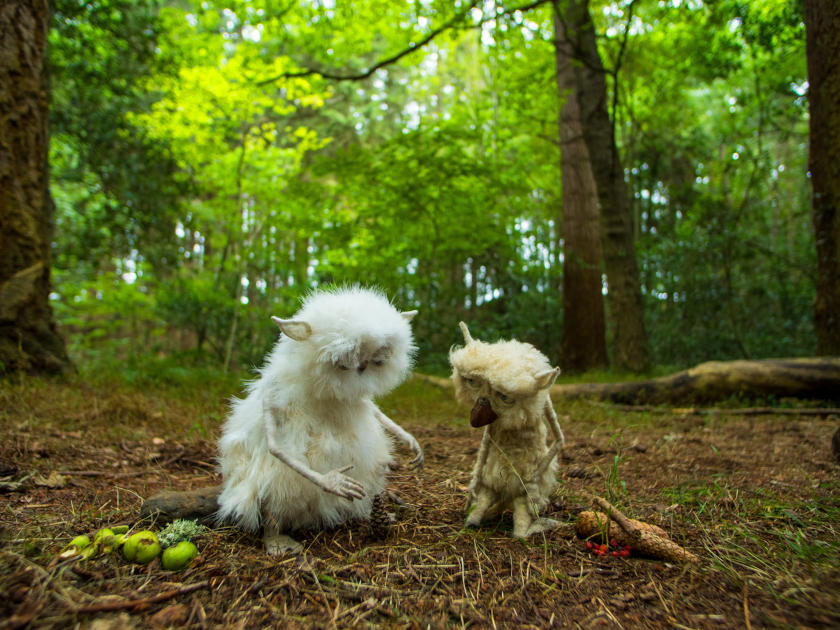 Shackle
Hotel Kalura, directed by Sophie Koko Gates, 2021
Sophie Koko Gates tells a very strange and vividly funny story. Rosa, a woman with very large hands, goes to the Hotel Kalura, where she starts talking with Crab Man, who has very small hands. Things get stranger, as a deliriously weird conversation ensues. With a striking Kitsch aesthetic, this is a debauched and hilarious tale.
Eat Your Carrots, directed by Laura Stewart, 2022
A surreal stop-motion short, featuring a young woman who discovers a parasitic eye growing in her forearm. The story features a great dance scene followed by parasitic eyes starting to take over. There is a fun echo of a memorable scene in John Sayles' 1980s film The Brother from Another Planet. If you have seen it, you will know!
Dude, directed by Konstantin Rosshoff, Marco Jörger and Tanay Sirin, 2021
A highly inventive and fun stop-motion short; the only spoken dialogue is the film's title. Two friends, a deer, and a human drive through a dense forest into the wild. What follows is a trippy kind of re-birth into an animal. The visuals and music are dynamic and exciting, with a fresh and dark aesthetic. Exciting work!
Dude
Type, directed by Lesley-Anne Rose, 2021
Great stop-mo made using recycled scrap materials, resulting in a delicate handmade aesthetic. A girl suffers from debilitating extreme sneezing allergies and volunteers for a research program. Made at the University of Teesside, with BFI support, this is a topical and sweetly humorous film.
Beware of Trains, directed by Emma Calder, 2022
This is a very interesting film, about a woman suffering from anxiety, reflecting on blurry memories of a crime she may have committed. The film fuses collage, footage, and 2D character animation in a strong and highly dynamic aesthetic.
This was an exciting festival, with a lot of new voices from UK-based animators.
(central photo: Hotel Kalura, Sophie Koko Gates)
Contributed by: Joseph Norman
SIGN UP: Want to read more free articles like this? Sign up for Our Newsletter