Manivald, Hedgehog's Home, Don Hertzelfdt at 2018 Sundance Festival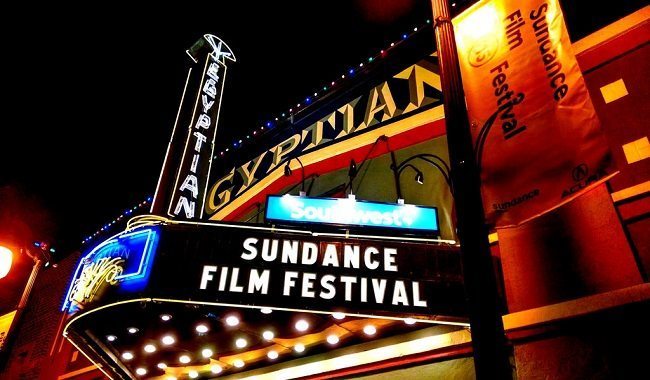 Chintis Lundgren with her beautifully sly LGBT film Manivald, Annecy-awarded Niki Lindroth von Bahr with her musical existential vignettes The Burden, and Don Hertzfeld's follow-up t to World of Tomorrow: Episode 2, as well as the puppet film Hedgehog's Home by Eva Cvijanović  fill in the programme. Additionally, Diane Obomsawin competes with I Like Girls in the documentary shorts section.
The full list for Animated Short Films:

BLACK / Poland, Japan (Director and screenwriter: Tomasz Popakul) — A pair of astronauts are trapped on an orbital space station due to unexpected nuclear war on Earth. They lost contact with Earth and all attempts to communicate with their base or anybody else have failed.

A Brief Spark Bookended by Darkness / U.S.A. (Director and screenwriter: Brent Green) — A hand-drawn animated tale about love in an increasingly dark world.

The Burden / Sweden (Director and screenwriter: Niki Lindroth von Bahr) — A dark musical enacted in a modern shopping center, situated next to a large freeway. The employees of the various commercial venues deal with boredom and existential anxiety by performing cheerful musical turns. The apocalypse is a tempting liberator.

Eye Bags / Hong Kong (Director and screenwriter: Waikwan Ho) — Through monologue, Talia describes her chronic insomnia. She does not know its cause, and spends many painful nights awake. When Talia meets Ah Gum, a goldfish who lives in her eye bags, they develop an interesting relationship.

GLUCOSE / U.S.A. (Director and screenwriter: Jeron Braxton) — Sugar was the engine of the slave trade that brought millions of Africans to America. Glucose is sweet, marketable and easy to consume, but its surface satisfaction is a thin coating on the pain of many disenfranchised people.

Hedgehog's Home / Canada, Croatia (Director and screenwriter: Eva Cvijanović) — In a lush and lively forest lives a hedgehog. Though he's respected by the other animals, Hedgehog's devotion to his home annoys a quartet of beasts, who decide to confront him.

JEOM / U.S.A., South Korea (Director and screenwriter: Kangmin Kim) — A father and a son both have the same big birthmark on their butt. Believing that the two birthmarks are connected, the son scrubs his father's birthmark to remove it – but he just can't get rid of it.

Manivald / Estonia, Croatia, Canada (Director: Chintis Lundgren, Screenwriters: Chintis Lundgren, Draško Ivezić)
— Manivald is still living at home with his retired mother. The day before his 33rd birthday a hot young wolf named Toomas comes to fix their washing machine. A love triangle develops, which leaves Manivald increasingly frustrated.

Marfa / United Kingdom (Directors and screenwriters: Greg McLeod, Myles McLeod) — An isolated town in the Texas borderlands. A place out of time. A shrine to minimalist art. Home to a remote festival. A place where unexplained lights tremble in the night sky. And then there's the giant lemon.

Nevada / U.S.A. (Director and screenwriter: Emily Ann Hoffman) — A young couple's romantic weekend getaway is interrupted by a birth control mishap in this stop-motion animated comedy.

[O] / United Kingdom (Directors and screenwriters: Mario Radev, Chiara Sgatti) — A film that imitates nature in its manner of operation, depicting animated cycles in a world entirely based on sound frequency and vibration.

PLUR / U.S.A. (Director and screenwriter: Julie Fliegenspan) — A claymation adaptation of a series of actual voicemails received after making out with someone at a rave.The Shivering Truth / U.S.A. (Directors: Vernon Chatman, Cat Solen, Screenwriter: Vernon Chatman) — An omnibus of painfully riotous daymares, dripping with dream logic; a slate of emotional parables from the deepest caverns of your unconscious, lovingly animated in stop-motion. In other words: it is the Truth.

Vox Lipoma / Sweden (Directors and screenwriters: Jane Magnusson, Liv Strömquist) — A short about Ingmar Bergman's power, sexuality and facial lipoma that gives him no rest.

World of Tomorrow Episode Two: The Burden of Other People's Thoughts / U.S.A. (Director and screenwriter: Don Hertzfeldt) — Written entirely around candid audio recordings of Don Hertzfeldt's five-year-old niece, "Episode Two" finds Emily Prime swept inside the brain of an incomplete backup clone of her future self, who's on a mission to reboot her broken mind. DAY ONE
 Documentary section:
I Like Girls / Canada (Director and screenwriter: Diane Obomsawin) — Charlotte, Mathilde, Marie, and Diane reveal the nitty-gritty about their first loves, sharing funny and intimate tales of one-sided infatuation, mutual attraction, erotic moments and fumbling attempts at sexual expression.
 Founded in 1981 by Robert Redford, Sundance Institute is a nonprofit organization that provides and preserves the space for artists in film, theatre, and new media to create and thrive. The next Sundance Film festival takes place 18-28 January 2018.
Read More About: