Animated Women UK: Achieve Programme 2020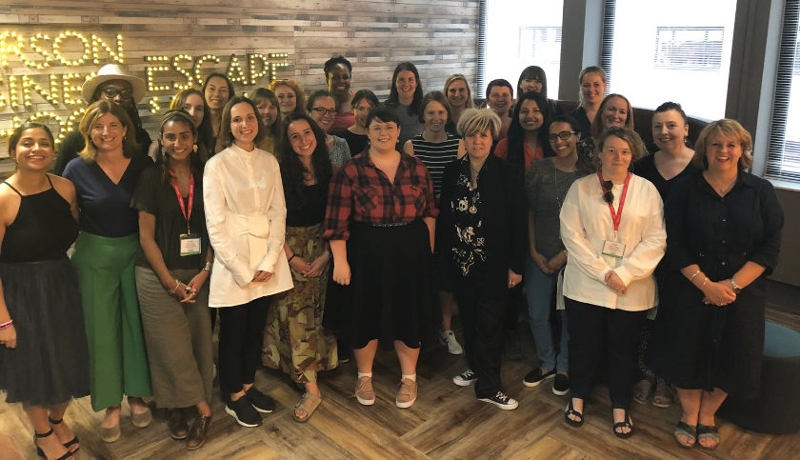 Deadline | Event Dates (period)
Email
This email address is being protected from spambots. You need JavaScript enabled to view it.
Final submission deadline
2020-03-02
Submission/Registration Fee
Yes
(NB: Event dates are tentative)
2020 Call for Participants
The Helen North Achieve Programme, first run in 2017, focuses on supporting women in the VFX and animation industries to achieve their potential.
Funded by the ScreenSkills Animation Skills Fund with contributions from UK animation productions and with additional support from Escape Studios, The Achieve Programme is open to women at all stages of their career looking to address the real challenges and barriers they face on a day-to-day basis. It aims to provide strategic career management and is run by acknowledged career development experts.
Who's it for?
Animated Women are offering the opportunity for 24 of their members (12 women from each sector) to take part in The Helen North Achieve Programme.
The programme directors are seeking:
8 women at an early stage in their career;
8 experienced practitioners looking to progress their careers; and
8 senior women who have already achieved a lot but are still seeking to reach their full potential, with a genuine interest in helping less experienced women to build fulfilling careers in their sector.
Applications are open to all Animation Women UK members (current members and registered till Friday 28th February)
Run by experienced coach, facilitator and trainer Jan Armstrong who specialises in women's leadership development and helping individuals achieve their full potential along with executive coach Marianne O'Connor, the course's 24 successful applicants will take part in six sessions in central London.
The course will run from late April to early July 2020.
Testimonials:
The Achieve Programme is a super opportunity to meet and support other women from the VFX and Animation Industry. It was great to hang out with 23 other women in the business and to learn from their experiences whilst also sharing some of my own knowledge and expertise. I wanted to take part in order to 'give back' but actually I walked away having gained a huge amount. The course offers valuable, constructive and engaging career advice for women at every stage of their professional journey and it was a welcome chance to hone old skills, learn new ones, reflect on my own career and consider the future - Natalie Llewelyn, Head of Development at Jellyfish Pictures, Achieve Programme participant
The Achieve Programme gave me access to some amazing women from all areas of the industry and enabled us to draw from each other's experience as the course progressed - it was a great support network! I found that really insightful. I also had loads of advice from the course leaders, Jan and Marianne – two inspiring women who provided the lens for us to look deeper into our careers and collectively celebrate the journey - Anne Akande, Producer at Dneg, also took part in the 2019 programme
I am so proud to be part of a programme that has contributed to the career development of so many women in the animation and VFX industry over previous years. That we are able to start a new decade by offering The Achieve Programme to another group of women, is fantastic. We are truly grateful for the support that enables us to continue running this programme, as I know it will help strengthen the stories of women across this business even more - Beth Parker, Co-Chair Animation, Animated Women UK
I know that the programme has such an impact on so many levels for the participants, and this year we are hoping to be able to extend the reach to outside of London and further one-off workshops - so watch this space for more information as we get it! I know that the programme has such an impact on so many levels for the participants, and this year we are hoping to be able to extend the reach to outside of London and further one-off workshops - so watch this space for more information as we get it! - Louise Hussey, Co-Chair VFX, Animated Women UK
After the success of 2019, ScreenSkills is once again thrilled to support Animated Women UK in bringing back the Helen North Achieve Programme. It is contributions from UK animation productions to the ScreenSkills Animation Skills Fund that enable us to back initiatives designed to drive real change in our industry. The mission of the Achieve programme in realising gender balance across all levels of animation and VFX is one we are proud to support - Abigail Addison, Animation Production Liaison Executive, ScreenSkills
Fees for the Achieve Programme costs £250 for Senior participants, £200 for mid-level and £100 for junior level for the full set of sessions, and will consist of evening workshops in central London. Bursaries are available for those who may need them to assist with travel, childcare or course fees.
Deadline:

28 Feb

2 March

2020
(NB: Event dates are tentative)
Event Dates
From

27/04/2020

to

31/07/2020