CINEKID Script Lab 2023-2024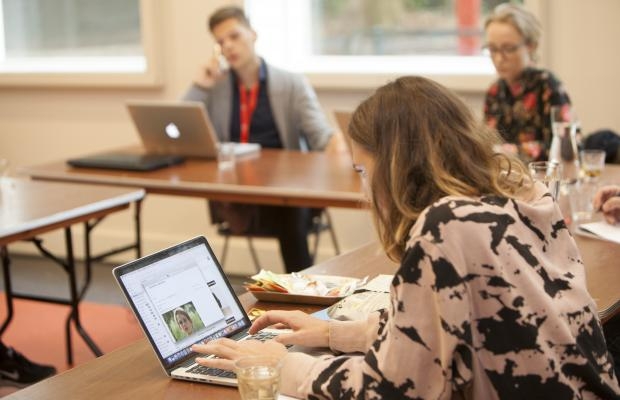 Deadline | Event Dates (period)
City
Amsterdam, The Netherlands
Email
This email address is being protected from spambots. You need JavaScript enabled to view it.
Final submission deadline
2023-05-31
Submission/Registration Fee
Yes
About Cinekid Script Lab: Cinekid Script LAB is a six-month script-training programme for writers with a children's film or series project. The training was initiated by Cinekid in 2014 and takes place during Cinekid for Professionals in October, and the Berlinale the following February. The event is co-funded by international partners such as Athens International Children's Film Festival (GR), Finnish Film Foundation (FI), Flanders Audiovisual Fund (BE), Icelandic Film Centre (IC), Netherlands Film Fund (NL), Norwegian Film Institute (NO), Polish Film Institute (PL) and Swedish Film Institute (SE). During the Cinekid Script LAB, an international group of writers and writers/directors will work on their plans for children's feature films or series. The programme offers tailor-made coaching and training; it answers to the specific writer's and story's needs, along a six-month trajectory.
2023 Call for Scripts
Submissions need to feature-length films or episodic projects, and can either be fiction, documentary, or animation as live-action projects for an audience of 4-12 years old, and written from their perspective.
The main criteria for selection are the viability and quality of the plans and the demonstrable talent of the writers.
Only projects that have a production company attached are eligible, and a signed contract with the writer(s) might be requested after the submission.
The final selection consists of a maximum of 15 projects:
a. Up to 8 projects are selected through our partner institutes (as listed above). Please note that the institutes inform the project about their nomination beforehand.
i. When selected through one of the partnering institutes, the participation fee is covered by that institute.
b. Up to 7 projects are selected through our open call. When selected through the open call, the participation fee of €6.250, - is for your own account.
i. Participation is only possible when (half of) the fee is paid before the start of the first residency.
Cinekid allocates max. three scholarships that each covers 50% of the participation fee. These scholarships can only be assigned to participants from countries with low production capacity, as indicated by Creative Europe. We encourage participants to apply for financial support with their national/regional funding bodies first. Which projects will receive a scholarship, will also be announced in the week of 4 July 2023.
Deadline: Wednesday 31 May 2023, 23:59 CEST (extended)
Archive
2020 Selected Projects
or the seventh edition of Cinekid Script LAB, 19 writers from 14 countries have been selected to participate in the six-month project-driven initiative that focuses on the development of scripts for children's films.
In total 14 projects, that reflect on a great variety of actual issues from the perspective of the youngest generation, are selected for the hands-on workshop. The script workshop is designed to elevate each project to the next stage of development, making their script vivid and sharp. The LAB begins before Cinekid for Professionals in Amsterdam in October and runs through to Berlinale in February 2021.
The upcoming edition of Cinekid Script LAB will be larger than ever. For the first time, 14 projects are selected to participate in the intensive tailor-make script-training workshop. From the many strong applications that Cinekid received, the final selection includes four projects from countries that are making their debut at Cinekid Script LAB: Turkey, Greece, Serbia and Hungary. Cinekid offers these writers a spot in the LAB, where they can embark upon the next phase in the development process, strengthen their project and position it internationally. For the 2020-2021 edition, the Polish Film Institute is back as one of the partners in the LAB.
Festival Director Heleen Rouw comments: "Over the past years, we have seen a continuous increase in strong and unique applications for the LAB, and this year was no different. It is striking to see relevant topics such as environmental issues, inclusion and identity in these feature film projects for young audiences. We can't wait to work with these talented writers!"
About Cinekid Script LAB
During Cinekid Script LAB, participants work with internationally acclaimed advisors who push them to their creative limits. The coaching offered to each filmmaker is tailor-made and addresses the needs of both the writer and the story across the LAB's twin-phased trajectory. Teambuilding and the interpersonal exchange of ideas and experiences within a safe and nurturing lab environment are the foundation stones of Cinekid Script LAB.
Cinekid Script LAB is co-funded by Creative Europe MEDIA, and is organized in collaboration with seven partners: Finnish Film Foundation, Flanders Audiovisual Fund, Icelandic Film Center, Netherlands Film Fund, Norwegian Film Institute, Polish Film Institute, and Swedish Film Institute.
Further information on Cinekid Script LAB can be found here.
Full list of projects and participants of Cinekid Script LAB 2020 - 2021:
Boom! (Latvia), written by Lote Eglite
Production company: Picture House

FABLED (Iceland), written by Guðni Líndal Benediktsson and Ævar Þór Benediktsson
Production company: Zik Zak Filmworks
Nominated by the Icelandic Film Center

Fast Forward to the Future (Poland), written by Jacek Blawut
Production company: Aura Films
Nominated by the Polish Film Institute

A Ghost You Know (Sweden), written by Marioan Hosseini
Production company: SF Studios Sweden
Nominated by the Swedish Film Institute

A Girl Named Zeus (Greece), written by Nikos Dayandas
Production company: Aori Films

How I Wrote A Book By Accident (Hungary), written by Nora Lakos
Production company: Juno11 Production

Malcolm Rocks (Finland), written by Leo Viirret and Kari Juusonen
Production company: MRP Matila Röhr Productions Oy
Nominated by the Finnish Film Foundation

Marit & the Maximarket (Belgium), written by Charlie Dewulf and Wouter Van Haver
Production company: Potemkino
Nominated by the Flanders Audiovisual Fund

Miki's World (Netherlands), written by Tamara Miranda
Production company: Volya Films

Ogres and Bogies (Serbia), written by Ljubica Lukovic
Production company: SENSE Production

Puppets Saving Television (Croatia), written by Sara Hribar
Production company: Jaka produkcija

Three Friends (Turkey), written by Nursen Çetin Köreken
Production company: Drama Yapim Film Medya

Voices from the Ocean (Norway, France), written by Fabrice Schnoller and Karoline Grindaker
Production company: Fri Film AS
Nominated by the Norwegian Film Institute

Your Mother! (working title) (Netherlands), written by Nena van Driel and Zara Dwinger
Production company: Studio Ruba
Nominated by the Netherlands Film Fund
Event Dates
From

24/10/2023

to

24/04/2024