Film Criticism and Journalism Masterclass @ Anibar Animation Festival, 16-20/7/2019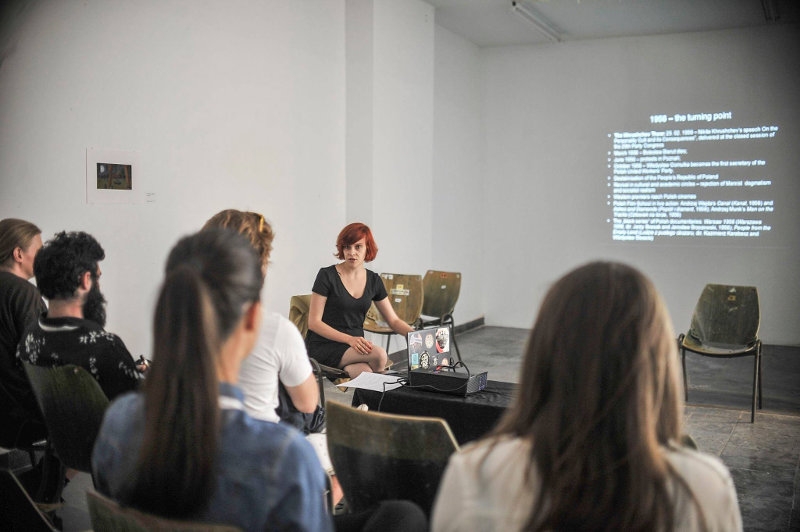 Deadline | Event Dates (period)
Email
This email address is being protected from spambots. You need JavaScript enabled to view it.
Final submission deadline
2019-07-05
Submission/Registration Fee
No
Description:
Anibar, Festival, now in its 10th edition, has opened the call for a Film Criticism and Journalism Masterclass led by Olga Bobrowska (Ph.D. candidate in film studies), specialized in Chinese Animation, and author of many academic articles on the subject.
During this 5-day, intensive training, you will have the opportunity to expand your film criticism abilities through both theory and practice. The theoretical part will include general discussions, brainstorming, and collective evaluation of text and ideas. The practical part will give you the opportunity to write and edit film reviews and analysis, to interview and engage with established filmmakers and new talents from all over the world, and report in regards to the opinions and the festival experiences of the people involved such as the team, volunteers and visitors. After the training, your input will be published in the festival's Gazette "Anibar Press".
Masterclass lecturer: Olga Bobrowska
Participants: 10 students or participants interested in film and art
Duration: 5 days (16th of July until the 20th of July), during the Anibar Animation Festival participants, are invited to stay for the whole festival
Outcomes: 2 written articles by the participants and published in Anibar Press and local newspapers
Lecture Background:
Olga Bobrowska is a Ph.D. candidate in Film Studies at Jagiellonian University, Kraków, specialized in classic Chinese animated film and an author of academic articles on the subjects of Polish and Chinese animation. She is a festival director and co-founder of StopTrik International Film Festival (Maribor, Slovenia; Lodz, Poland), a festival dedicated to stop-motion animation. She frequently collaborates with other festivals, among them Animateka (Ljubljana), Etiuda & Anima (Krakow), Krakow Film Festival. Film programs she curated were presented at various festivals and events in e.g. Poland, Slovenia, Croatia, The Netherlands, Finland, and China. She also served as a juror for festivals such as Tricky Women (Austria), Animafest (Croatia), Blow-Up Film Fest (USA), Animanima (Serbia), Animocje (Poland), PAF Festival (Czech Republic), Fest Anča (Slovakia), Supertoon (Croatia), LIFFe (Slovenia). Her reviews and critiques were published film magazines such as Kino, Ekrany, Zippy Frames and ASIFA Magazine. She co-edited two monographs: "Obsession Perversion Rebellion. Twisted Dreams of Central European Animation" (2016) and "Propaganda, Ideology, Animation. Twisted Dreams of History" (2019).
Eligibility:
A resident of any of Western Balkan country
Available during 15-21 July 2019
interest in film and art is essential
No previous writing experience is needed but could be an asset
Benefits:
Five-day professional lectures in film criticism and journalism (16-20 July 2019);
Opportunity to practice the learning outcomes of the masterclass while writing for the festival's magazine (15-21 July);
Networking opportunities with fellow film critics, international animators, filmmakers, producers, and presenters;
Full pass accreditation badge for Anibar Festival events
Costs:
There is no participation fee for the event. Organizers will cover accommodation and daily meals for the 7 days of the festival 15-21 July 2019. Participants need to cover travel costs
FACTS:
Title: Film Criticism and Journalism Masterclass during the Anibar Festival
Place: Peja, Kosovo
Date of the activity: 15-21 July 2019
Open to: Participants from Western Balkans countries (Albania, Bosnia and Herzegovina, Kosovo, Montenegro, the Republic of North Macedonia and Serbia)
Deadline for application: 5 July 2019
Date of Selection: 8 July 2019
Organizers:
The activity is being organized within the project "Development of animation culture between Western Balkans and Visegrad Group" implemented by Anibar organization and the project partner, Faculty of Humanities, Marie Curie-Skłodowska University in Lublin (Poland). The project is co-financed by the Governments of Czechia, Hungary, Poland, and Slovakia through Visegrad Grants from International Visegrad Fund. The mission of the fund is to advance ideas for sustainable regional cooperation in Central Europe.
Festival Description
The festival will be celebrating the art of animation in the city of Peja for the tenth year in a row in various settings including here the Lake and Cubes cinema both located in the park of the city. In seven days of the festival last year Anibar had 220 films screened, 3 animated feature film screenings, 4 workshops with up to 100 participants, 4 running cinemas, 8 presentations, 100+ guests at the festival, and 7 nights of music with 30+ musicians from Kosovo and the region performing. Through the festival, the organization has been able to promote and bring attention to issues that are important to our daily lives. In the 8th edition Anibar had Reclaim the City! as a theme promoting better usage of public goods, in its last edition it had 5050 for gender equality, women empowerment and women in animation.
2019 Festival Trailer
Hopes and Fears!
In a society which is consistently becoming indifferent towards political, social and environmental changes, in the tenth edition of Anibar, we will treat our hopes and fears to inspire action and promote civic activism through arts.
Trailer, artwork, and animation by Alice Saey, music and sound by Ruben van Asselt
Event Dates
From

15/07/2019

to

21/07/2019