Hiroshima Animation Season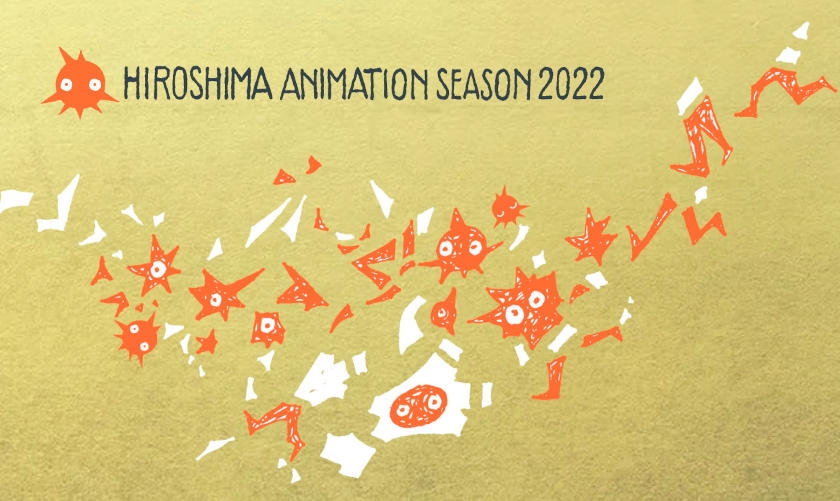 Category
ANIMATION & FILM FESTIVALS
Deadline | Event Dates (period)
Email
This email address is being protected from spambots. You need JavaScript enabled to view it.
Final submission deadline
2022-02-28
Submission/Registration Fee
No
Event Description:
Hiroshima Animation Season 2022 will be held for five days from August 17 (Wed.) to 21 (Sun.), 2022 at JMS Aster Plaza and other venues in Hiroshima as a main project of the Media Arts Division of the Hiroshima Festival (August 1-28, 2022), which will be newly launched by the Hiroshima City in August 2022.

The festival's producer is Nobuaki Doi, and the artistic directors are Koji Yamamura (animation artist and picture book author) and Shizuka Miyazaki (animation artist and lecturer at the Hijiyama Junior College). The festival will be conducted in three divisions: Competition, Awards, and Academy.
(Archive): 2022 Coverage
A new animation festival Hiroshima Animation Season is pleased to announce that three artists have been selected for our residence program "Hiroshima Artist in Residence (H- AIR)".
The invited artists this time are Mahboobeh Kalaee (Iran), Nata Metlukh (USA), and Sakura Koretsune (Japan). The three artists, who are internationally acclaimed with remarkable achievements, will stay in Hiroshima City for six months starting from May or June, depending on the availability of artist's arrival to Hiroshima, and work on their new projects and interact with the Hiroshima citizens.

Mahboobeh Kalaee has won numerous awards, including the Best Film Award at the Fantoche International Animation Film Festival for a stop-motion film "The Fouth Wall" last year. The film was also awarded the Grand Prix of the Animation category at the 25th Japan Media Arts Festival which was recently announced, and she is attracting a great attention in Japan as well.
Nata Metlukh is a Ukrainian-born, U.S. based artist well known for GIF animations from her observations of people's everyday life, and she has over 27,000 followers on Instagram.
With her astute observation, "awkward," a film depicting common everyday awkward moments, was awarded the Best Short Film of the Year at PromoFest in Spain in 2020.
Sakura Koretsune is an artist who focuses on human activities, whaling, hunting culture, and the spiritual culture of the sea, and conducts fieldwork in Japan and abroad, creating works such as a little press and textile-based works. She participated in many exhibitions in Tohoku (''northeast'' region of Japan) and Hokkaido areas, including Yamagata Biennale and a solo exhibition at Rias Ark Museum of Art. She will be making a first animation in her hometown of Hiroshima, in the field area of the Seto Inland Sea.
Call for Entries

Hiroshima Animation Season announces its for entries for the Competition and applicants for the Artist-in-Residence.
The Competition section has two competitions: 'Pan- Pacific and Asia Competition' and 'World Competition'. The former aims to discover new talents in the Pan-Pacific and Asia. The latter, with holding the competition by genre, such as fiction, documentary etc., will showcase the latest notable movements in the world.

Both competitions accept films of any length, without separating feature films and short films. The films that pass the preliminary selection will be screened during the festival from August 17 to 21, and will compete for the Grand Prix and other awards. 
In the spring, the festival will announce various programs such as Hiroshima Awards for the Japanese, Hollywood, and other animation professionals from the Pan-Pacific and Asia.
1. Overview of the Competition
(1) Title : "Pan-Pacific and Asia Competition", "World Competition"
(2) Submission Period: January 7, 2022 (Fri) 10:00 - February 28, 2022 (Mon) 23:59 (JST)
(3) Eligible Works: Animation works to be completed and released on or after April 1, 2020.
(4) Selection committee members: Koji Yamamura, Shizuka Miyazaki, Ryotaro  Miyajima, Honami Yano

* Submissions will be accepted regardless of whether they are feature-length, short films, or student works.
Call for Artists
The Academy section of the festival, which aims to revitalize the art and culture environment in Hiroshima through animation and media arts, announce the  Hiroshima Artist-in-Residence (H-AIR). The program encourages outstanding animation artists and specialists from around the world to stay in Hiroshima for six months to develop and produce new projects.
A total of three selected artists from all around the world will be invited to stay in the Tsurumi, Yokogawa, and Minaga areas and will interact with local residents and people involved in the arts and culture, and work on their own projects for six months starting in May 2022. 

2. Overview of Hiroshima Artist-in-Residence (H-AIR)

Available Invitee Positions: 3 (planned)
Selection committee members: Nobuaki Doi, Koji Yamamura, Shizuka Miyazaki
Invitation Period: 184 days from May 1 (Sun), 2022 to October 31(Mon), 2022


* Applications will be accepted not only from overseas artists and specialists, but also from artists and specialists working in Japan.
* During the residency, the invitees will not only develop and produce their own projects, but will also participate in related events, cooperate in workshops, and interact with Hiroshima citizens.
* Applicants may submit projects other than animation, such as novels, comics, and films, as long as the projects are intended to be animated in the future. Research for the production of works and academic research is also eligible.
Considering the impact of the recent global spread of coronavirus infections, the festival has  decided to open a second application period.
First application period: January 7 - 31, 2022
Second application period: February 1, 2022 - until the maximum number of invitees is reached
NB: 2023 Festival Dates are tentative
Event Dates
From

17/08/2023

to

21/08/2023