Kids Kino Lab, 2021/2022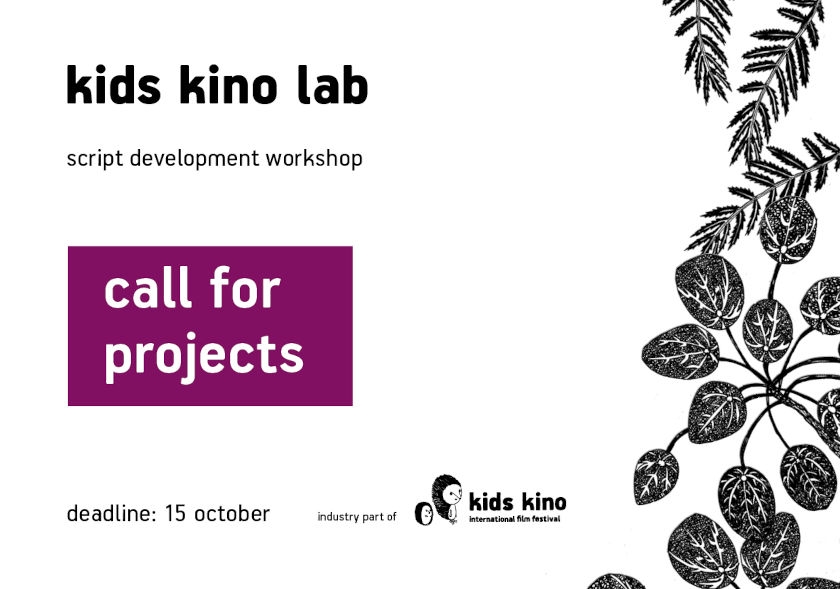 Deadline | Event Dates (period)
Final submission deadline
2021-10-15
Submission/Registration Fee
Yes
Event Description:
Kids Kino Lab is an international script development programme dedicated to scriptwriters and producers who are interested in developing films or series (live-action, animation or documentary) for kids and youth.
2021 Call for entries
During nine months, 12 teams (producer + scriptwriter) work on their projects from a short synopsis to the advanced draft of the script together with production basics (estimated budget, financing and promotion plan). The programme of the Kids Kino Lab is enriched with sessions where invited guests and experts from the fields of scriptwriting, distribution, sales and many others, share their experience and knowledge.
7th edition of Kids Kino Lab consists of four on-site group sessions and online consultations with the lead Tutors. Each session of the workshops takes place during a film festival for children or an industry event. The programme ends with a pitching held at Kids Kino Industry forum which gives participants an immediate opportunity to find a co-producer, sales agent or distributor for their projects..
Eligibility:
Kids Kino Lab is open to the projects

 

from all the European countries.
The training events accepts both full-length films or series projects in all the categories: animations/ documentaries/ live-actions.
No short films and TV specials are accepted.
Tutors
Philip LaZebnik (scriptwriter of Disney movies – e.g. Mulan, Pocahontas, currently working in Europe), Kirsten Bonnén Rask (previously consulting scripts of Lars von Trier and Urlich Seidl, currently writer, producer and consultant of many children films), Armin Prediger (screenwriter, story editor, creative coach, mentor and consultant working in the entertainment industry for 31 years) and Ronald Kruschak (producer and writer, his films got many awards in Germany, some of them reached 1 mln audience).
Participation Fee:
The cost of the programme is

 

1600 EURO per team

 

(2 people, each additional team member needs to pay 800 EUR).
Accommodation and food for participants are provided by the organizer.
The travel costs are on the participant's side.


Deadline: 15 October 2021

NB: Exact dates TBC
Event Dates
From

10/01/2022

to

30/09/2022