LUMEN Prize for Art and Technology 2022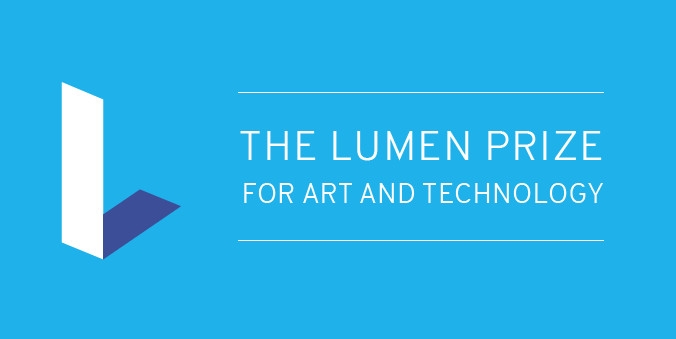 Deadline | Event Dates (period)
Email
This email address is being protected from spambots. You need JavaScript enabled to view it.
Final submission deadline
2022-06-03
Submission/Registration Fee
Yes
Description:
The Lumen Prize celebrates the very best art created with technology through a global competition. Since its launch in 2012, it has given away more than US$100,000 in prize money and created opportunities worldwide for the artists who have been longlisted, shortlisted or won.
2022 Call for Entries
The 11th Award Ceremony of the LUMEN Prize will take place on 19th October 2022 at the Barbican Centre, London. LUMEN Prize 11 artists will win cash prizes worth $13,500.
There will be a range of opportunities for Longlisted, Shortlisted and Winning artists, from exhibitions to a 4-week residency in Spain. Up to 70 artists will be longlisted and are invited to join the Lumen Artist Community, which works to build a range of opportunities through our partners globally.
Eligibility criteria:
Works may be entered by individual artists or collectives. In the case of collectives, all contributing artists must clearly be identified in the appropriate section of the entry form. The Organiser cannot be held responsible for any misrepresentation of a collective or partnership if this form is not correctly filled in at the entry stage.
Artists and/or Collectives may enter as many works as they like. Two works may be submitted with each entry costing US$40.00 for 2 submissions, $56 for 3 submissions, $70 for 4 submissions, $82 for 5 submissions, $92 for 6 submissions and $100 for 7 submissions.
Works that have won other prizes are eligible for entry as long as the entrant retains ownership of the work.
The Organiser will not accept digitised versions of work done by traditional means such as oils, watercolours, pen and ink, etc, unless these versions have been artistically manipulated by computer software and this process is an intrinsic part of the work.
Lens-based photography is permitted where digital photo-manipulation is an intrinsic part of the work.
Work must be created, at least in part, on digital devices such as tablets, digital cameras, smartphones or computers. Physical artworks are eligible if a digital element is a significant factor in the concept or execution of the work, i.e. entries for the 3D/Interactive prize.
Awards and Prizes:
Moving Image Award $1000: For time-based work using any digital process that is narrative or non-narrative including but not limited to, animation, CGI, real-time CG, generative visuals, A.I generated visuals, video art, video game cutscenes, machinima, and music videos.
3D/Interactive Award $1000: For work that engages with audiences through sound, touch or movement, including but not limited to installation, sculpture, robotics, games, apps, and websites.
Gold Award: US$4000 The Gold Award goes to the artist whose work is judged to be exceptional across all categories.
Still Image Award: US$1000 For excellence in still image artwork using digital processes in its creation, including photo-manipulation, 3D renders, or drawings created on any device.
Futures Award: US$1000 For excellence in art that explores future relationships between humans in all areas of Artificial Intelligence, Robotics or Biotech.
Global Majority Award: US$1000 For excellence in art created with technology by an artist or collective from Africa, Latin America or the developing economies of Asia and the Middle East.
Nordic Award: US$1000 For excellence in art created with technology by an artist or collective from FInland, Sweden, Norway, Denmark, Iceland, Greenland and the Faroe Islands. Sponsored by Sørlandets Kunstmuseum/KUNSTSILO.
BCS Immersive Environment Award: US$1000 For excellence in art that creates an immersive experience, including performance, XR, virtual worlds, or multi-screen projection. Sponsored by The B.C.S Chartered Institute for I.T.
NFT Award; US$1000 For excellence in work by an artist, artist collective or DAO that represents the cutting edge of the NFT ecosystem, including but not limited to works that demonstrate sophisticated use of blockchain technology, creative implementation of the non-fungible token format and cross-disciplinary projects.
HUA Award 華艺数奖: US$1000 For excellence in art created with technology by an artist or collective living and working in China.
Jury Panel
Christiane Paul, Adjunct Curator, Whitney Museum, New York
Boris Magrini (PhD), Curator, HeK, Basel
Melanie Lenz, Digital Curator, Victoria and Albert Museum, London
Nathan Ladd, Assistant Curator, Tate Britain, London
Silke Schmickl, Lead Curator, Moving Image, M+ Museum, Hong Kong
The display of artworks at events will always be determined in consultation with the artist.
Fees: Early Bird Fee Fee: $30 for 2 submissions, Three Entries Fee: $45 for 3 submissions, Four Entries Fee: $60 for 4 submissions, Five Entries Fee: $75 for 5 submissions, Six Entries Fee: $90 for 6 submissions
ARCHIVE
2020 Coverage
An emotive depiction of feminist graffiti - sparked by protests against violence towards women and covering a Mexico City landmark - has won the 2020 Lumen Gold Award for outstanding art created with technology.
"Nuestra Victoria/Our Victory" by Julieta Gil, a Mexican artist, uses photogrammetry techniques to capture a timeline of protests concerning systemic violence towards women. The work creates a digital archive of the Ángel de la Independencia (Angel of Independence), a Mexico City monument, which was occupied by protestors in August 2019. Following the protest, government officials began immediate restoration of the monument.
"This is the first time in our nine-year history that a work rooted in protest has carried off the Lumen Prize Gold Award. Its selection by the Jury Panel reflects its haunting artistic beauty, the extraordinary use of photogrammetry techniques and its strong political impact," comments Carla Rapoport, Executive Director of Lumen Art Projects, which runs the annual competition for art and technology. At Wednesday's virtual awards ceremony, the Lumen Prize handed out a total of nine awards worth $11,500. The list of winners includes artists from Germany, the United States, Uruguay, Mexico, the UK, Denmark, and La Réunion, a French Island in the Indian Ocean.
New Awards for 2020
Lumen increased the global reach of its applicants by introducing two new awards: the Global South Award, for art created by an artist or collective from Africa, Latin America, or the developing economies of Asia and the Middle East; and the Nordic Award, offered in partnership with Sørlandets Kunstmuseum (SKMU) in Southern Norway, for art created by an artist or collective from Nordic countries.
Mexican artist Tupac Matir took home the Global South Award for his work "The Cosmos Within Us", a VR and live performance hybrid created in collaboration with Satore Studios that explores the experience of loss through the lens of a man suffering with Alzheimer's disease.
Danish artist Søren Krag was awarded the Nordic Award for "Deux Mille Fleurs/Two Thousand Flowers", a medieval- and renaissance-inspired tapestry created by digitally weaving 2,000 unique algorithmically generated flowers.
About Lumen Prize:
The Lumen Prize and Lumen Arts Projects were founded by Carla Rapoport, a financial journalist who moved into arts management in 2010. Carla's goal is to widen the enjoyment, understanding and appreciation of art created with technology while widening the opportunities for artists working in this field globally.