MIFA Annecy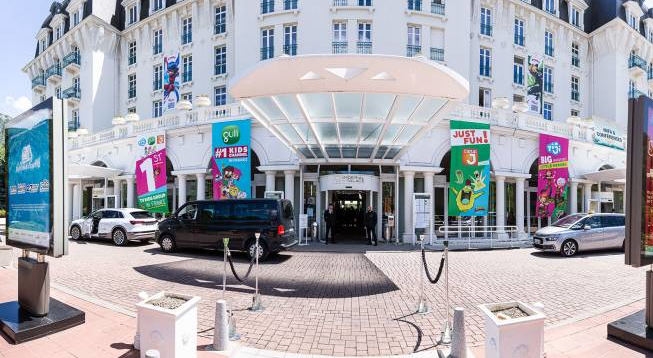 Category
PITCHING & INDUSTRY
Deadline | Event Dates (period)
Email
This email address is being protected from spambots. You need JavaScript enabled to view it.
Final submission deadline
2022-02-08
Submission/Registration Fee
No
2022 Call for entries
Only projects that are in development and sufficiently advanced to meet the market will be accepted. Scripts alone will not be taken into account. If it is selected, you will take part in the Mifa Pitches 2022, which provide the opportunity to find the necessary partners and funders to achieve your project!
Projects must be registered online by its author(s), and in compliance with these regulations irrespective of the filmmaking techniques used (traditional or new, containing a minimum of 50% animation), target audience, genre (fiction, documentary, educational, experimental, etc.), age and nationality of the author(s).
The same author cannot submit more than 2 short film or TV special/series projects in the same year, likewise, the same producer cannot submit more than 2 feature film or digital experience projects. Projects made on a training course are excluded. 
Categories:
Short Films
Feature Films
TV Series & Specials
Digital Experiences
Notes:
Since 2021, projects from territories where animation is just emerging can compete in any category. If selected, they will receive Animation du Monde status and special support.
The webseries projects can compete in the TV Series & Specials category.
Important information:
Deadline: February 8th, 2022 (11:59 pm CET, French time)
Registration: free of charge
ARCHIVE 
2021 MIFA Selected Projects
 433 projects were submitted for this year's MIFA Pitches at Annecy Film Festival. 36 projects were selected.
Digital Experiences
60s. The Lost Treasures, Graphic creator: Vasily KOSTENKO. Country: Ukraine
Détective Brols, Author / Scriptwriter: Khourban CASSAM CHENAÏ . Country: Belgium
Ego, Director: Alexandre PEREZ, Graphic creator: Romain D'ESCRIENNE, Author / Scriptwriter: Alexandre PEREZ, Sarah BEAULIEU
Country: France
Empereur Director, author / scriptwriter: Marion BURGER, Ilan COHEN. Country: France
Immersive Criminology: Episode 2 "Baby Frog" Director, author / scriptwriter: Yi-chun KAO .Country: Taiwan
Nami, de la surface aux abysses. Director: Kloé LANG, Célia FECHINO, Author / Scriptwriter: Johanna KRAWCZYK, Kloé LANG, Célia FECHINO. Country: France
Opéra Calling. Graphic creator: Gabriella GIANDELLI, Author / Scriptwriter: Jean-Luc VINCENT, Maxence TUAL Country: France


Feature films
Annah la Javanaise . Director, author / scriptwriter: Fatimah Tobing RONY, Graphic creator: Ariel VICTOR Country: Indonesia
(Animation du Monde)
Flow. Director, graphic creator: Gints ZILBALODIS, Author / Scriptwriter: Gints ZILBALODIS, Matiss KAZA, Ron DYENS. Country: France, Latvia
Goliath & Me. Director, graphic creator, author / scriptwriter: Michelle KRANOT, Uri KRANOT .Country: Germany, Denmark, France
Hanta Animation du Monde. Director, author / scriptwriter: Emilio RAMOS, Graphic creator: Salvador PARRA, Juan Antonio SANCHEZ RULL. Country: Mexico (Animation du Monde)
In Waves. Director, graphic creator: Phuong Mai NGUYEN, Author / Scriptwriter: Fanny BURDINO, Samuel DOUX. Country: France
Porcelain Birds. Director: Max PORTER, Ru KUWAHATA .Country: USA
Sidi Kaba et la Porte du retour. Director, graphic creator: Rony HOTIN, Author / Scriptwriter: Jérôme PIOT. Country: France
The Dragon's Treasure . Director: Ashkan RAHGOZAR, Graphic creator: Sabina KIPA, Farid SEPEHR, Babak GHARIB, Author / Scriptwriter: Ashkan RAHGOZAR, Aida NOSHALI (Animation du Monde). Country: Iran, Canada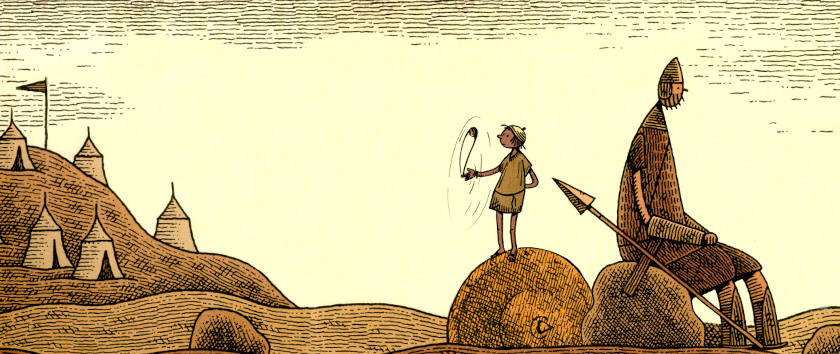 Goliath and Me
Short films
"two ice creams, please". Director, graphic creator, author / scriptwriter: Jasmine ELSEN. Country: Belgium
Balconada  Director, graphic creator, author / scriptwriter: Iva TOKMAKCHIEVA. Country: Bulgaria (Animation du Monde)
Gigi Director: Cynthia CALVI . Country: France
Margarethe, Director: Lucas MALBRUN .Country: Germany, France
Mesut Director: Michael KALOPAIDIS, Alexia ROIDER, Author / Scriptwriter: Georgia NIKOLAOU Country: Cyprus (Animation du Monde)
Oscar Director, graphic creator: Polyxeny KATSARI, Matina FYKARI, Author / Scriptwriter: Matina FYKARI, Polyxeny KATSARI
Country: Greece (Animation du Monde)
Pasos para volar Animation du Monde. Director, graphic creator: Nicolás CONTE, Author / Scriptwriter: Nicolás CONTE, Maria Rosario CARLINO Country: Argentina (Animation du Monde)
Rajskie Ptaki Director, author / scriptwriter: Tomek DUCKI, Graphic creator: Gina THORSTENSEN Country: Poland
Signal Director: Mathilde PARQUET, Emma CARRÉ .Country: France
Sulaimani Director, graphic creator: Vinnie Ann BOSE, Author / Scriptwriter: Vinnie Ann BOSE, Patricia VALEIX. Country: France
Zanadrano Animation du Monde Director, graphic creator, author / scriptwriter: Andriantomanga RIDHA Country: Madagascar
(Animation du Monde)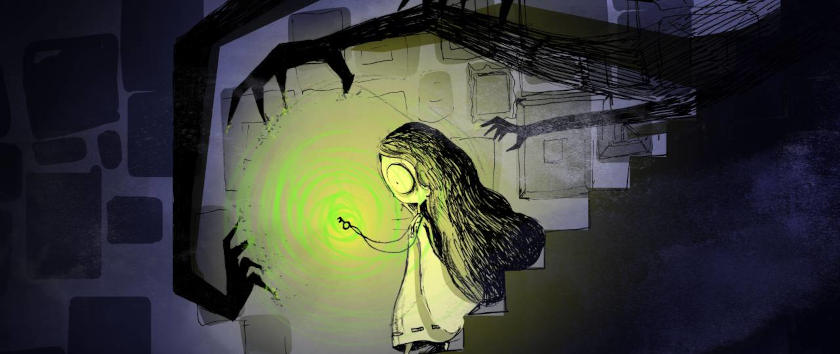 Oscar
TV series and specials
Anesou et les Shégués Director: Daniel CATTIER MASEKO, Nadia MICAULT, Graphic creator, author / scriptwriter: Nadia MICAULT, Daniel CATTIER MASEKO Country: France
Cosmonots Director, graphic creator: Jac CLINCH, Author / Scriptwriter: Simon LORD. Country: United Kingdom
Ivy's Bookshop Director, author / scriptwriter: Joshua HOGAN. Country: Finland, Ireland
Jose Trueno Director, graphic creator: Ariel LOPEZ V, Author / Scriptwriter: Ariel LOPEZ V, Gustavo SALA, Omar GONZALEZ ROQUE
Country: Argentina (Animation du Monde)
Kuttan the Medicine Boy Director, graphic creator: Anand BABU Country: India (Animation du Monde)
L'Ourse et l'Oiseau. Director, graphic creator: Marie CAUDRY, Author / Scriptwriter: Marie CAUDRY, Gauthier DAVID Country: France
Papa et moi Director, graphic creator, author / scriptwriter: Olesya SHCHUKINA. Country: France
Pour exister, Director: Fabien CORRE, Kelsi PHUNG, Graphic creator, author / scriptwriter: Kelsi PHUNG, Fabien CORRE . Country: France
Sybil and Her Past Lives Director: Isabela LITTGER DE PINHO, Lara ARRIGONI MANESCO, Graphic creator: Antonio SOARES NETO, Author / Scriptwriter: Lara ARRIGONI MANESCO. Country: Brazil (Animation du Monde)
Who's Our Sub Today? Director: Chun-Chien LIEN, Graphic creator: Heyu LIAO, Pei-Hsuan CHUNG, Author / Scriptwriter: Pohan LEE
Country: Taiwan
==============================
2020 MIFA Coverage:
Event Dates
From

14/06/2022

to

17/06/2022