New Chitose Airport International Animation Festival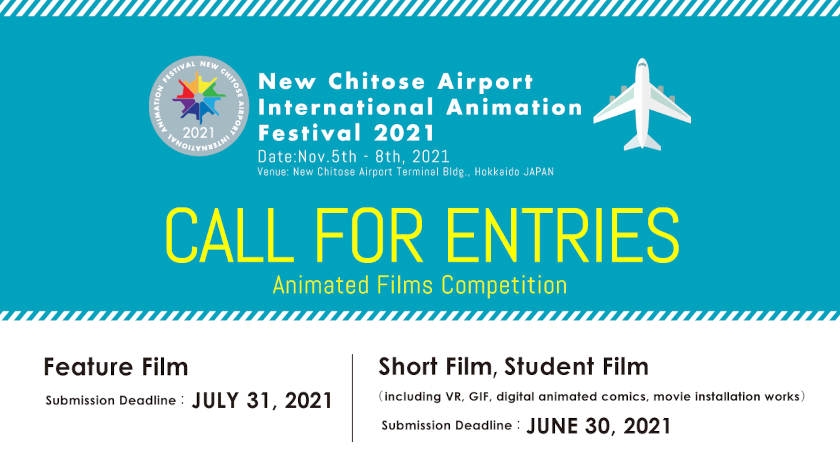 Category
ANIMATION & FILM FESTIVALS
Deadline | Event Dates (period)
Email
This email address is being protected from spambots. You need JavaScript enabled to view it.
Final submission deadline
2021-07-31
Submission/Registration Fee
No
Festival Description
The New Chitose Airport, a gateway for the world to access Hokkaido and known as "Entertainment" Airport is truly unique amongst its kind. The Airport also hosts a variety of facilities: a multi-screen movie theater, hotel, Onsen bath spa, arcade, shopping mall, high-quality restaurants featuring the unique taste of Japanese cuisine, and event spaces are amongst the many things that New Chitose Airport has in store for its visitors. By utilizing all of its unique attributes, and combining them into one eclectic embodiment, the airport provides a festival experience that cannot be replicated in any other environment. The last edition in 2019 attracted record-breaking 43,000 visitors, the highest number in the history of the festival.
2022 Festival Coverage
2021 Call for entries
The 8th edition of the New Chitose Airport International Animation Festival is held from Nov 5th to 8th, 2021 at the terminal building of New Chitose Airport. As well as the last edition, the festival has a hybrid format, both at the airport and online
Short Films Competition
Submissions must be animated films with a run time not exceeding 30 minutes and must be works completed in or after 2019. VR films, GIF animation, and digital motion comics and movie installation works are also accepted. There is no submission fee.
Competition Categories
1-1. Competition categories
(A) International Competition
(B) Japan Competition
(C) Music Animation Competition
(D) Student Competition
Award:
Grand Prix (Short Film): 1 million JPY
Grand Prix (Feature Film): 300,000 JPY
Japan Grand Prix (Short Film): 500,000 JPY
New Talent Award (Short Film): 200,000 JPY
Best Music Animation: 100,000 JPY
Audience Award: 100,000 JPY
Best Student Film: Memento
Kids Award: Memento
Regulations and submission via FilmFreeway
Deadline: 30 June 2021 (shorts), 31 July 2021 (feature films)
2020 Festival Coverage
2019 Festival Coverage
2018 Festival Coverage
Feature Film Selection:
FUNAN
Director: Denis DO / 2017 / Belgium, Cambodia, France, Luxembourg
On Happiness Road
Director: SUNG Hsin-Yin / 2017 / Taiwan
SHONEN HOLLYWOOD -HOLLY STAGE FOR YOU- Complete Edition
Director: Sumiko Arai, Toshimasa Kuroyanagi / 2018 / Japan
The Breadwinner
Director: Nora Twomey / 2017 / Ireland, Canada, Luxembourg
This Magnificent Cake!
Director: Marc James Roels, Emma De Swaef / 2018 / Belgium,France
NB: 2023 Festival Dates are tentative
Event Dates
From

05/11/2023

to

08/11/2023