Riga International Short Film Festival 2Annas 2023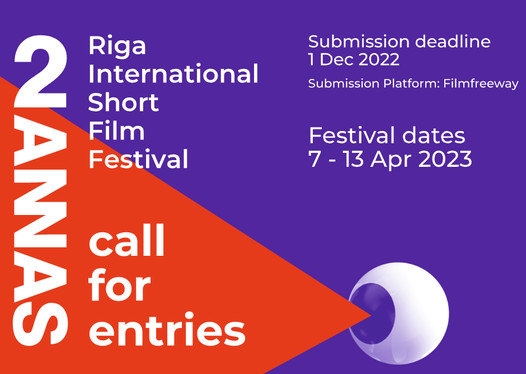 Category
ANIMATION & FILM FESTIVALS
Deadline | Event Dates (period)
Final submission deadline
2022-11-24
Submission/Registration Fee
Yes
Event Description:

The festival seeks out and introduces the audience to innovative modes of audio-visual communication from all over the world. The goal of the festival is to popularize European and World cinema among the Latvian audience and explore the evolution and trends of Baltic film art from a global perspective.
2023 Call for Entries
Open call for the upcoming 27th International Short Film Festival 2ANNAS. 2ANNAS accepts films for the International Short Film Competition, the Baltic Short Film Competition, the International Mid-Length Film Competition and the International Children and Youth Competition.
The central theme of this year's festival edition is "BODY AND FLESH". The human body has historically been the subject of reflection within different philosophical traditions and in the context of various issues. At this year's festival we will focus on the body mentioned in the approach of the phenomenological tradition, where the established distinction between body (Körper) and flesh (Leib) explains and allows to combine both the understanding of the body as an externally observable thing and the understanding of the flesh as a subjectively experienced body. In the focus programs, we will try to look at the bodily boundaries of human body, as well as touch on such a topical topic today as the body and political power.
Categories:
International Short Film Competition
Open to contributions by filmmakers of all age groups and nationalities, produced by professional individuals, international film schools, film studios, etc (under 30min). 2ANNAS ISFF is looking for films that break the technical and artistic boundaries of filmmaking, as well as talk about topical, provocative and often painful topics.
Baltic Short Film Competition
Presents the works by directors from Latvia, Estonia and Lithuania only 
International Mid-Length Competition
30-60 minutes length
International Children's Short Film Competition
Short films intended for a Children's Audience
Deadline: 1 December 2022
Event Dates
From

07/04/2023

to

13/04/2023