StopMoLab 2022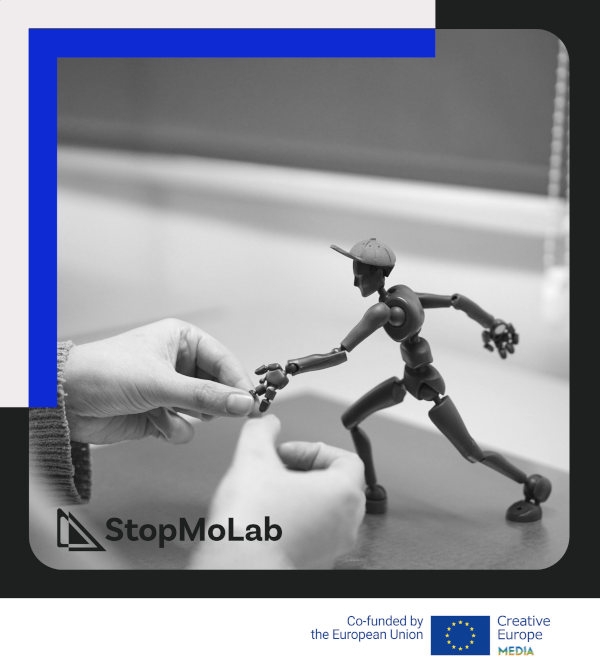 Deadline | Event Dates (period)
Final submission deadline
2022-03-31
Submission/Registration Fee
Yes
Event Description
StopMoLab – international training program in the stop motion animation industry
How does the modern animation market work? What does the ecological process of film production look like and where are they and how to apply for artistic residencies? Among other things, participants will find out during the advanced, 9-month-long StopMoLab training program. It is a new, innovative and comprehensive professionalization project aimed at beginning creators of stop-motion animation.
Who is this project for?
Animators
Puppet makers
Animation creators
Production managers
Screenwriters
The main objective of the StopMoLab is to provide support in fostering talents and skills of young artists interested in development of their careers on an international level.
The program consists of three main modules:
SKILLS (focus on the development of professional skills);
BUSINESS (focus on developing business skills, discovering new trends and business models);
GO GREEN (increasing of the pro-environmental awareness).
StopMoLab is about talks, case studies, masterclasses, mentoring meetings and lectures. All this is carried out by internationally recognized professionals in the field of stop-motion animation. 
In May there will be two open meetings. The first one, is on May 20th, with Francesca Berlingieri Maxwell who will have a lecture and will be explaining the scope of Art Director duties in stop motion animation, broadly understood artistic settings and managing a creative team. She's been working as Art Director on Annie Awards winning and Oscar or Bafta-nominated productions like Wes Anderson's "Fantastic Mr Fox" and on Laika's "ParaNorman". Moreover, her portfolio includes Aardman's "Chicken Run", Tim Burton's "The Corpse Bride" or Luis Tellez's "Inzomnia".
The second meeting open to the public lecture will be held on May 25th with Simon Quinn, who has been working in the film and TV industry for over 34 years. He started his career as a puppet maker creating among others for Aardman Animations and later on became Line Producer on Wes Anderson's "Fantastic Mr Fox" and on Tim Burton's "Frankenweenie". Moreover, he produced sixteen commercials with multi-award-winning Passion Pictures. Currently producing double Emmy award-winning animation series "The Adventures of Paddington Bear" for Studio Canal. Two hours of meeting with him will be dedicated to the subject of production organization, covering topics such as scheduling, budgeting the structure of the team, where to start, the ongoing rhythm/pattern of daily life on the production and how to pace yourself and plan to get to the end and successfully deliver a project.
StopMoLab starts with "Personal & Career Development Program (PCDP)" classes with Olaf Żylicz, Rector at the WSB University in Warsaw, a psychologist who combines the roles of organizational consultant and a scientist. He is an accredited trainer, business coach, and mentor. The workshop will help participants to discover social-psychological competencies, following setting developmental and career-related goals, including compiling a professional portfolio. On May 18th there will be a conference with Olivier Catherin explaining the financing system in France, the possibilities of co-production, and through several concrete examples, will illustrate the difficulties, but also the advantages that international co-production faces. Olivier was a board member and employee of the French Animation Film Association (AFCA), creator of Les Trois Ours studio, moreover, he produced, among others, "Kiki of Montparnasse" which won a César for a best short animation film.
Following week there will be meetings with experts for three days, day by day. Starting May 24th with a lecture on the structure of a film script conducted by Anna Bielak, head of development at Aurum Film and tutor at the "Scripts Atelier" workshops. Besides learning about the classic elements of the script structure there will be discussion regarding the basic elements influencing the building of tension and constructing the dramaturgy of the film image. The next day, the lecture with Simon Quinn will be held. On the third day, the meeting will concern the promotion of an online brand and how to show yourself to the world run by Karol Siodmiak, who specializes in conducting marketing activities for small and medium-sized businesses and makes e-marketing impossible to dislike.
2022 Call for Entries (Archive)
Date: April – December 2022.
Duration: 9 months.
Limit of places: 25 participants. 5 people for each profession: animators, puppet makers, animation creators, production managers, scriptwriters.
Scholarship: there are 3 places with the possibility of receiving a scholarship. Details in the regulations ("Statute" on the bottom of the form).
Fee: 500 euros for the entire training.
Meeting place: online + 2 meetings in Łódź (Poland): in July and during ANIMARKT Stop Motion Forum 2022
Recruitment rules and regulations: Two-stage recruitment:
In the first stage, the candidate's application will be assessed by a specialist representing a given profession and a representative of the industry in the field of business development (Recruitment Committee).
From among the candidates selected in the first stage, a commission made up of representatives of each profession and business development will establish the final shortlist. In the second stage, there is an online meeting with the candidates.
The regulations can be found on the bottom of the form – click "Statute"
Requirements: Experience in stop motion technique is required. The program is aimed at beginning creators working in the animation industry (graduates, last year students, people with skills in their profession at the junior level, with experience in at least one stop motion production, they can be graduation studies).
Communicative use of English is required
Submission deadline: March

27th

, 31st,  2022
Announcement of the recruitment results:: April 25th, 2022
Event Dates
From

01/04/2022

to

22/12/2022