The Essay Film Form and Animation: Intersectionality in Motion, 12-13/6/19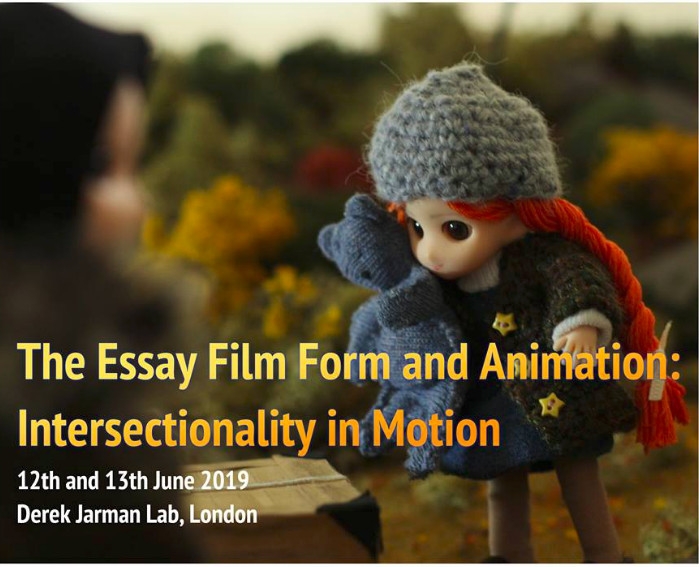 Deadline | Event Dates (period)
Email
This email address is being protected from spambots. You need JavaScript enabled to view it.
Final submission deadline
2019-04-20
Submission/Registration Fee
No
Call for Abstracts:

THE ESSAY FILM FORM AND ANIMATION: INTERSECTIONALITY IN MOTION
Animation has been used in film form for its ability to illustrate, clarify, intensify, and focus the expression of feelings, emotions, processes, situations. In socially engaged films, animation supports and opens the debate of complex realities, which can be external or internal, like in I was the Child of Holocaust Survivors (Fleming, 2006), An Eyeful of Sound (Moore, 2010), Waltz with Bashir (Folman, 2008), and Tower(Maitland, 2012).
Paul Arthur notes "[g]alvanized by the intersection of personal, subjective and social history, the essay [film] has emerged as the leading nonfiction form for both intellectual and artistic innovation" (2003, p. 58). In this sense, essay films are hybrid, cross boundaries and often challenge our preconceptions of how to engage an audience. Essay films are also placed in a vital dialogue with how we understand the broader categories of 'nonfiction', 'fiction' and 'documentary', especially in relation to deeply individual stories that might nevertheless resonate across social categories like class, race, gender and sexuality.
The conference wishes to develop these dialogues in specific relation to how the animated form mobilises or challenges ideas of the essay film. It, therefore, encourages submissions that engage with how animation represents complex and intersecting social issues and power relations. Major axes of social division in a given society at a given time operate not "as discrete and mutually exclusive entities, but build on each other and work together" (Collings and Bilge, 2016, p. 4). It is very challenging to convincingly visualise and configure these phenomena and how they intersect. But animation seems perfectly placed to rise to this challenge, due to its hybrid, metamorphic and pervasive tendencies.
This conference invites practitioners and scholars to focus on the relationship between the essay film form and animation, and to look at animation as a set of communicative techniques which give voice to resistance to social discrimination and inequality, and more effectively address a range of human issues in all their complexity. Looking at the intersectionality of race, class, gender and ethnicity, as part of our engagement in the understanding of diversity in contemporary societies and historically, we aim to highlight the importance of the animated essay form to communicate these messages, and to ask questions.
Suggested areas (not an exclusive list):
Formal definitions of the animated essay film
Notions of intersectionality in animation: representing complex and overlapping social power structures
Animated documentary/nonfiction/essay film
Representations of social class, gender, race, ethnicity
Debates about animation and identity politics
Pervasive animation/personal stories?
Examining social complexity through individual essayistic approaches to animated form
Questions of the animator as a witness, participant, or onlooker to the event they depict
The notion of 'Personal Camera', the 'diary' and 'first-person filmmaking' and how they are manifested in animation
The use of animated landscapes in the essay film


Submission deadline: 30 March 20 April 2019. Please e-mail abstracts (250-300 words) plus author bios (100 words per author) to This email address is being protected from spambots. You need JavaScript enabled to view it.
London, as the location of the conference, emphasises the historical relevance of this major city in the debate on diversity, social cohesion and intersectional discrimination. The London conference is scheduled just before the Society for Animation Studies 31st Annual Conference (to be held in Lisbon, Portugal, 17-21 June 2019). This enhances the cultural reach of the SAS, and the debating of animation in the contemporary context, with opportunities for conversations begun at the London event to continue in Lisbon, as delegates travel there.
Date/Place: Wednesday 12th and Thursday 13th June 2019 at the Derek Jarman Lab, London – CAPA, 146 Cromwell Rd, Kensington, London SW7 4EF
Organisers: Professor Paul Ward, Dr Romana Turina and Dr Bartek Dziadosz / Arts University Bournemouth, Society for Animation Studies, Derek Jarman Lab
Event Dates
From

12/06/2019

to

13/06/2019