Ottawa International Animation Festival 2012: preliminary programme
 Running from September 19th-23rd, Ottawa 2012 will pay tribute to the work of animation legend Ralph Bakshi, who ignited the imagination of future animators and became a hero to generations of fans and filmmakers by infusing adult themes such as sex, drugs and racism into the family-friendly animation world of the 1970s.
 2 tributes have been programmed. The irreverent work of  Ralph Bakshi (Fritz the Cat) will be honored, as well as Barry Purves' work with puppets (Screenplay, Rigoletto) [read his interview at Zippyframes] will be showcased, part of the UK spotlight at OIAF.
The Art of Smith and Foulkes (Oscar-nominated for This Way Up) is also part of the UK spotlight, and their unconventional conmmercials will feature at the Ottawa programme.
A Youtubular section with the strangest viral videos of Youtube has also been scheduled.
Artistic director, Chris Robinson, states:"In past years, our event has been criticized for being too avant-garde or too dark. This year we wanted to provide some really fun and entertaining programming but don't worry, there's sure to also be the usual array of delightfully bizarre and thought provoking work that many other members of our audience love."
The comedic turn seems to be enforced by the programme "Make'em laugh, a historical look at the relationship between comedians and animation. (from Marx Brothers to Monty Python and Terry Gilliam).
Submission entries for the competitive section run till Friday, 18th May 2012. Visit the official festival page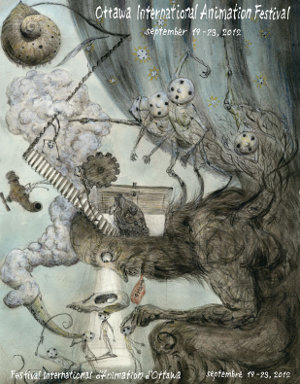 Read More About: