Out of Bounds by Franz Impler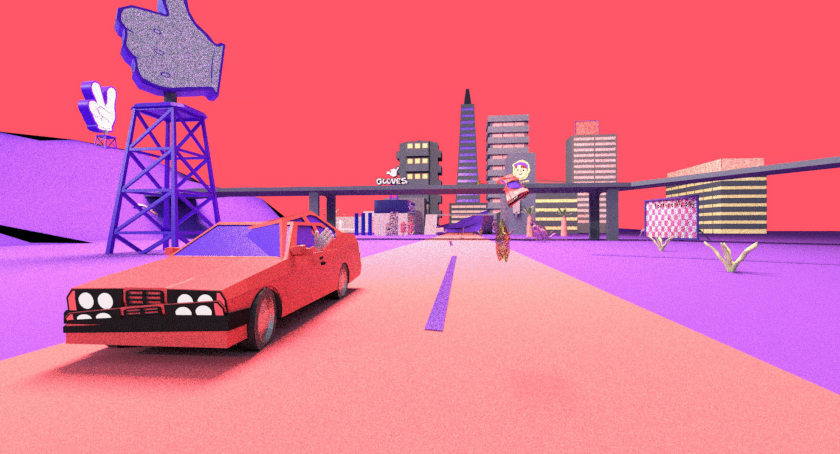 The 3D animated film Out of Bounds by Franz Impler  takes place in a fictional video game. The character of the video game is drifting out of his own game into an out-of-bounds word.
We wanted to learn more about the film; the director talks about his graduation film to Zippy Frames.
ZF: Why did you decide to feature a tennis player and not a basketball, baseball etc player? 
FI: It has a pretty simple reason: I played tennis in my childhood and youth. But it's a bit more. I first started to play football/soccer and I soon noticed that that's the wrong sport for me. So I moved to the tennis club. And that's kind of the link to the film. It started with questions like "where do I belong to?", "what are my roles in different contexts?", "how do different places or spaces influence the way I behave?"

I also  wanted to have a single sport, not a team-sport like football or basketball, that would have opened other questions. And tennis is a kind of sport that is often seen as a bit hermetic and not very open for everyone. 
Watch Out of Bounds by Franz Impler
ZF: Making a film about a video game character and his environment involves a lot of iconography. How much were you familiar with the video game world? 
FI: I played a lot of video games in my childhood and early youth. So I kind of grew up in these worlds and it still feels very familiar. But, as I started studying, I almost stopped gaming at all, yet I noticed that I'm still influenced by the games aesthetics. I tried to avoid too much research for this film because I liked the idea to pack some references into my film that themselves a little bit blurred by the time - I didn't want to just repeat the references I used.
ZF: How did you conceive the child character with the ghost attached? Was it a spontaneous idea?
FI: For me the little kid with the ghost is kind of the native of the out-of-bounds non-world. It is the only person that can handle the ambiguity and uncertainty. He is able to play the game without rules. The ghost attached to him was a bit spontaneous. First it was just a funny thought that ghosts are kind of "out-of-bounds" creatures, like the tennis character. They also can cross walls and aren't constrained to the earthly rules. So at the end I liked the picture of that boy with the ghost attached.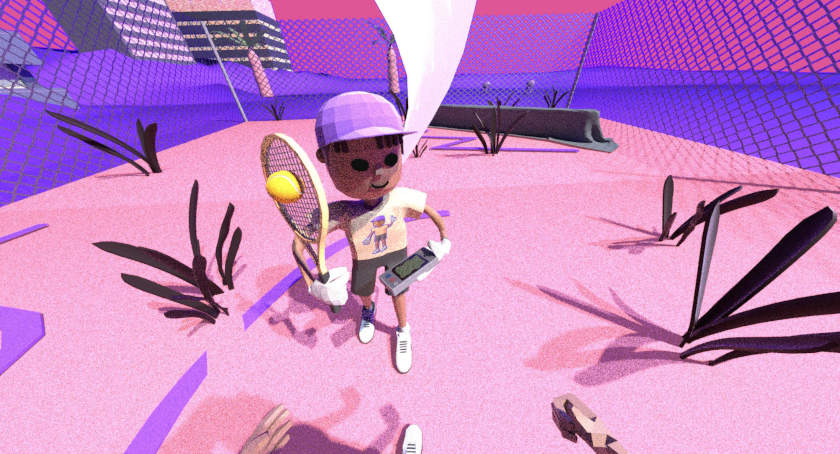 ZF: This was your graduation film. It seems impressively made by a single person (including sound and texts). Was it that you didn't trust anyone to get some of the creative burden or it came naturally to you?
FI: No, it was not at all like I didn't trust anyone to help me with the film. There were some reasons for that decision.  I didn't really have money to pay so I didn't want people to work for free on my film project. And I was a bit inexperienced as I started the project with all the organisation. At some point, I tried a collaboration with a musician but then I noticed that I've had a very specific sound for the film in my mind. I was a kind of in tunnel vision also with the lack of time breathing down my neck. Sounds contradictory but I decided that it is the simplest way when I do everything myself. It was a good experience, I think: I learned that I definitely won't do it that way again on my next project!
ZF: At some points, there were guns appearing in one of the segments. Do you share the view that video games cause violence?
FI: I don't really think that video games causes violence. Not much more than films or books with violent content might do. I think it's always the social environment that is the origin of violence. Maybe media like films, books, songs or video-games can trigger something within specific persons with a difficult background and personality, I don't know.
But for me video-games, like other art-forms, can be seen as a mirror to the world. There is a lot of violence in the world, so there will always be violence in films, games, books etc.
ZF: Your film takes place in a highly urbanized world (skyscrapers, other buildings etc) and the no entry sign is very visible. Is this a comment you'd like to make?
FI: For me one motivation to make the film is the state of feeling wrong at some place. Like the question "where can I be the one that I truly am?" And is that really something desirable or even possible. Or is the one "that I truly am" formed by the space and context that I live in?
I think all spaces and contexts are exclusive to specific people by any means. Even trivial things, like playing tennis. So there might be spaces that you think that's where you belong to. But maybe there is no entry for you. So that comment is very versatile readable and something that I think every person is affected by. Of course, in very different ways and consequences, depending who you are – whether it's good or bad for the person.
ZF: By watching the film, it seems that creating the environment in 3D animation was effortless for you. Was this the case in animating the film? And did anything trouble you in making this film? Time or any other factor?
FI: I was a bit inexperienced as I started the project with the 3D software and stuff. I was aware that I approached it very naively. I had a specific film sequence in my mind, but mostly I had no idea how to execute it. So I had a lot of trouble while making the film. Same with the sound. I never learned a music instrument or made music myself. So it was trial and error all the time. And I knew that it has to be finished in a specific amount of time, which made it a bit stressful. But it was also a lot of fun because creating these 3D environment feels a bit like playing video-games to me. And I learned a lot!
ZF: Is this film a single task or is part of a bigger initiative? Would you like to continue making films like this one?
FI: I really would love to make more films like this one in the future. That's my goal! I'm currently working on a concept for a new film that could be kind of a very loose sequel of "Out Of Bounds" in terms of the topic but within a different world, with different characters - and story, of course. Hopefully, I can raise a bit of budget this time. Until that I'm working on some music video projects.
ZF: Do you feel that it is easier to talk about boundaries and liberation by the notion of the games rather than a different framework?
FI: For me these topics are very complex and have a lot of ambiguities. What I like about the games theme is that things in games are often very clear and plain. For example: A tennis character in a tennis game is above all a tennis player without any complexity. That makes it easier for me to talk about topics that feel very difficult and complex to me. In a different framework it would probably be much more difficult to handle these topics in the same playful way.
Film Review (Vassilis Kroustallis):
There's an interesting journey to behold in Out of Bounds; the game aesthetics used by Franz Impler prove to be more liberating than an actual background world itself, and allow its main character to move, and reflect and face his own allies and rivals. With the right dosage of magical realism, Out of Bounds proves to be an always enriching journey into the sphere of responsibility and liberty; here computer-generated voices bring forward very familiar feelings, and tennis players and their rackets a first point-of-view perspective that invites the audience, to their own liberating adventure.  An engaging game.
About Franz Impler
Franz Impler was born in 1992 in Bavaria, Germany. He studied illustration and graphic-design on the Academy of Fine Arts Leipzig until. There he graduated with his graduation Film "Out Of Bounds" in 2020. Franz works as a freelance 3D-artist and animator in Leipzig, Germany. Recently he made a music video for the song "j0_0j" by Zouj (City Slang). He is Co-Founder of the SQUASH Collective. 2021 they organized the first "Snail Eye – Cosmic Comic Convention", a comic and art Festival in Leipzig.
Franz Impler on the web, Instagram
SIGN UP: Want to read more free articles like this? Sign up for Our Newsletter
Read More About: