73 Stop Motion Animation Shorts for StopTrik Festival 2022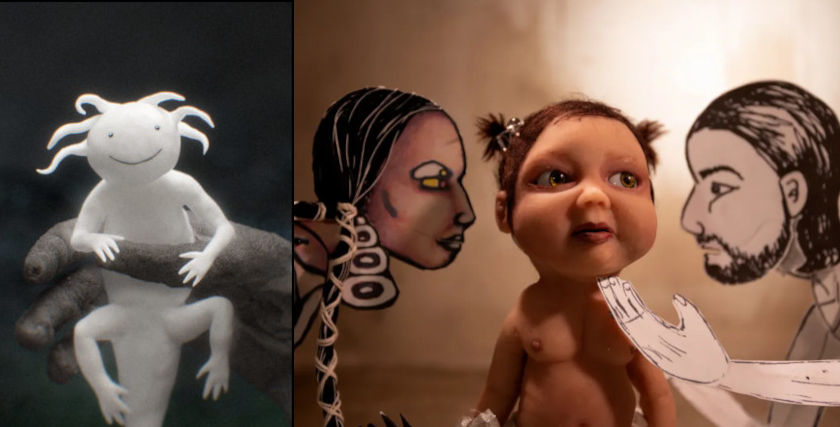 Stop Motion Competition" in the Slovenian and Polish StopTrik Festival showcases multi-fold intriguing films made in traditional stop motion techniques (puppet films, claymation, cut-out, object manipulation, pixilation, etc.). "Borderlands Competition" focuses on a merge of stop motion techniques and aura with other animation techniques and various means of cinematic expression (live-action included). In "Panorama" the viewers are haing on a fast-ride through sharp, ironic, and inventive miniatures.
For the first time StopTrik IFF opens "Stop Motion for Children Competition" – two programmes that will entertain the viewers of 6-8 and 12-14 years old. Both in Maribor in Łódź the festival's winners and laureates are chosen by the popular voting of the audiences, discussed by the students' juries, and mentioned by the film experts (film critics, curators, festival organizers) visiting the event.

All the selected programmes aim at juxtaposing production from renowned studios such as the National Film Board of Canada, Nukufilm (Estonia) or Folimage (France), and acknowledged film schools (NFTS in London, Bezalel University in Jerusalem or Film School in Lodz) with daring, independent production.

Stop motion production conditions differ greatly across the globe. Some of the filmmakers whose films we present this year have come long path marked by the experiences of war and refuge; the others struggle with self- or top-down imposed censorship regulating creative industries under the authoritarian regimes; and there are those who keep exercising freedom of expression and artistic experimentation against the logic of consumerist and bureaucratic, global film market. We are grateful for having a chance to support them all in sharing their views, ideas, and imagination - Michał Bobrowski and Olga Bobrowska, Festival Organizers
The full lineup:
INTERNATIONAL COMPETITION PROGRAMME: STOP MOTION ANIMATION
24 films from Australia, Canada, Estonia, France, Germany, Hong Kong, Iran, Israel, Italy, Jordan,Palestine, Poland, Portugal, Qatar, Slovenia, Spain, UK, USA
Screening 1
1. Dog-Apartment / Koerkorter, dir. Priit Tender, prod. Nukufilm, 2022, Estonia, 14'07''
2. Eat Your Carrots, dir. & prod. Laura Stewart, 2022, Canada, 3'11''
3. Of Wood, dir. & prod. Owen Klatte, 2022, USA, 6'59''
4. Zoon, dir. & prod. Jonatan Schwenk, 2022, Germany, 4'25''
5. Curiosa, dir. Tessa Moult-Milewska, prod. NFTS, 2022, UK, 9'35''
6. Szzz, dir. Dafna Inbar, prod. Bezalel, 2022, Israel, 6'6''
7. Slow Light, dir. Kijek/Adamski, prod. Animoon, 2022, Poland, Portugal, 10'59''
8. Mr Xifro's Morning / El Matí Del Sr Xifró, dir. Marc Riba & Anna Solanas, prod. I+G Stop Motion, 2022, Spain, 5'30''
9. Steakhouse, dir. Špela Čadež, prod. Finta Film, Fabian&Fred, RTV Slovenija, Miyu Productions, 2021, Slovenia, Germany, France, 9'30''
Screening 2
1. Crab / Krab, dir. Piotr Chmielewski, prod. Wjteam, 2022, Poland / France, 8'42''
2. An Ostrich Told Me the World Is Fake And I Think I Believe It, dir. Lachlan Pendragon, prod. Griffith Film School, 2021, Australia, 11'18''
3. Despera, dir. Alicja Liss, prod. University of Arts in Poznań, 2021, Poland, 1'58''
4. Symbiosis, dir. & prod. Raz Merhav, 2022, Israel, 9'
5. Cromosoma X, dir. Lucia Bulgheroni, prod. Zen Movie, 2021, Italy, 9'1''
6. City Diving / Manyou (漫游), dir. Kwok Pui Ying, Li Xinyi, Yau Mandy, prod. City University of Hong Kong, 2022, Hong Kong, 1'
7. Meneath: The Hidden Island of Ethics, dir. Terril Calder, prod. National Film Board of Canada, 2021, Canada, 19'22''
8. 7lbs 8oz, dir. Yoo Lee, prod. Xin Li, Evelyn Martinez, 2021, USA, 7'8''
Meneath: The Hidden Island of Ethics
Screening 3
1. Other Half, dir. Lina Kalcheva, prod. NFTS, 2021, UK, 13'22''
2. Past, The, dir. Hamid Mohammadi, prod. Documentary & Experimental Film Center, 2021, Iran, 7'25''
3. Til We Meet Again / Taaskohtumine, dir. Ülo Pikkov, prod. Nukufilm, 2022, Estonia, 14'09''
4. Human Resources / Ressources Humaines, dir. Trinidad Plass, Titouan Tillier, Isaac Wenzek, prod. EMCA, 2022, France, 3'30''
5. Night / يل (layl), dir. Ahmad Saleh, prod. Fabian&fred, 2021, Germany, Qatar, Palestine, Jordan, 16'
6. Do Not Feed the Pigeons, dir. Antonin Niclass, prod. NFTS, 2021, UK, 8'40''
7. Pink Jacket, The / O Casaco Rosa, dir. Mónica Santos, prod. Animais Avpl, Vivement Lundi!, Um Segundo Filmes, 2022, Portugal, 8'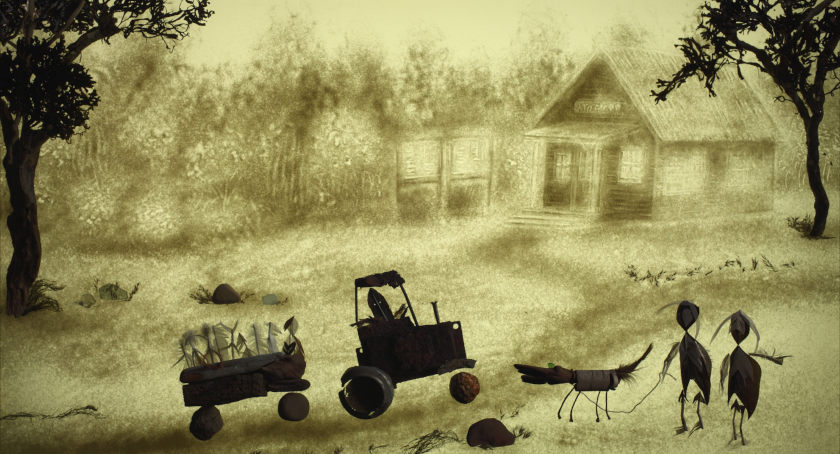 Till We Meet Again
INTERNATIONAL COMPETITION PROGRAMME: BORDERLANDS
10 films from Austria, Canada, China, Croatia, Czech Republic, France, Greece, Hong Kong, Iran, Portugal, Slovakia, Taiwan, and UK
1. Rust And Colors / Sham Shui Po, dir. Beta Hsu Yun Chu, Sofya Antonova, Thore Flynn Hadre, prod. City University of Hong Kong, 2022, Hong Kong, 1'
2. Stinky In the Dark Forest / Stinky U Mračnoj šumi, dir. Sunčana Brkulj, prod. Alu Zagreb, 2022, Croatia, 10'52''
3. Sensual Pill, dir. & prod. Sam3, 2021, Greece, 3'58''
4. Mercy / Milosť, dir. Ivana Laučíková, prod. Feel Me Film, 2022, Slovakia, 17'
5. Sprocket, dir. & prod. Aghil Hosseinian, 2020, Iran, 1'30''
6. Love, Dad / Milý tati, dir. Diana Cam Van Nguyen, prod. 13ka / FAMU / nutprodukcia, 2021, Czech Republic, Slovakia, 12'46''
7. Broken Potato / Huaidiao de tudou (坏掉的土豆), dir. & prod. Shui Yuan (Water), 2021, China, Canada, 7'
8. Us / Nós, dir. Nelson Fernandes, prod. The Stone And The Plot, 2021, Portugal, 5'
9. Slow as Light, dir. Paul Wenninger, prod. Sixpackfilm, 2022, France, Austria, 8'38''
10. My Grandmother Is an Egg / Wo de apo shi yike dan (我的阿婆是一顆蛋), dir. Wu-ching
Chang, prod. Aco Creative, 2021, Taiwan, UK, 9'
INTERNATIONAL COMPETITION PROGRAMME: STOP MOTION FOR CHILDREN
19 films from Bosnia and Herzegovina, Czech Republic, Finland, France, Georgia, Germany, Greece, Hong Kong, Ireland, Italy, Latvia, UK, Uruguay
Screening for the children of 6-8 years old
1. The Paper / Paperi, dir. Katariina Haukka, prod. Turku University Of Applied Sciences, 2022, Finland, 4'47''
2. Laika & Nemo, dir. Jan Gadermann, Sebastian Gadow, prod. Film University Babelsberg Konrad Wolf, 2022, Germany 15'
3. Hypno Tidoo, dir. Arianna Gheller, Matteo Burani, prod. Studio Croma, 2021, Italy, 1'59''
4. Rainboy / Kišni Dječak, dir. Sandra Marić, prod. Aeon Production, 2022, Bosnia and Herzegovina, 4'05''
5. Franzy's Soup-Kitchen / La Soupe De Franzy, dir. Ana Chubinidze, prod. Folimage / Pocket Studio, 2021, France, Georgia, 8'30''
6. Aeronaut, dir. & prod. Leon Golterman, 2021, The Netherlands, 2'
7. Hush Hush Little Bear / Čuči čuči, dir.Māra Liniņa, prod. Atomart, 2022, Latvia, 4'40''
8. Hungry / La Fringale, dir. Raphaelle Martinez, prod. Tant Mieux Prod, 2021, France, 3'
Screening for the children of 12-14 years old
1. Meow Or Never, dir. Neeraja Raj, prod. NFTS, 2020, UK, 9'34''
2. Housemates, dir. & prod. Pallavi Agarwala, 2022, India, 0'38''
3. Abril, dir. & prod. Eliana Fernandez, Sofia Caponnetto, 2021, Uruguay, 4'
4. Climate Facts / Klimafakten, dir. Marcus Grysczok, prod. Bauhaus Universität Weimar, 2021, Germany, 2'28''
5. Flour & Mush / Rensheng zong you duifei (人生總有堆肥), dir. Emily Wong, prod. Dodo Animation, 2022, Hong Kong, 11'51''
6. Dagda's Harp, dir. Daniel Quirke, prod. Molly Denton, 2021, Ireland, UK, 2'13''
7. The Girls of The Wind / Les Filles Du Vent, dir. Heloise Ferlay, prod. Tant Mieux Prod, 2021, France, 3'
8. Birth Of the Oases / Naissance Des Oasis, dir. Marion Jamault, prod. Phenomenes Films, 2022, France, 9'17''
9. Babette And the Blue Bird / Babette et L'oiseau, dir. Romane Tulli-houzet, Simon Veyrieres, Juliette Hutin, Eliot Zunino, prod. EMCA, 2022, France, 2'49''
10. Mom Is Always Right / Máma má vždycky pravdu, dir. Marie Urbánková, prod. MAUR Film, UMPRUM, 2022, Czech Republic, 7'33''
11. Elevator Alone, dir. Anastasia Papadopoulou, prod. University Of West Attica, 2021, Greece 3'28''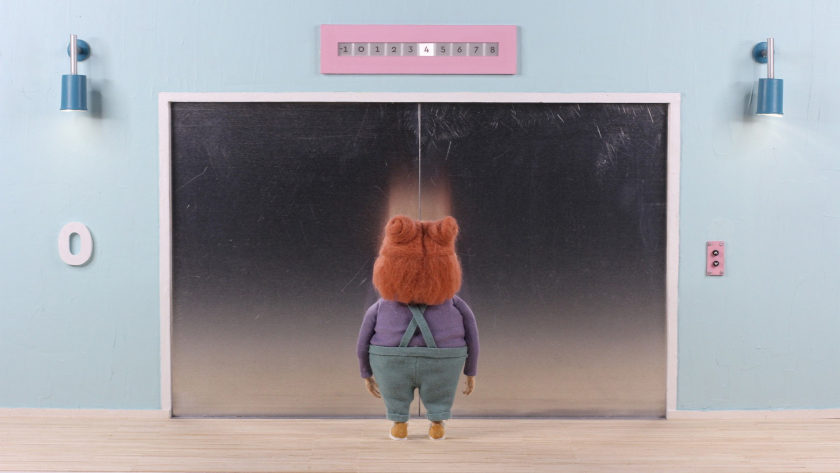 Elevator Alone
OFFICIAL SELECTION (non-competitive): PANORAMA
20 films from China, Croatia, France, Germany, Hong Kong, India, Iran, the Netherlands, Poland, Singapore, Slovenia, UK, USA
1. Story Of Chaos, The / Huashuo Hun Dun (话说浑沌), dir. Yu Qing Quek, prod. School Of Art, Design And Media, Nanyang Technological University, 2022, Singapore, 4'17''
2. Attraction, dir. Lucie Tran, Aurélie Dejean-Servieres, prod. EMCA, 2022, France, 3'12''
3. Endgame, dir. Weronika Szyma, prod. Film School Lodz, 2022, Poland, 8'
4. Glimpse / Zuo dun lueying (佐敦掠影), dir. Leung Cyrus, Ty Lok Yi Scarlett, Kwan Sin Ching Angel, prod. City University of Hong Kong, 2022, Hong Kong, 1'10''
5. Wind Whisperer / Testigo Del Viento, dir. & prod. Fernanda Caicedo, 2022, Germany, 6'30''
6. DNA (The Keys), dir. Roos Mattaar, Heather Colbert, prod. Rca Records, Genero, 2021, UK, USA, 3'54''
7. Hole, The / Dziura, dir. & prod. Piotr Kaźmierczak, 2021, Poland, 2'31''
8. White Sateen / Satane Sefid, dir. & prod. Shiva Sadegh Asadi, 2022, Iran, 2'18''
9. Burnout / Otopljen, dir. Paola Ercegović, Stipe Marević, Ani Ercegović, Mia Čulić, prod.
Hrvaško društvo likovnih umetnikov, Pekarna Magdalenske mreže, 2022, Slovenia, Croatia, 2'23''
10. Last Laugh / Zadnji Smeh, dir. Domen Sajovic, prod. University of Nova Gorica School Of Arts, 2022, Slovenia, 2'46''
11. Rotten Child / Rotkind, dir. Anej Golčar, prod. Willdem De Kooning Academy, 2022, The Netherlands, 7'
12. Well / Studnia, dir. Zuzanna Szor, prod. Film School Lodz, 2021, Poland, 1'31''
13. Tulipomania: You Had to Be There, dir. & prod. Tulipomania, 2022, USA, 3'45''
14. Jsw Steel All Around Us, dir. Suresh Eriyat, prod. Studio Eeksaurus Productions, 2022, India, 1'27''
15. New Home / Nov dom, dir. Žoel Kastelic, prod. Academy of Fine Arts And Design Ljubljana, 2022, Slovenia, 1'49''
16. Absolution, Parsin, dir. & prod. Jack Nop, 2022, USA, 4'58''
17. Marguerite, dir. & prod. Hayley Morris, 2022, USA, 1'25''
18. Rest In Piece, dir. Antoine Antabi, prod. Reynardfilms, 2021, Germany, 9'35''
19. Outsider / Quanwairen (圈外人), dir. & prod. Shuo Liu, 2022, China, 2'10''
20. Night Of the Living Dread, dir. Ida Melum, prod. NFTS, 2021, UK, 11'27''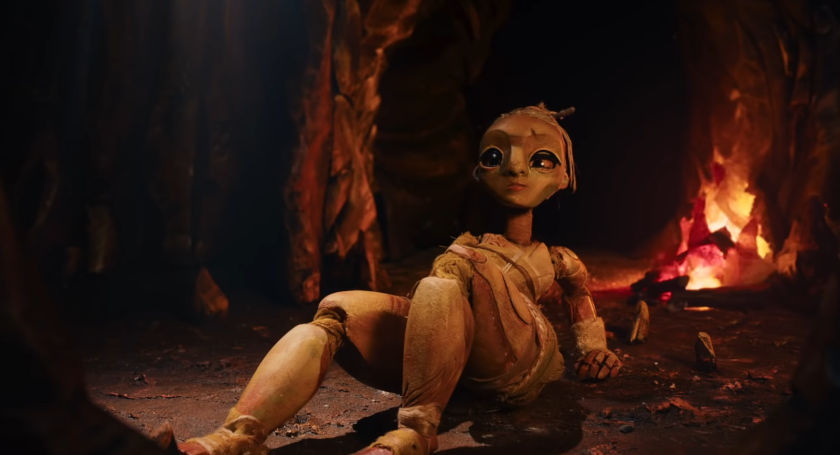 Keys
StopTrik IFF selectors:
STOP MOTION + BORDERLANDS + PANORAMA: Michał Bobrowski (Poland)
STOP MOTION FOR CHILDREN: Brina Fekonja (Slovenia), Antonija Veljačić (Croatia)
Maribor, Slovenia: 28.9. – 2.10. 2022
Students Jury: tba
Students Jury Mentor: Maciej Misztal (Lublin Film Festival)
Łódź, Poland, November 2022
Students Jury: Filip Grzędowski, Anna Ligęza, Kacper Olszewski
Students Jury Mentor: Piotr Kardas (O!PLA Festival)
The 12th edition of StopTrik Festival takes place in Maribor, Slovenia (28 Sep - 3 Oct 2022) and Lodz, Poland,
SIGN UP: Want to read more free articles like this? Sign up for Our Newsletter
Read More About: