The Wonder Hospital, Colorful win at Anima, Brussels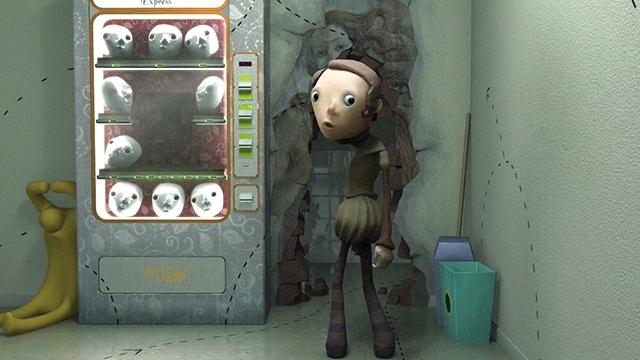 The South Korean Beomsik Shimbe Shim was the big winner at 2012 Anima festival with his quirky The Wonder Hospital.
The Swisss virtuoso animator Georges Schwizgebel (known for his The Man without Shadow) won the best professional short film award, with the Rachmaninoff scerzo, Romance. The best student award went to Kuhina (Swarming) by the Finnish Joni Männistö.
Colorful by Keiichi Hara was the front-runner in the feature-length category. The metaphysical thriller by the Japanese anime director has a dejected soul placed in the body of a 14-year-old boy, who just committed suicide. The soul needs to examine its former life and discover its sins and mistakes.
The Spanish Arrugas la Pelicula (Wrinkles) [review] won the audience award for best animated feature, whereas in the national competition La Boîte de sardines - Louise-Marie Colon won the corresponding prize.
FULL AWARD LIST:
GRAND PRIX ANIMA 2012: The Wonder Hospital - Beomsik Shimbe Shim
BEST PROFESSIONAL SHORT FILM AWARD: Romance - Georges Schwizgebel
BEST STUDENT SHORT FILM AWARD :Kuhina - Joni Männistö
BEST CHILDREN'S SHORT FILM AWARD: Dodu - O Rapaz de Cartao (Dodu - The Cardboard Boy) - José Miguel Ribeiro
BEST MUSIC VIDEO AWARD: Björk "Crystalline" - Michel Gondry
BEST ADVERTISING AWARD: Canon "Parade" - Dante Ariola
AUDIENCE AWARDS
AUDIENCE AWARD FOR BEST ANIMATED FEATURE, SPONSORED BY FEDEX
Arrugas - Ignacio Ferreras
AUDIENCE AWARD FOR BEST CHILDREN'S ANIMATED FEATURE
La Colline aux coquelicots / From up on Poppy Hill - Goro Miyazaki
FLUXYS AUDIENCE AWARD FOR BEST SHORT FILM: Luminaris - Juan Pablo Zaramella
AUDIENCE AWARD FOR BEST STUDENT SHORT FILM: Flamingo Pride - Tomer Eshed
AUDIENCE AWARD FOR BEST CHILDREN'S SHORT FILM: L'Envol du chat - Clément Doranlo
ANIMATION NIGHT AUDIENCE AWARD FOR BEST SHORT FILM: A Morning Stroll - Grant Ochard
PARTNERS AWARDS
BETV AWARD FOR BEST ANIMATED FEATURE: Colorful - Keiichi Hara
National Competition
JURY AWARDS
GRAND PRIX OF THE FRENCH COMMUNITY: La Boîte de sardines - Louise-Marie Colon
SACD AWARD: Natasha - Roman Klochkov
SABAM-AWARD: Duo de volailles, sauce chasseur - Pascale Hecquet
TVPAINT AWARD: Shattered Past - Boris Sverlow
PARTNERS AWARDS
BETV AWARD: Adonaissance Trip - Madeline Feuillat
RTBF AWARD: La Boite de sardines – Louise-Marie Colon
CINERGIE AWARD: Dans le Cochon tout est bon - Iris Alexandre