We Can't Live Without Cosmos, April and the Extraordinary World Take Home Annecy Prizes
When Konstantin Bronzit devoted his film to friendship, he surely did not know that he had so many friends in the animation festival circuitA well-worthy film was prominently awarded in a festival that sometimes looks for the unexpected. Yet here, the unexpected was the outcome of a friendship between two cosmonauts who need to get their future together.
We Can't Live Without Cosmos  by Konstantin Bronzit (Russia) won the Cristal for a Short Film at Annecy International Animation Film Festival, after its victory at Animafest, Zagreb. 
 Jury Prize for a short film went to The Master by Riho Uht, an Estonian film about relationships of power.
The award for a first film went to the bittersweet Guida by Rosanna Urbes (Brasil), about an old lady who dreams of becoming a model.
The best student film was the UK My Dad (Marcus Armitage, UK), a potent portrait of a non-ordinary dad. The Sundance-awarded Don Hertzeldt here won a Jury Distinction for his The World of Tomorrow and an Audience Award (short film) for another story of space relationships.
 In the feature film category, after two years of Brazilian wins (Rio 2096, The Boy and the World) it was a time for a French feature to win the award.
 The French features were strong this year, so it is no surprise that Avril et le Monde truqué (April and the Extraordinary World) by Franck Ekinci & Christian Desmares (France, Canada, Belgium) won the Cristal for Best Feature.
 The exquisite graphic realization of Tardi's scientific adventure in a 1941 steam-dependent France was an achievement on itself, even though the narrative sometimes felt overlong.
Keiichi Hara (Colorful, 2010) and his new feature Miss Hokusai (Sarusuberi) won the Jury Special Mention for a feature film, a lively portrayal of Master Hokusai's daughter, O-Ei, a free-spirited, outspoken and very talented woman who changes with the seasons.
The historical adventure Longway North (Tout en haut du monde, Rémi Chayé, France/Denmark) was the recipient of the audience award for a feature film.
Find all the awards of the 2015 Annecy festival here.
The 2015 Annecy festival was (positively) dominated by women, with a first-time, all-women jury (Marge Dean, Valérie Schermann,Guillemette Odicine, Isabel Herguera, Bonnie Arnold, Niki Lindroth Von Bahr, Monique Simard, Constanza Arena, Waltraud Grausgruber, Stacey Steers,Marina Kožul, Delphine Renard, Gérard Lenne, Cloé Masotta Lijtmaer, Nanna Frank Rasmussen).
Next Annecy dates: 13-18 June 2016.
Konstantin Bronzit @Annecy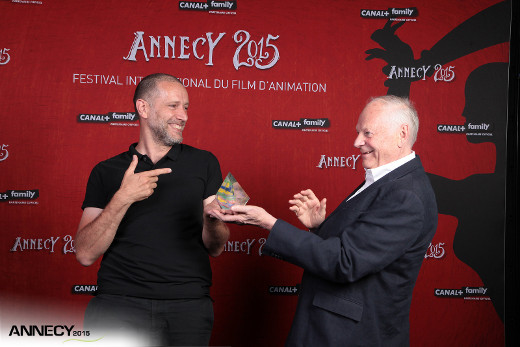 Rémi Chayé, director of Tout en haut du monde, receives the audience award for Best Feature from Richard Williams (c): E. Perdu/CITIA
Read More About: